He Came From the Internet
The world has been searching for Ed Snowden's online trail. What we found was much more.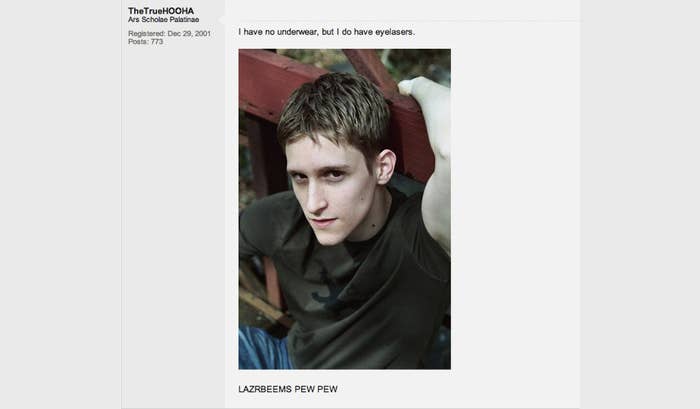 When a new and unfamiliar figure lunges into the spotlight, our first impulse is to find an online trail. This is usually a search for the incidental: a recent, tragically ironic post from a victim; Facebook updates that may have foretold a heroic or terrible act. The hope is to catch a reflected glimpse of the real person — to recover and interpret the online debris that virtually everyone now leaves behind.
Edward Snowden, as far as we know, has not left this kind of trail. If he ever maintained a Facebook or Twitter account it hasn't been found. Instead, he left something much more interesting and deliberate. He left, in nearly 800 forum posts, not a reflection of himself but a very real part of it.
When Snowden announced himself to the world — his white, young, computer-savvy, EFF-supporting, TOR-using self — he spoke in a way that could be understood by all but sounded strangely familiar to few. He outed himself not just as the NSA leaker, but as a member of a growing and increasingly powerful alumni group: the internet people. The first new information discovered by others confirmed the profile: Ron Paul supporter, anime enthusiast, gamer. Edward Snowden, international newsmaker, hero and villain, lived online, at least for a time.
Other internet people didn't just hear the dog whistle, but understood its meaning: that we should expect to encounter more Edward Snowdens, not just in the most obvious places, but everywhere. This isn't about "hacktivism" or some kind of unified cause. This is about the children of the internet coming of age.
Today, more often than not, being "from the internet" means you're on Reddit, a place full of people that both sympathize with and resemble Snowden. But Snowden's posting activity, which peaked in 2006, placed him in a slightly different era, and in one of the many major tech, gaming, and geek forums that Reddit has almost completely subsumed. Snowden is a child of the forum: He spent his time on ArsTechnica, just as many other young men (and women) would have spent their time on SomethingAwful, on OffTopic, on the Vault Network, on IGN, or on countless smaller forums, many of which have disappeared (and some of which are referenced in Snowden's Ars posts).
Had he been born a few years earlier, he would have found a home on Usenet. A few years later, maybe Reddit or 4Chan. To be an active member of any of these communities, at any time in the last two decades, was to be a part of the internet's relatively small but powerful creative nucleus, and to share in its id.
Snowden's forum persona is instantly recognizable to anyone who spent time in a major forum in the early to mid-2000s. He's a bit of a know-it-all, a bit of a troll, opinionated about both subjects he knows well and ones he doesn't. He unsubtly references his sex life, his security clearance, and his mysterious work. He was not shy about giving advice, which is probably the defining trait of the forum power user, all the while relating to other members as an enthusiast: of fitness, of self-improvement, and mostly of gaming. (Though he appears to have been honest throughout his posts, those interactions are the most sincere.)
This is objectively unusual, as is Snowden. But it's not weird: Forums served people with niche interests and sensibilities that weren't as well-served anywhere else. Forums allowed people, as Reddit and some social media outlets do now, to invert the common internet experience: Snowden, who complained to other forum members about his strange and lonely hours, spoke often with other forum members about meeting up. It seems as though he never did, but that was fine. Meetups are fleeting and supplementary, not the other way around. The forum was home base.
Members of the Ars forums, with whom Snowden easily blended in before tapering off his activity in 2008, remember him vaguely. Many, like him, have been members for ten-plus years. "I recognized some of the conversations from the snippets, but didn't recognize the user name," wrote one user. "Looking through those posts, he seems pretty much like just zis guy, you know; not much different from the rest of us weirdos," said another. Some found old interactions. "I remember that guy. He was kind of a dick. But fair play to him for what he's done," said a longtime forum poster. In reality, most of the people he used to interact with are long gone — like Snowden, they grew up, and receded back into the real world. But he took with him the set of values he either learned or became comfortable expressing online: a keen interest in rights and speech, particularly where they concern the internet and privacy, suspicion of government and authority, a belief in both free markets and free-flowing information, and a set of cultural and aesthetic values that both set him apart from the mainstream and endear him to his people — the internet people. It's not a surprise that within moments of his outing, Reddit users had rallied around him in force.
What makes Snowden different is that he put his money where his mouth is. Snowden the leaker is very much the same person as Snowden the forum poster. This is still a novelty in a world where outsized personalities speak boldly but exist in a state of constant haze. But it won't be for long.