Facebook Knows All Your Posting Tricks — And How Well They Work
Paste if you agree! Facebook names (and shames?) users' most powerful tricks.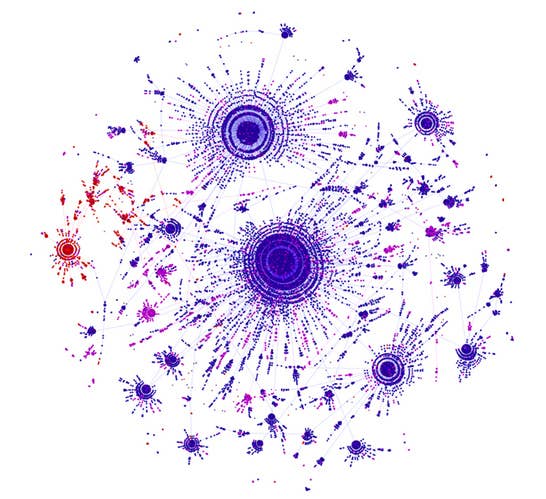 Facebook has published official research about "evolution of memes on Facebook," outlining not just how they spread but special phrases that can give them an extra "boost." The results offer rare insight into just how effective "please share if..." content is, as well as what Facebook might mean when it talks about policing "low quality memes."
The report starts by tracing the spread of a popular political text meme:
The data was collected between April 2009 and October 2011. April, notably, was when Facebook lifted its 160-character status limit — remember when Facebook felt like Twitter for a little while? — but also predated the modern share button. As a result, text memes were often copied and pasted. Now, they're more often just reshared.
The researchers, who conducted the study at the University of Michigan with the cooperation of Facebook, use this data to make the case that imperfectly replicated text memes do in fact spread like genetic mutations. But in the process, they noticed a number of popular recurring phrases and posting styles, which were ranked by efficacy: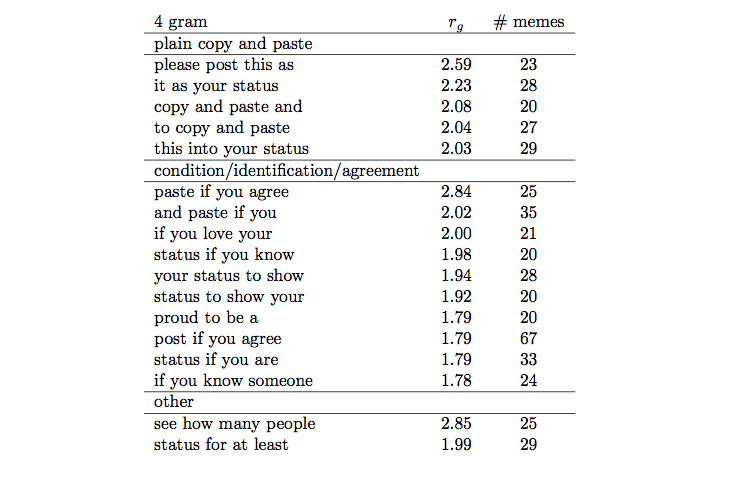 "These variants had significantly higher likelihood of being copied," the study says, "10.98 copies on average, relative to an average of 7.05 overall."
It goes on: "In 102 of the 144 cases the individual who introduced the phrasing into the meme had either used it previously in another meme, or had a friend who had, suggesting that in a large number of cases the substring could have been transferred from one meme to another."
From the researchers' outwardly content-neutral perspective, these are a list of phrases that help your posts get shared. From a Facebook user's perspective, they read more like a list of irritating things that you can't seem to get out of your News Feed.
The study's release coincides with a push within Facebook to demote what it calls "low quality" posts and memes. The company has been reluctant to define "low quality" with any specificity, and has suggested that much of this judgement will fall to its algorithms (how many people are hiding a post, for example). But it has become clear that Facebook will be making some kind of editorial judgement. In a December interview, Facebook's Lars Backstrom singled out "like if…" and "95% of you won't copy this"-style content, which are both analyzed in this study, as a problem.
Whenever we make a change like this, it has the potential to break some of the strategies employed by people who get distribution on Facebook. My favorite example of this is when you have a photo, and then a very explicit call to action where you say "one like = one respect." So, when the text or photo has a call to action, those posts naturally do much better. And in a traditional feed ranking, where we're evaluating just on the number of likes, those things all did very well.
Backstrom's context here is somewhat different: He's talking about current sharing trends, which seem to favor images and outside content, whereas this study is based on data from a couple years ago, before Facebook became the traffic-sending colossus that it is today — and before images were the dominant form of viral meme on the site. But it does reflect a long-term focus, by Facebook, on content that outright asks you to share. That content, it seems, is regarded as an aberration — it is included in what Facebook considers its version of SEO. These post styles were a staple of Facebook's early history, but part of a legacy it's looking to move beyond. In light of Backstrom's recent comments, it's hard not to read this post as eulogy for the "like if..." era.
The examples of other popular memes illustrate the point:
▪I personally believe in Jesus Christ. One facebooker has challenged all believers to put this on their wall. The bible says if you deny me in front of your peers, I will deny you in front of my father. This is a simple test. If you are not afraid to show it re-post this. I proudly did.
▪ Please copy & paste this to your status if you are constantly being asked to copy & paste something to your status by friends who copy & paste things to their status. Many people won't copy & paste this, but my true sarcastic friends will copy & paste it because they know this was copied & pasted from a dear friend in need of more stuff to copy & paste. Thank you and don't forget the heart ♥.
▪ The girl you just called fat? She has been starving herself & has lost over 30lbs. The boy you just called stupid? He has a learning disability & studies over 4hrs a night. The girl you just called ugly? She spends hours putting makeup on hoping people will like her. The boy you just tripped? He is abused enough at home. There's a lot more to people than you think. Put this as your status if you're against bullying.
What's changed since 2011 is that publications and advertisers have learned the
language
of social networking: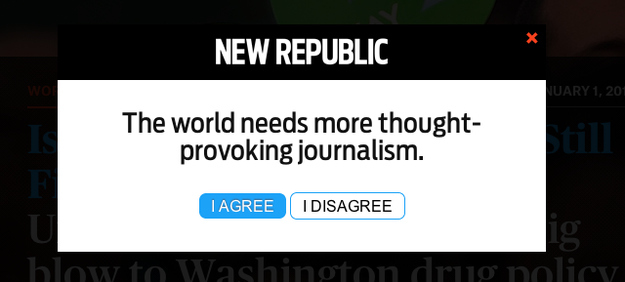 This has, broadly, changed online media in subtle and significant ways: A platform as large as Facebook has the ability to influence the language, priorities and appearance of all types of content. Whether or not this was Facebook's intention, this study sends a clear message: They know how your tricks work.
As for the possibility that this study is somehow out of line, or at least out of step, with Facebook's stated plan to improve News Feed quality, there are hints of self-awareness throughout, including this apparent dig at Twitter. "What about prior to April 2009? Well, until then, Facebook status updates had a 160-character limit, and it seems that catchy ideas need a bit more room than that."
Anyway, share if you agree! Retweet if you don't.