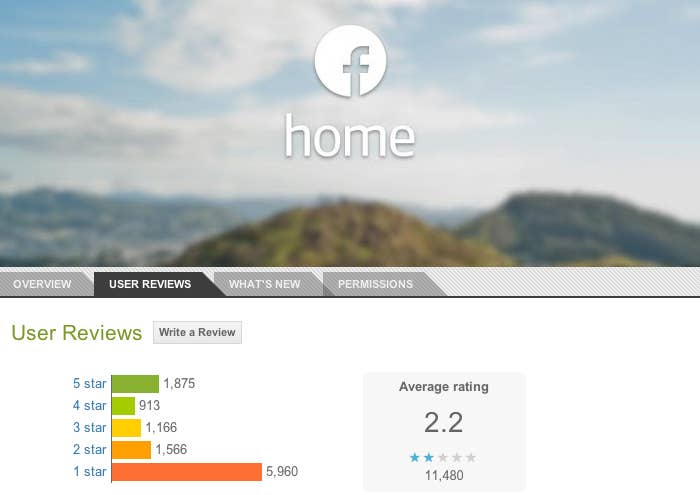 Facebook Home, which is available for a handful of newer Android handsets, has passed a half-million downloads in the Android Market. Initial feedback, however, isn't great.
With over 10,000 ratings, the app is sitting at just 2.2 stars out of five — there are three times as many one-star reviews as there are five-star reviews. There are some wholly positive reviews:

And some unhelpful negative ones:



But the majority of bad reviews are of the most damning type: descriptions by disappointed or disaffected people. Users who could have been convinced, or might have liked a Facebook-Home-style product a couple years ago, who now just don't see the point. Their problem with Facebook Home — which they nonetheless tried — is that it has too much Facebook.

I suspect these ratings will improve a bit, given that users mention some solvable technical problems alongside their conceptual concerns (battery life takes a hit).
But this is not an auspicious start. These reviews repeat a concern raised by many Facebook Home reviewers (who were quite a bit more positive than users turned out to be): that the target audience for Home is much smaller than Facebook thinks.