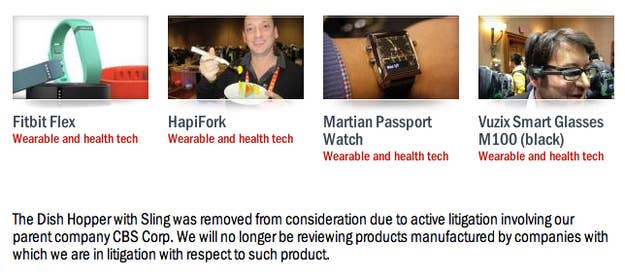 At 4:05 PM on Wednesday, Dish Networks notified its Twitter followers that it had been chosen as a finalist for CNET's "Best of CES" awards for its new DVR product. This was not a surprise — the Hopper was given a best-of award by nearly every publication handing them out this year, and CNET had called it "cutting-edge stuff" in a review this week. CNET posted a note on its Twitter account, too: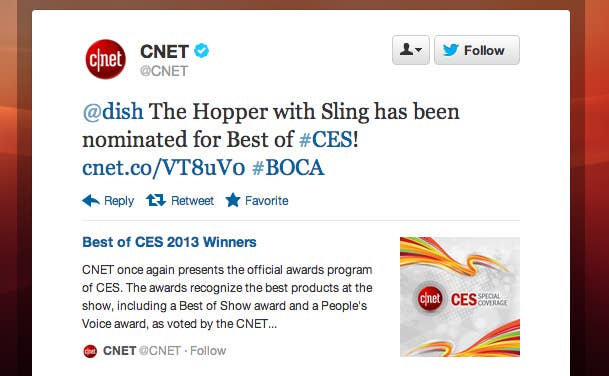 When the awards were announced today, the Hopper was nowhere to be seen. It hadn't won an award. But not because it was beat out by a better product.
CNET had been told by its owners to remove it from consideration.
CNET, a massive tech site that sent 90+ editors to CES this year, is owned by CBS. And CBS is currently involved in a lawsuit against Dish for a version of the Hopper DVR announced last year (one feature of the Hopper, called PrimeTime Anytime, records all broadcast channels at once, continuously, allowing viewers to skip all advertising). CBS Broadcasting and CBS Interactive, which operates CNET, are in different divisions of the company. Nonetheless, when CNET editors chose the Dish on its merits, the CBS mothership told them they couldn't. The publication has defended the choice, citing its narrow effect (only reviews, only specific products) but the wall has still been breached:
This is a constant fear for many tech writers — their jobs, more than many other in media, require them to cover companies they either work for, or which their employers are entangled with. Nearly every tech publication has conflicts of interest to wrestle with — including BuzzFeed, a startup which shares investors with many other tech and media companies. Upon news of our latest funding round, a BuzzFeed politics reporter asked me if it felt strange to cover tech at what many consider a tech company. The answer, of course, is a "yes — but." (For the record: FWD has never been asked to cover, or not cover, any of these companies.)
While some publications deal with conflicts of interest head on — TechCrunch openly acknowledges them, for example, while the New York Times charges its media writers with writing about themselves — most are rarely confronted with a scenario like this, and certainly not in public.
If you're a tech reporter, CES has an uncanny knack for not making you feel very good about your job. It's a noisy place with confoundingly little valuable information to be had; it will unfailingly exacerbate any anxieties you have about your role in the way products are promoted and sold. It can make you feel, in short, like a slightly mutated PR person, allowed to choose his clients and speak more freely but still performing essentially the same role: making money for tech companies.
This confirms that fear, at least for CNET's reporters — that there is a profound difference in product journalism and actual journalism, to the point that the former might not even be in the same genus as the latter. Good service writing, unglamorous as it may be, demands integrity too. Your authority as someone telling people what to buy is determined first and foremost by your motivations. (Off the record, CBS Interactive journalists have told me they're uncomfortable with how this unfolded.)
CNET has a roster of stellar writers and reporters who do great journalism every single day, and this isn't their fault. But it gives critics of the tech media a leg to stand on, and will be felt deeply — in the gut — across the tech media.
The sense of empathy among my peers will be strong and queasy. As it should be.