Pakistan's ever-changing firewall system appears to have blocked citizens from viewing BuzzFeed, as well as the Toronto Sun. Other major sites have long been blocked, though the government has promised to make some of them available again, including YouTube, after new firewall technology is deployed. "We believe in access to free information," Prime Minister Raja Pervez Ashraf said regarding the YouTube ban, claiming that the "only reason" to block YouTube is the "presence of blasphemous material."
The government claimed to have a "filtration" mechanism — a part of the firewall that may have blocked BuzzFeed — that could filter such content selectively. In December, the country's interior minister outlined his plans:
In early January the ban on YouTube was lifted for a few hours. The partial filter was apparently not effective, so the ban was put back.
The block placed on BuzzFeed appears to be either partial or still in progress. Multiple users are reporting that attempts to visit the site result in this warning: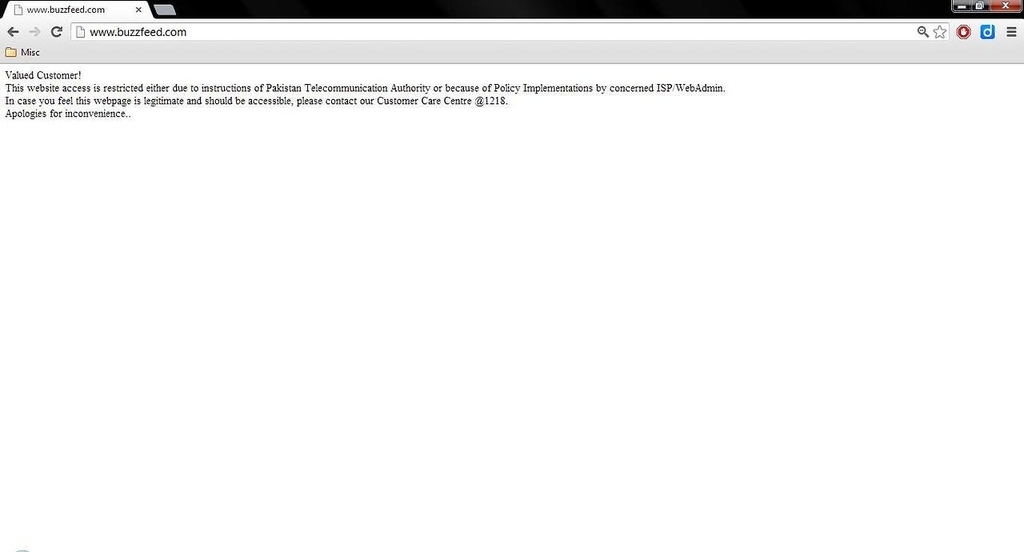 Others say that the site is still accessible. At the time of writing, BuzzFeed's analytics tools showed a small handful of readers in Pakistan currently on the site.
The Pakistan Telecommunication Authority has not yet responded to BuzzFeed's request for comment.