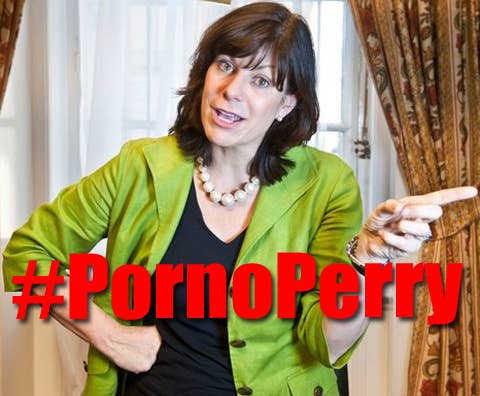 British anti-porn crusader Claire Perry, a member of Parliament who led the campaign that resulted in David Cameron's announcement that the United Kingdom would soon have a nationwide, opt-out porn filter, had her website hacked. Or, if not quite "hacked," defaced — vandals found what appears to be a fairly simple way to upload pornographic images onto her servers, and they took advantage of it.
Conservative blogger Paul Staines, best known as Guido Fawkes, reported on the hack, including in his post a censored screenshot that contained the URL to the hacked page, but no link. Repeat: Staines neither hacked Perry's site nor linked to it. He merely pointed out that a hack had taken place, and posted this image:

So, what did Perry do in response to this lighthearted blog item? She proceeded to demonstrate a worrying grasp of the basic concepts of the internet, starting with her decision, as a sitting member of Parliament, to get into a fight with a blogger on Twitter. As collected by Ministry of Truth:
The phrase "hosting a link that distributed porn via my website" is simply not coherent — those words mean nothing. Even if you assume that she just meant to say that Staines had linked to porn that had been uploaded to her website, that claim is not accurate. There was no actual link.
But enough hair-splitting. It gets worse: Claiming that the hack was "sponsored by @GuidoFawkes" — presumably she means "publicized by" or "linked to by" — might be grounds for libel under Britain's notoriously unforgiving laws regarding public speech, not least because it's false.
Staines asked his readers if he should sue, and they overwhelmingly said yes. So we'll see what happens.
In the meantime, remember this: The person most responsible for the British internet porn ban seems to have a difficult time constructing sentences about the internet.