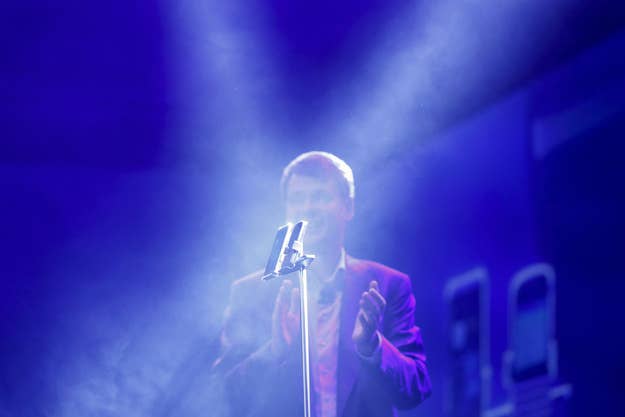 "This is for you, BlackBerry developers" says Alec Saunders, BlackBerry's VP of developer relations. "You think you took a leap of faith? This is a leap of faith."
He's staring directly into the camera, dressed in a loose powder-blue bodysuit. Seconds later he jumps from the top of Stratosphere hotel in Las Vegas.
"Oh my god," he shouts through the wind, "we're on the way down."
His jumping partner, BlackBerry exec Marty Mallick, cuts in: "BlackBerry 10 ruuullleess..."
The video of the cable-controlled jump, which not-so-subtly recalls Google's mega-viral Project Glass skydive stunt, was posted to BlackBerry's YouTube channel, and subsequently to the front page of CrackBerry by Kevin Michaluk, the most widely read BlackBerry blogger in the world.
The basejumping video was published at what should have been the peak of BlackBerry buzz — the day before the company introduced a total, long-delayed revamp to its operating system, BlackBerry 10, along with two new phones. At the time BlackBerry executives were taking the stage this morning, the video had just 6,000 views.
It was clear that BlackBerry had lost the last thing it had going for it: Its once-loyal fan base has stopped caring.
Michaluk, for his part, had promised not to cut his hair until BlackBerry 10 came out; today, during the launch event, the emcee snipped his ponytail with scissors, on camera. A handful of people clapped tepidly, and Michaluk sat down.
In a post in late January, Michaluk told concerned CrackBerry forum members that he had seen "a fairly steady decline in US traffic over the course of 18 months, [which] then flattened out (the people left were the faithful in the USA)."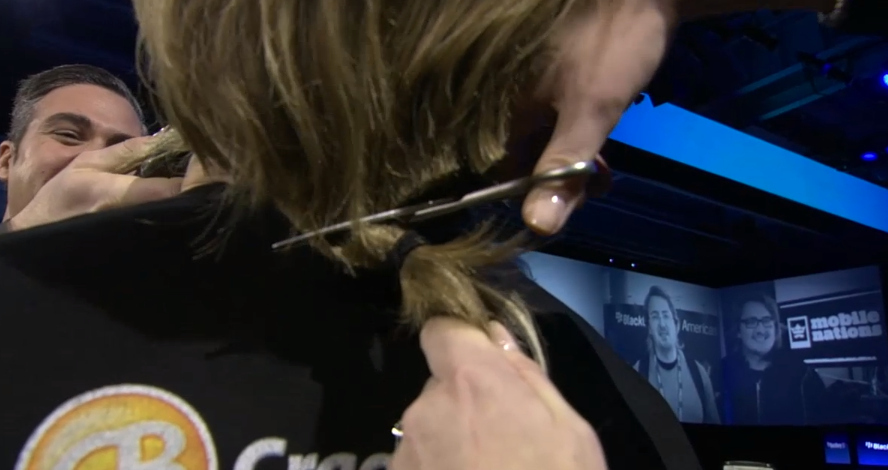 The BlackBerry used to be the most popular smartphone in the world, to the point that it became synonymous with the term. The loyalty it earned in the corporate world trickled outward in unlikely ways; rappers rhymed about it, teens coveted it.
What happened next is well-understood. The iPhone came out. People loved it. Google, whose Android operating system was in development at the time, drastically retooled its prototype software to target not the BlackBerry but Apple's brand-new touchscreen OS. RIM's stock chart tells the rest of the story pretty well:

In 2011, BlackBerry phones accounted for just 8.5% of new smartphone sales. By late 2012, this number had fallen to 1.6%. In the same time, the iPhone's numbers jumped from 22.4% to 48.1%.
BlackBerry 10, a year late by RIM's own deadline and about four years late by consumers' standards, will not save RIM — because saving RIM is almost impossible. BlackBerry watched its hard-earned loyalty dissolve, users by user, two-year contract by two-year-contract, as people laid their fingers on better devices made by other companies. BlackBerry fandom morphed from desire and appreciation to, at best, foggy nostalgia.
BlackBerry 10 and its two launch devices are competently designed — the messaging software is especially clever. You can read about the features here.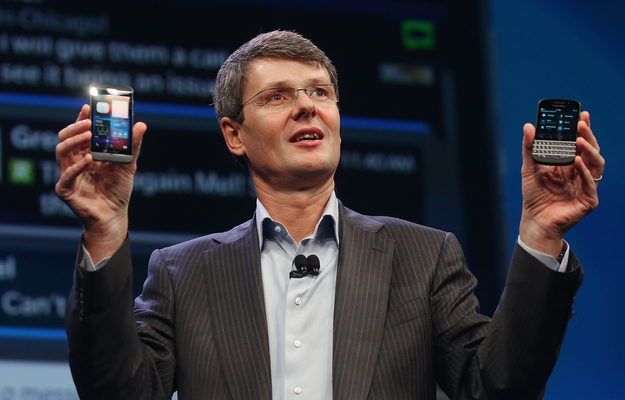 But despite its tragic lateness, BlackBerry 10 doesn't meet the smartphone table stakes. The Verge's early review gives the operating system relatively high marks, and back-pats RIM for cobbling together a decent platform. "The problem with the Z10 is that it doesn't necessarily do anything better than any of its competition," Josh Topolsky notes, adding that "no one could argue that there's a 'killer app' here."
Microsoft beat RIM to market with Windows Phone by over two years. It, too, had a good operating system, and reviewers gave Microsoft similarly condescending kudos. Microsoft stepped in front of criticism that it didn't have enough apps by literally purchasing them, giving developers cash to make sure recognizable titles were ready for launch. In the intervening two years, Microsoft's market share has remained flat, at just a few percent.
BlackBerry's pitch today, in 2013, was worse: Executives weren't even able to promise the same level of app quality as Microsoft had in March 2010. Angry Birds and Skype had been "promised" but weren't ready — an especially grim fact when you consider just how long this operating system had been delayed, and how old these two apps are.
In 2010, I asked Microsoft executives how they planned on luring users; the only answer, they agreed, was to lure developers. Windows Phone honcho Joe Belfiore explained, "If I were sitting here face to face with an iPhone app developer now, I'd say, I think we're worthy of consideration." I think, hopefully, if people have seen the user experience we're building ... that at minimum, it piques their interest and says, this looks like a smartphone platform that's going to have some degree of success."
Windows Phone was launched under much more favorable circumstances and is still waiting for that "degree of success." Windows Phone users still can't download Instagram.
Palm, which made a similar appeal to developers a year earlier, no longer exists.
In comparison, BlackBerry's attempts to woo developers border on hopeless:
BlackBerry 10 is an all-or-nothing play, a fact emphasized by RIM's decision to rebrand as BlackBerry — unlike Microsoft, which has cash cows in Windows and Office and enterprise, the Canadian company has nothing else to fall back on. This is it.
Almost every BlackBerry review will end the same way: The phone is good, but is this too little, too late?
To understand where BlackBerry stands right now is to understand that this is a rhetorical question. It would have been too little, too late two years ago.