9 Questions About The New iPhone You Were Too Embarrassed To Ask
Don't worry, this is a safe space. (Inspired by Max Fisher.)

So. Uhh. *Looks both ways, lowers voice.* What is an iPhone?
The iPhone is a phone made by Apple. You control it by touching the screen, which is made of of glass. It makes calls like a phone and sends text messages. It has a pretty good camera. To enter text you type on a simulated, on-screen keyboard, which is easier than it sounds.
It also has add-ons called "apps." You download these from the internet, which the iPhone can access from pretty much anywhere. Some of these are free, some aren't. These apps let you do basically anything you can do with a computer: edit documents, play games, use sites like Facebook, watch movies. The iPhone usually costs about $200 to buy, on contract, and then costs between $75 and $100 a month, because a $20–$30 internet plan is required.
You might feel embarrassed to ask what an iPhone is in 2013, but it's actually a pretty good question. The iPhone today is a very different device than it was when it first came out in 2007. If you've never owned one, or haven't spent much time with one, you're right to wonder: What the hell are all these people staring at all day, and why? Well, they're staring at their iPhones, mainly because iPhones are kind of fun.
But wait, what makes the iPhone so special? Why do people make such a big deal about this?
The iPhone was a big deal because it was first. Not the first phone with the internet, or the first phone with a touchscreen, but, in 2007, the first phone with a touchscreen and the internet that was nice to use. You could open entire websites, and they worked. Text messages, on that big screen, held together and looked like conversations. It was cool, and there was nothing quite like it. It worked. It was much better designed, in terms of its hardware and its software, than anything else at the time.
But it was expensive and kind of limited — you couldn't send picture messages when it came out, for example. It was a luxury item. Then, just as other companies were starting to release their own similar glass touchscreen phones, Apple opened the App Store, and let iPhone users install free and paid applications. This coincided with a price decrease — to about $200 — and made the iPhone not just useful, but the most useful. So, it was the first nice-to-use touchscreen phone, and then the first phone with a lot of good apps. But that was 2008.
The iPhone and the iPad, which is, no matter what people tell you, pretty much just a larger iPhone, have always been easy to use, and Apple is known for spending a lot of time making sure they work well and look nice. Apple is known for polish — it's first on big ideas, like touchscreen smartphones, but can be slow on smaller upgrades, like faster internet connections and larger screens. Fans will tell you that's because Steve Jobs was a perfectionist; others might say Apple is arrogant. Either way, it has worked. Apple announced today that it has sold 700 million iOS devices.
Anyway, to answer your question: Because phones are expensive and because, as you've noticed, people use them all the time, they've fostered a sort of tribalism. There are iPhone fans and supporters and Google fans and supporters. This is basically silly. So is waiting in line to get yours first, or arguing about smartphones on the internet. But it's not silly to love your smartphone. Smartphones are cool. People make a big deal out of this because they love their smartphones, because Apple announcements often contain surprises, and because millions upon millions of people plan to buy the next iPhone, sight unseen, because they like their current iPhone.
Aren't there Google phones? What about those?
Apple's lead has diminished. In fact, in terms of total phones in use right now, there are more Google phones than Apple phones around the world. Google phones are mostly made by companies that are not Google, but all of them use some version of Google's Android software.
It's sort of like how your computer has Microsoft Windows, but isn't made by Microsoft. Anyway, Google's phones are very, very good too. In some ways they're better — if you use Gmail and Google maps a lot, for example, it's just nicer on a Google phone. In some ways they're not, at least for some people — they're a tiny bit more complicated, at first, than an iPhone. A slightly steeper learning curve, but not by much.
Microsoft has some phones of its own that are also nice, but not many people use them, and they don't have many good apps. The iPhone and Google phones feel similar to use; the Microsoft phones don't. If you're wondering about smartphones right now or thinking about buying your first one, it's probably going to be one of these two.
And BlackBerry, right?
BlackBerry does still make phones. Some have actual keyboards. But they're falling out of style and aren't up-to-date in some fairly important ways. Some have touchscreens, but they have fewer good apps than any other. The iPhone was the anti-BlackBerry, and BlackBerry (the company was known as Research in Motion back then) stuck to its guns. BlackBerry is basically going out of business.
What's changed since the first iPhone came out?
Almost everything. Think of the first iPhone as a proof of concept for cell phones that:
1) depend completely on a touchscreen, with almost no buttons
2) cost a lot of money, each month
3) are more focused on the internet than on calls or text messages
4) die after, like, a workday
This, in 2007, was a strange proposition. But people were interested. The next iPhone had a faster processor, some extra small features, and much faster internet, called 3G. It wasn't quite like using the internet at home, but it was fast enough to load websites and refresh apps without modem-like waits. The iPhone after that, which was the first one really designed with complicated apps in mind, was a little more powerful and had a much nicer camera — good enough that you could usually leave your pocket camera at home. This one coincided with the rise of new social media, so people started using their phones to keep track of Facebook and Twitter and all those sites. Games took off. Smartphones became an obsession. This is when a lot of these "fans" were born.
The next version, the iPhone 4, didn't look like the other ones. Instead of a rounded back and thicker design, it was flat on both sides and covered in white or black-looking glass. It had a nicer camera, too, and a faster processor. But the main change in 2010 was the screen. The iPhone's old screen was pretty nice: sharp, good color. The new one was the sharpest screen you'd ever seen. You could put it right in front of your eye and it wouldn't seem blurry. Looking at text was like reading glowing paper; pictures were as sharp as print. This was cool, and represented the first real "first" for Apple in a while when it came out. Nobody else really had that at the time. Now everyone does.
The next phone, after that, was the iPhone 4S, which looked exactly the same, had yet a better camera, and was faster. This is the one I still use. It's fine! The iPhone 5 was next. It had a taller screen and was thinner. Different plug. Again, better camera. It had even faster internet, called 4G, which is about as fast as your internet at home.
So the iPhone hasn't really changed that much?
Right. The phones themselves haven't changed too much — they've gotten quite a bit better in every way except battery life, but using an iPhone now is pretty much the same as using one in, like, 2008. You tap and you swipe and you pinch and you zoom and you download apps and you take pictures. If you drop them they still break. It's either black or white, and you'll probably put a case on it.
But?
Yeah, but. The iPhone, and every smartphone, is a piece of glass with some software behind it. And the software has changed a lot. The first iPhone could browse the web and check email. I use mine for that, still, but also to watch shows, to send video to my TV, to get driving directions, to check Twitter, to take HD video, to play games, to figure out where to eat, to buy things, to control my desktop computer, to video chat with my family, to look at the weather radar — I have an app that notifies me a few minutes before it starts raining! You can talk to new iPhones, and they respond. There's a lot more that I could do that I don't.
Got it. Makes sense. What about today? Is this new iPhone any different?
The first, main new phone looks a LOT like the iPhone 5. It's the same size and shape as the iPhone 5, but, once more, a little faster and with a better camera. It's got a fingerprint scanner, so you can "unlock" your phone — something that used to require a password — more quickly. It's got a better flash on the camera, and its processor is 64-bit. It shoots slow-motion video. It comes in three colors: silver, black, and gold.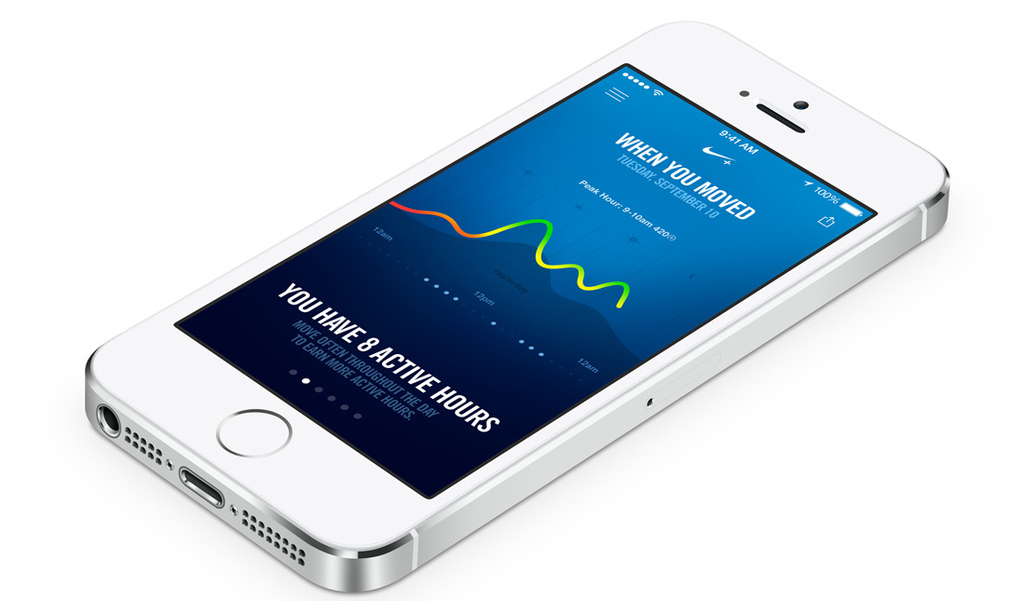 It's a small change, really, like the 4S was after the 4. But the 4S was very popular, and this will be too. It's still $200 on contract, you'll still have to charge it every night, and you still touch, tap, and swipe.
The bigger difference is one that we knew about already, since people have been testing it for months. It's called iOS 7, and it's the latest update to the core iPhone software. iPhone software has changed a lot under the hood since 2007. A whole lot. But it looks pretty similar. I mean, look at these two screenshots, taken almost five years apart.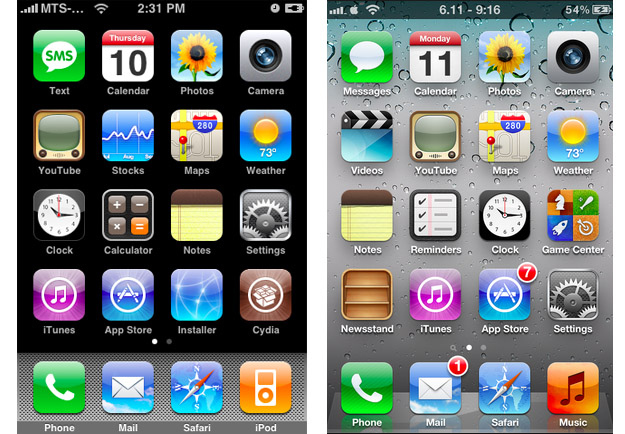 iOS 7 is, under the hood, very similar to the versions that came before it. But it looks very, very different. Apps are going to have to change how they look, too, after years of following one set of style rules. So people are pretty excited about that. Or worried? They have strong opinions, in any case. I guess in the grand scheme of things it's still 90% iPhone. The new software is more like the old iPhone than it is like the Google phone, for example.
So I guess what I'm saying is this: The new iPhone is just another iPhone.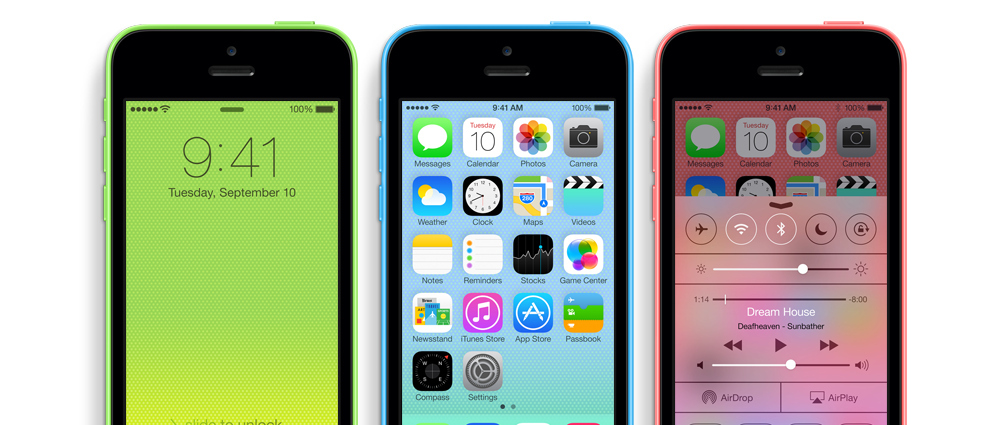 Also, for a few years Apple has been offering a cheaper iPhone as well. It's usually last year's model. That means that, for a price starting at $100 on contract, you can get an iPhone 5, basically, with new colors and soft silicone cases, which cost $30 each.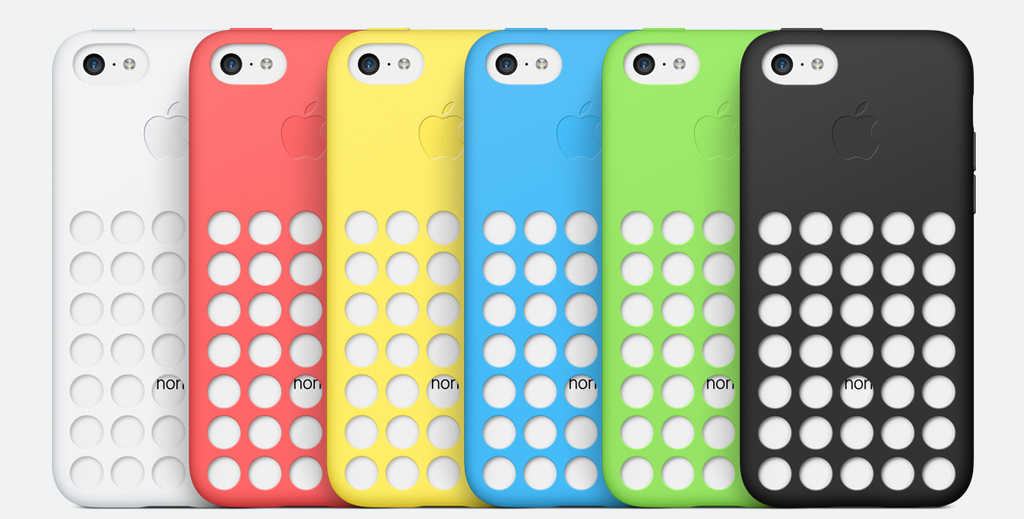 It's technically a new phone, called iPhone 5C now. This isn't a huge deal, though the colors are new — Apple has always stuck to one or two options. It could be a big deal for Apple's business, however, since it just landed a contract with the largest cell phone carrier in China, and the Chinese market will prefer the cheaper phone. But if you're thinking about getting the new iPhone, you should probably just get the nicer one.
Wait, wait, wait. That's it, that's my real question: Should I get the new iPhone?
Every year, for the first six months after an iPhone event, people ask me this question about once a week: When is the new iPhone coming out? This happens on a pretty strict schedule, so I usually have an answer. Then, every year, for the six months before the next iPhone event, people ask me this question about once a week: Should I get the new iPhone? There is no good single answer to this question. Luckily, there are many good answers to this question.
Are you thinking about buying your first smartphone, because it just feels like it's time? Then yeah, you should probably buy the new iPhone. You should look at the new Google Phones, too, like the Moto X. But honestly, I'm having this conversation with my own mother right now, and going with Apple is still the safest bet.
Do you have an iPhone? Do you like it? Is your contract almost up? Then yes. This is a better version of the phone you have. You'll get to keep all your apps and shows and music and stuff. You'll buy it, plug it in, enter your password, and that's it. It'll be like nothing has changed, and everything will work more smoothly.
Do you have an iPhone? Do you like it? Is your contract not up for another year? Then no, wait. It's not worth it.
Do you have an iPhone and dislike it? Want to try something new? Is your contract almost up? Then don't. Try an Android phone for a couple years — there are a lot of options, and you might love them.
Do you have an Android phone? Are you annoyed at it, somehow? Then maybe. The thing about Android phones is that pretty much anyone can make one, and they can screw up Google's nice software with their own modifications — advertising apps, whatever. So don't assume your Android phone's problems are problems with every Android phone. But Apple's phones are consistent above all else — you kind of know what you're getting.
Are you perfectly fine with your flip phone? Does the idea of using email on your phone stress you out? Then no. Don't worry about it. Smartphones are great and important to a lot of people — it's hard to overstate this. To have a smartphone, any smartphone, is to experience science fiction. It knows where you are. It can record anything and share it with anyone. It's truly unbelievable and we take it for granted. Our appreciation manifests in a subtle way: Few people regret switching to a smartphone, and almost nobody turns back.
But truly? You don't need one. We didn't have smartphones until the 2000s. We didn't have cell phones, really, until the '90s. In a way, not having a cell phone is like death: a natural state in which you've existed for billions of years, and to which you will soon (relatively!) return. Life — smartphone-having life — is the anomaly. A brief crack of light between two eternities.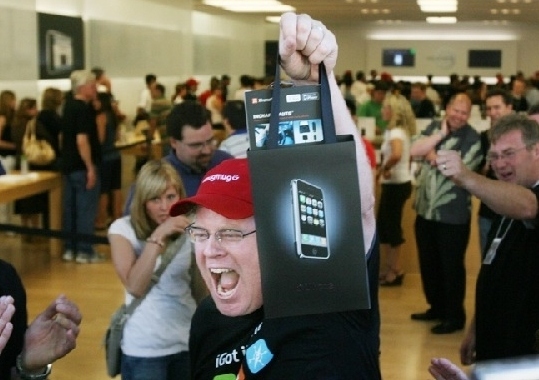 Hope that helps! Happy iPhone day. The new phones ship on the 20th.
And a special thanks to Max Fisher, whose format I cribbed for this post..