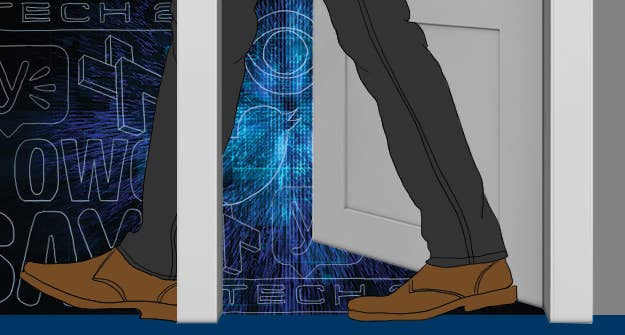 Last Thursday, about 175 people filled Zynga's downstairs basement, sipping free wine and beer, listening to a DJ spin house music, playing video games, and schmoozing. The party, called "Nerd Underground," was the first of a series of monthly networking events to be held at big tech companies around San Francisco.
The guest list had filled up quickly, and people who didn't RSVP were being turned away at the door. About 50 employers and recruiters showed up from tech companies in and around the city — not quite A-listers like Twitter, Google, or Facebook, but solid companies such as Practice Fusion, Say Media, CBS Interactive, and OneWorld Communications. People were getting leads, or at least it felt that way: A creative director at Zynga, for example, showed me a nicely designed business card she had just received from a designer. She is hiring, and she plans to follow up.
The attendees of the event weren't your standard twentysomethings. Many were older, in their forties and up — ancient to youth-obsessed start-ups and tech companies accustomed to hiring straight from top universities. Some had been out of work for years, having held senior tech jobs in the past. Other attendees were much younger, coming to Zynga's vast, whimsically decorated headquarters from some of the city's most impoverished neighborhoods.
The crowd came from TechSF, the city's new technology job training and placement program. In April, when they graduate, they hope to rejoin the same tech and start-up community that either cast them out or never welcomed them in the first place.
But breaking into the tight-knit group of mostly white, college-educated men, most of whom have preexisting social ties, isn't just a matter of learning how to program or write a résumé. It's a much harder problem than that — and one that Silicon Valley doesn't seem keen to solve on its own.
"It has been four years of frustration. This is the first time that I can say, 'OK, I am moving forward,'" says Linda Roberson, who worked for years in urban design but has been unemployed since she graduated from a masters program at the University of California Berkeley in 2008. "I know the engineering world, what my résumé needs to look like, how to get a job. I don't have that in the tech world." Her challenge is a common one: to "translate what I have done into what I can do."
At this point she says she'd be happy to have an internship, as long as she would be doing real work, and not just answering to a "young person on a power trip."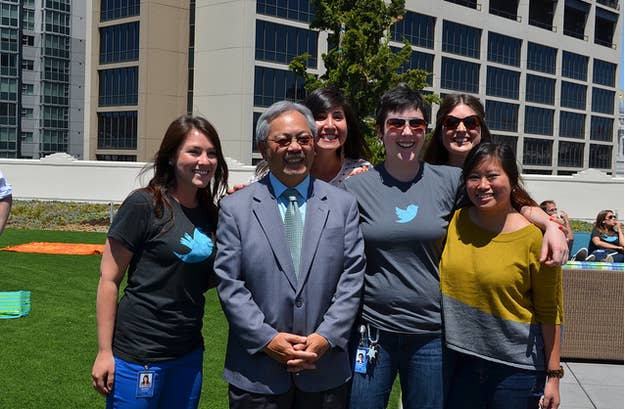 San Francisco Mayor Ed Lee has heralded TechSF as the "cornerstone of [San Francisco's] economic strategies." He has promised that the program, funded largely by a $5 million federal grant, will place 2,500 longtime unemployed and underemployed San Franciscans in tech jobs over the next five years. The program is focused on two disparate groups: inner-city youth, aged 18 to 24, and longtime unemployed workers aged 40 to 60.
Currently there are 125 enrollees, representing every zip code in the city: The program is 58 percent male, but more than half of enrollees are members of a minority group. The program is still in its infancy. The first class doesn't graduate until April, so there are no hard numbers on job placement.
In exchange for the so-called Twitter tax breaks, five big tech companies — Twitter, Yammer, ZenDesk, One Kings Lane, 21Tech, and Zoosk — promised to hire local San Franciscans and participate in "at least one event" with TechSF, by giving a lecture at a training event, attending a networking event, or speaking on a career panel. Several companies have explicitly agreed to hire TechSF interns too.
The real challenge for TechSF students isn't learning how to program in Ruby or use SalesForce software — though the program offers referrals for a wide variety of technical training courses. It's gaining social capital — learning all the intangible skills required to navigate the cultural world of tech, which is less hierarchical, predictable, and formal than many other industries. It's knowing when to challenge your boss or how to make a presentation; it's knowing the nuances of networking, how to work in a project team, spearhead new projects, and how to physically hold yourself in an interview — even what to wear and how to talk.
According to a 2011 Silicon Valley Workforce Investment Board survey of over 250 tech companies, when asked whether they would prefer a candidate with better technical skills or one who is "more adaptable, able to learn quickly, and ready to take on new tasks" — a description most closely describing a recent college grad — employers preferred the latter.
"The cultural fit is equally important as the skill set. It is not just getting hip on technology, but letting people know about the cultural changes. That is the kind of feedback we plan on giving to TechSF," a Zendesk spokesperson told BuzzFeed. "There is a different way of communicating. It is just a more casual culture, desk collaboration is the new style of working, and people don't interview in suits."
San Francisco is known as a high-tech city, but particularly in the low-income neighborhoods where computers and high-speed internet connections are scarce and many parents are immigrants, there isn't the same pervasive online culture. "The digital divide has gotten worse because tech is that much more pervasive. Our young people aren't programmed to do online searches or banking — all the little things people take for granted," says Villy Wang of the Bayview Hunter's Point Center for Arts & Technology (BAYCAT), a job training and placement program for inner-city kids. "A lot of people think the hardware is the solution, but it's whether they grow up with a tech culture."
"It is an important quality knowing how to speak and when to speak. How do you learn to do that? It is having initiative to teach yourself and come up with solutions, having the ability to receive and give criticism, and having a sense of confidence," says Wang. "But they are thrown into a community where they are constantly reminded of other kinds of vocabulary and other systems that don't empower them to feel that way."
The city has partnered with organizations including BAYCAT and the Bay Area Video Coalition (BAVC) a non-profit tech training and placement programs aimed at adults.
BAVC and BAYCAT double as production companies, which means students get actual job experience before going out on their own. "When I saw that BAVC has direct connections with so many firms, I took it seriously," says TechSF student Roberson.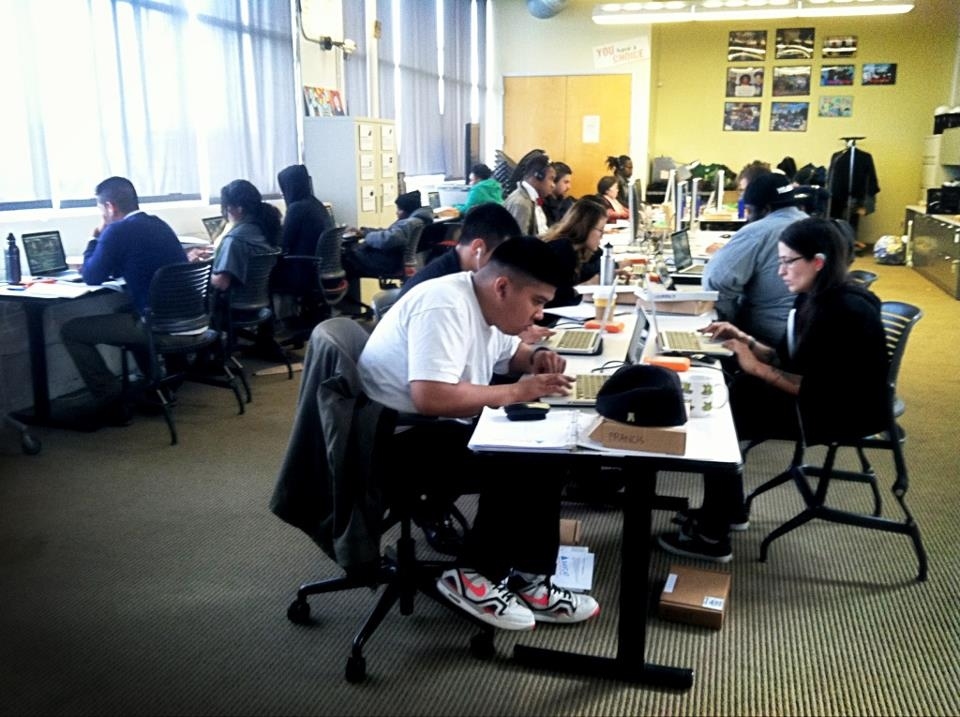 Besides offering actual job experience for students' résumés, acting as their temporary employer lets the organizations see what issues might arise in the workplace. "You don't just sit down and say you have to accept constructive criticism," says Wang, whose students do video production, web design, and graphic design for companies such as Yahoo and Citibank. "We integrate the training even with the younger kids. It seems straightforward and basic, but it is very deliberate on our part."
TechSF teaches students how to look for jobs on their own too. "Training people how to job search is just as important as the other tools we are training them on," says Mindy Aronoff, director of training at BAVC. When she asked group of 14- to 20-year-olds, "How do you get a job in the game industry?" a characteristic response was, "You put on suit and tie and bring your résumé, knock on the door, and insist they see you."
"That's 1957, like something out of The Hudsucker Proxy," says Aronoff. "And older adults think, I don't need to learn that, I've been doing this for 30 years. They don't understand that world has changed."
But all eyes are now on the companies to see if they step up to the plate — after all, they used TechSF for monetary gain (or, at least, tax relief). None of the companies that got tax breaks attended the Nerd Underground event.
Eleven tech companies, including Zynga, Zendsek, SalesForce, and LinkedIn, are part of a TechSF Advisory Committee, which meets twice a year. Notably, Twitter did not attend the first meeting. (Twitter did not respond to BuzzFeed's request for comment on this story.)
For their part, companies working with TechSF are offering input about what specific skills should be taught in the program. Once they hire, they will give feedback about what is and isn't working with interns and employees.
"The challenge is getting people to be specific and thoughtful in how to change the conversation," says Wang. "Part of the dialogue is that you have to change your perception, open your eyes, and say there is talent locally from historically underserved populations. That doesn't come naturally for many of them."
There is at least stated enthusiasm from many of the companies involved. "We're part of an amazing, growing community of tech companies here in San Francisco," Zynga told BuzzFeed. "Part of the point — and part of the fun — is to keep inspiring each other to do things like this that are helpful to San Francisco and its residents."
"As this program continues," says Wang, "what is going to be interesting is who shows up and who comes to visit." And perhaps more importantly, she notes, "who keeps showing up."