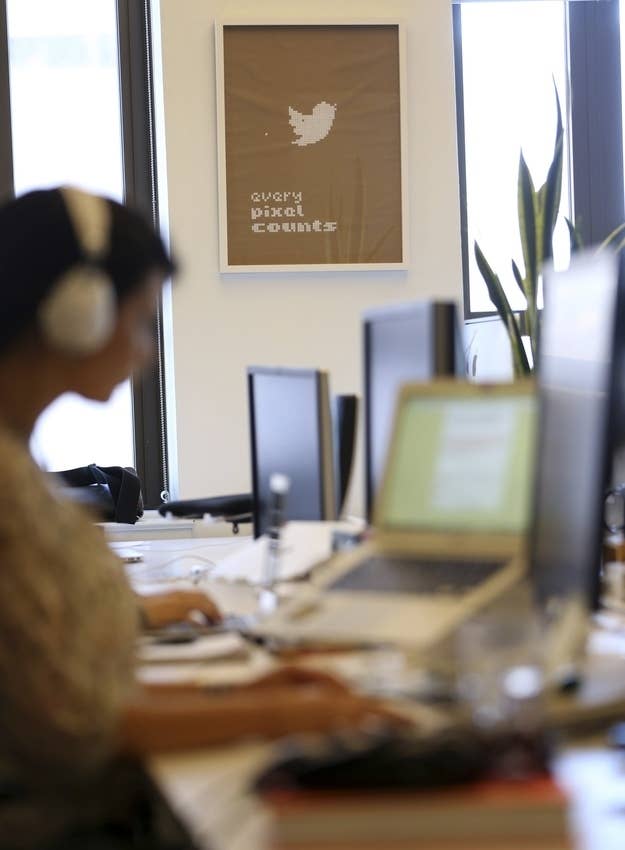 Last night, while the tech and business world pored over Twitter's freshly released IPO filing, the company quietly made a different pitch in a hearing room in San Francisco's City Hall. The meeting regarded Twitter's charity work in San Francisco, which the company promised in exchange for large, multi-year tax breaks from the city. It was a six-month checkup, and the mood was less than celebratory.
Colin Crowell, Twitter's head of global public policy, stood behind a podium in front of a city's Citizen Advisory Board to defend the company's efforts — just the latest installment in the city's heated debate over the tech industry's economic and cultural effects, now carried out in polite committee jargon under florescent lights. (Jenna Sampson, the local community liaison, was out of town.)
The question: What has Twitter really done in exchange for the ongoing tax breaks, estimated in 2011 to be worth about $22 million over a multi-year term?
So far, Twitter's list of charity efforts includes one mass volunteer day, $75,000 and 40 computers donated to non-profits, scores of summer internships, ongoing one-on-one volunteering and tutoring, legal help for citizens fighting evictions, and personal tech assistance to over 30 local organizations. Four employees joined non-profit boards, while other employees have opted to bike around the neighborhoods, reporting road problems to the city. The company also instituted a street cleaning day.
And of course, it gave away $60,000 in promoted tweets.
But giving back, according to Twitter, also includes hosting a sneak peek performance of the Broadway hit, Jersey Boys, for its own employees, as well as giving their workers discount theater tickets. The company also disclosed it spent over $750,000 on food items, all bought within 50 miles of the office in order to support local businesses, which it said constituted a sort of charity. The list was substantial but filled with grey area; of course, so were the tax breaks. And so is Twitter's effect on its neighborhood.
The city advisory board went through Twitter's twenty-five item volunteer plan point-by-point, politely challenging the company. Did the mass-volunteer events cause more problems for the non-profits than they were worth? Did a fifty-mile purchasing radius count as as local? Just what exactly is the value of a promoted tweet?
Crowell was adamant that the company-wide volunteer days weren't "volunteer-istic tourism" but instead made lasting connections in the community. He also suggested that TechSF, the city's tech training and hiring program, which Twitter had promised to help with, isn't working — the local graduates aren't truly ready to work at a tech company like Twitter.
The board's main concern: demanding that Twitter focus on its own effects on the neighborhood, such as increased housing and commercial rent prices.
"A lot of times with organizations, you volunteer in ways that make sense to you like IT training, community gardens, and food justice," said Peter Masiak, the committee chair. "Tweets, etcetera, are great, but without focusing on the affordable housing issue and cost of live in the city I worry that the clients are being priced out of the city."
"A huge result [of Twitter's presence in the Bay Area] is that commercial rents are jacked up," he said. "[Residents] lose the place where they got a buck and a half coffee, not the four dollar latte and the neighborhood is not for them anymore. They are no longer welcome in the community."
Crowell refused to disclose financial information to the advisory board, despite the company having publicly disclosed its IPO information only hours earlier. Crowell did not answer an ongoing burning question: how much, exactly, are its tax breaks worth? The company's six year, 1.5% payroll tax break on new hires is public, and rough 2011 estimates place its dollar value at around $22 million. But Twitter has frustrated the board by not sharing its own projections, despite demands.
"It would be helpful to get a number so we can temper our expectations," said board member Robert Marquez, last night, pointing out the generous amount of financial information provided to potential investors in the company's IPO filing.
Twitter responded that quantifying that number was meaningless, since there is also no real way to calculate the value of volunteering.
"What is the value of a person on a board? There is a lot we can quantify, but other aspects that are always difficult," Crowell responded. "To the extent we can, we will."
"It's not an abstract question about the value of volunteerism. There's a Federal scale for measuring that," Marquez later told BuzzFeed. "You'd have to wonder what's upside of not disclosing the tax break value at this point."
"Twitter is a young company that speaks with good intention, but I believe their decision around full disclosure... will give us a better insight about our new neighbor and community partner," he said. "It's a learning process."