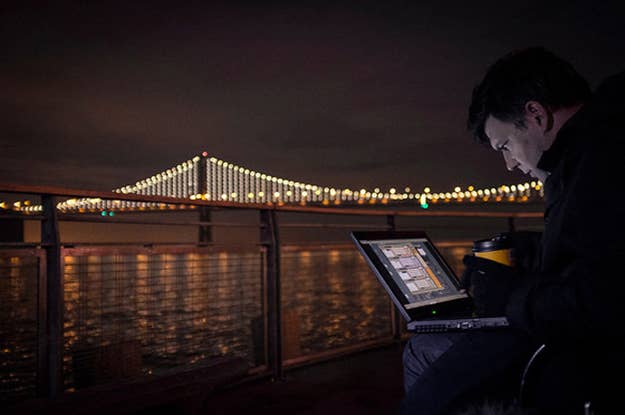 Leo Villareal is sitting outside in the dark, hunched over his laptop. He'll be sitting this way every night for the next three weeks. But he's not terribly focused on the glow in front of him. He's concentrating on the 25,000 individually programmed LED lights across the water, which make up the largest light sculpture in the world.
The LED artist and his team finished installing lights along the suspension cables spanning a 1.8-mile section of the Bay Bridge, which connects San Francisco and the East Bay, almost a month ago. (The lights are only on the west-facing side and won't distract drivers.) Right now, he's tweaking the software algorithms that dictate the movement patterns of the lights, which will be on display for the next two years. He has until March 5, when the installation, The Bay Lights, officially opens.
Villareal's algorithms are inspired by the environment around the bridge — the currents, weather, wildlife, and traffic from cars and boats. "I have been up on cable walks, but it is very much of a loose artist interpretation," says Villareal. "I'm not literally using any sensors or making scientific visualizations. If you want to think of it from a technology perspective, as the artist, I am the sensor."
One of the biggest challenges is making sure the Bay Lights work from every perspective — from the vantage point at the foot of the bridge or across the Bay in Sausalito. The final product will feature simultaneous layers of various sequences played in random order for a random amount of time. "You will never see the exact same progression twice," explains Villareal. "You might recognize certain sets of patterns, but there is no beginning, middle, or end."
"People ask me, why can't I just use a webcam? But a camera sensor can't document the subtleties you see with your eyes," explains Villareal. "It's not about document of light but the impact of the light itself."
vimeo.com
Adrian Graham's video of the lights, which Villareal showed an audience at his San Francisco Museum of Modern Art lecture.
The $8 million dollar project is privately funded, mainly by the tech community, with whom Villareal has close ties. To Villareal, it's the epitome of what the tech world is doing right now in the Bay Area: "It's a time when seemingly impossible things happen on daily basis." He adds, "It's a new kind of thinking, that 'we are doing it and making it happen, and why not?' There is something bigger happening that is aligned with this."
Villareal lives in New York, but his "formative moments" were in the Bay Area. In 1994, fresh out of graduate school at NYU, Villareal came out to Palo Alto, for a summer internship at Interval Research, a think tank funded by Microsoft cofounder Paul Allen. "The web was brand-new and getting fully immersed in a lab like Interval was kind of like a fantasy for someone interested in technology," says Villareal. "It was a unique place that combined programmers, engineers with designers, artists, musicians. It was very ahead of its time and a wonderful education for me just to just be absorbing all the energy and innovative thinking."
But as you might expect from with a massive light installation in the Bay Area, it also started with Burning Man.
The same year Villareal came out to Palo Alto, he found his way to the weeklong drug-fueled celebration where tech geeks and counterculture artists build massive art installations, towering sculptures, and themed camps in the Black Rock Desert, aka La Playa. It was still a relatively small affair back then, and in its subcultural heyday. It's a place of experimentation, inspiration, and epiphanies, "Burners" explain. For Villareal, that moment was when he put 16 LED pixels above his camping site to help guide him back after a night of partying in the desert. It was a literal beacon, but it led him to a career building light structures.
"It is about a communal experience, making something people can share, that activates space," says Villareal, "and those are all things that I was exposed to out on the Playa. It is hard to separate out. It is very ingrained in my work."
Now a board member of the Burning Man Project, a nonprofit, he explains its mission is to "take what happens on the Playa, distill it, and bring it out into the world the larger set of values." So instead of creating light sculptures once a year at Burning Man, he's built them around the world, from the Buckyball in New York's Madison Square Park, to the Multiverse at Washington D.C.'s National Gallery of Art, to the Hive in New York's Bleecker Street subway station.
"The Bay Lights becomes almost a digital campfire that people can gather around," he explains. "Suddenly you are talking to people you wouldn't have before. It is building community."
He is already seeing "little glimmers of it" in San Francisco. When he is out at night with his laptop, people will realize that he is controlling the lights, and a crowd will gather around him. "It's amazing to me how people are responding to the piece," he says. "It has a presences and a personality. Some people have even told me that they get anxious when it turns off."