Tech Companies Are Trying To Rename Downtown San Francisco The "Cloud Corridor"
In a city famous for micro-hoods, these companies are trying to rebrand an entire district.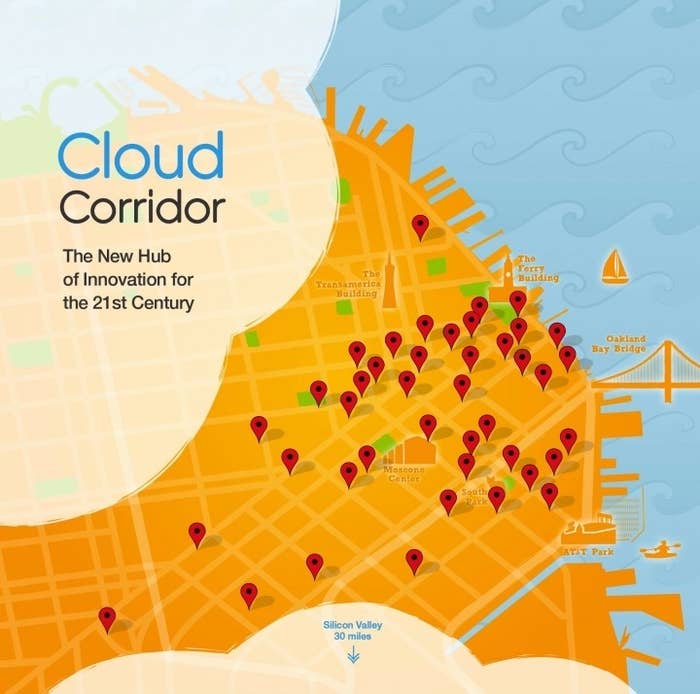 A group of tech companies is trying to rename downtown San Francisco the "Cloud Corridor," in an effort to rebrand the city's thriving tech district.
"The cloud is the hot topic these day," says David Villarina, who works at Montclare and is one of the organizers of the campaign to coin the name. "Across the world there are groups forming with similar themes and it didn't seem right that San Francisco, the center for all cloud tech development, didn't have a group or area defined like this."
San Francisco is known for having way too many names for way too many neighborhoods — so-called "Microhoods" — a subject locals have strong opinions about.
Some of these names develop naturally. Others are coined by real estate agents trying to push monikers to put a fancy spin on less fancy neighborhoods — the most classic being the maybe-cheeky "Tendernob," between the impoverished Tenderloin and tony Nob Hill. Some stick, some fail. But this is fully contrived — a brand, not a name.
These companies, which include Snapfish, Workday, ServiceSource, and Pivotal Labs, are making a concerted effort to jointly market themselves as the new generation beyond Silicon Valley. About a dozen company representatives met to come up with a naming strategy. They have even created a website promoting the idea with tips on how to spread it (use #cloudcorridor with your company tweets) as well as a LinkedIn page. They urge companies to use the phrase on their websites, when talking to the media, and in their marketing, branding, recruiting material, social media, even "over cocktails on a Friday night — virtually any outbound communication," according to the Cloud Corridor website.
"The idea came out from a few of us discussing how close our neighboring cloud and SAAS companies are to each other in a small area in San Francisco," said Villarina, who helped with the research and coining of the name as well as outreach to other companies. "There is a clear advantage to being neighbors with other significant companies in the space. Yes, from a marketing perspective, but also for HR recruiting, networking, and sharing technology. A lot of us are out there solving the same problems."
"Just as the strong brand of Silicon Valley helped companies and the local economy grow and thrive in the region, a similar virtuous cycle has developed in San Francisco and we believe deserves its own unique brand," reads the Cloud Corridor site. "With it, we can capture the hearts and imaginations of the local talent and the wider world."
The "corridor" isn't really even a neighborhood, or a corridor. It covers about 2 x 2 miles; San Francisco, in total, covers about 7 x 7. (When I point this out, Villarina maintains it has a corridor-like shape and that there is discussion about tightening the boundaries.) The Cloud Corridor website describes it as a "small geographical area" with over 50 cloud companies, located "within walking distance" of one another. In reality, it covers all of downtown and even slightly beyond: the Financial District, Chinatown, North Beach, SOMA, Union Square, the Third Street corridor, the Embarcadero, the Tenderloin, and Hayes Valley. In other words, the corridor encompasses the entire area where a likely majority of all major San Francisco offices — not just tech offices — are located. Many of the city's industries could justifiably claim the corridor.
It also includes South Park, which was the tech hub during the last boom. But that area was named after the actual park that the company buildings looked out on, not as an intentional marketing ploy.
After the San Francisco Examiner picked up the story yesterday, praising the idea, and SFist with a snarkier critical take, the topic began to show up on Twitter — in a way. So far the #cloudcorridor conversation is mostly one between companies, marketers, and themselves.