San Francisco Tech Company Gets Charity Tax Breaks For Helping Other Tech Companies
San Francisco asked tech companies to help local community groups in exchange for tax breaks. 21Tech's charities, however, look an awful lot like startups.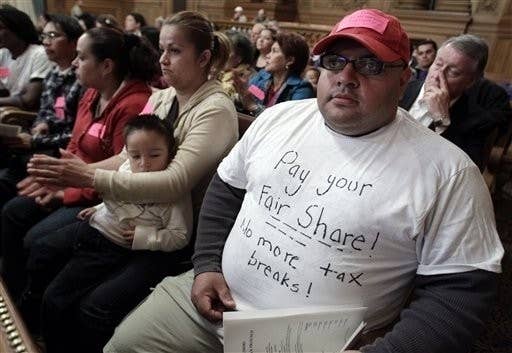 Technology consulting company 21Tech is one of the six San Francisco tech companies earning 1.5% payroll tax breaks on new hires over the next six years in exchange for "giving back" to the community. The idea: to bring more tech companies to the city, but to make sure the massive influx of new, monied residents doesn't come at the expense of existing neighborhood residents — a phenomenon recently described as "hyper gentrification."
While most of the companies have focused on schools, nonprofits, and homeless shelters, 21Tech has taken a different approach: assisting two startups with getting bids on government contracts.
21Tech first proposed its plan to the city as follows: It would help small local businesses register as minority- and women-owned small businesses, which would give them priority status for getting discounted government contracts. 21Tech would help them navigate the whole process, including bidding for the government deals. The city didn't specify what kind of businesses they had to be, only that they somehow benefit the Mid-Market area.
The city did not outright dismiss the concept. "We didn't specify the sort of business," Bill Barnes, the city administrator overseeing the tax break process, told BuzzFeed. "I know in Mid-Market, a lot of individual sole proprietors that are struggling with rent are PR or marketing or startups. That is the business mix that exists in the area."
Whether these count as neighborhood businesses is a matter of technicality. So is the question of whether they qualify as minority-owned or women-owned businesses, or whether they really need much help in the first place. The question of whether their existence and success helps the neighborhood, however, is not. It should be possible to determine if Regroup, a mass messaging platform, and DelC2, a business and international transaction consulting group, have any true relation with and impact on the Mid-Market neighborhood. There is scant evidence that they do.
DelC2, according to their website, is an "international network of professionals in the United States and Spain" that helps clients "develop global strategies" by providing "business and international transactions solutions."
Information about the company itself is limited. It has no records on LexisNexis. According to city records, its address is the tony Marina district. Its website lists a Google Voice number and a list of advisors. 21Tech helped the company register as a small, women-owned local business by listing one of those advisors as the owner.
DelC2 did not respond to BuzzFeed's emails or phone calls. But one of the advisors listed on the company's site told BuzzFeed he has no relationship with the company beyond a single conference call. He subsequently got his name removed from the website.
The other company, Regroup, isn't located in the Mid-Market area either. It is registered at a Mission District address, four blocks from Zuckerberg's $10 million pied-à-terre. The CEO, Joe DiPasquale, splits his time between New York and San Francisco.
DiPasquale founded Regroup while getting his MBA at Stanford. The platform, which allows companies, universities, and local governments to send simultaneous mass messages via email, text, social media, and voice, started as a service for Stanford students.
In 2008, DiPasquale raised an initial $2 million round of funding, mostly from prominent angel investing groups. He himself is an angel investor as well as a venture investor at an early stage and structured growth capital firm, and has worked in investment banking at Deutsche and done strategy consulting for Bain, IBM, and McKinsey.
At a recent City Hall meeting, 21Tech introduced DiPasquale to the community board as the poster boy of their work helping the local community.
When asked about the two companies' relationship, DiPasquale told the board that he met the 21Tech CEO several years ago at a Silicon Valley event, long before the tax breaks were conceived.
Questions were raised as to whether Regroup qualified as a minority-owned business. 21Tech argued that it did, because the CEO is gay.
In its October six-month progress report, 21Tech reports that it has registered Regroup as a small, locally owned business. According to city records, it has not.
Reached by BuzzFeed, DiPasquale said he didn't know much about how the tax break program worked. He seemed genuinely concerned: He couldn't remember the name of the committee he spoke before at City Hall but also seemed anxious to get off the phone. He has not responded to follow-up inquiries. Whether he knew he was helping 21Tech get tax breaks remains unclear.
21Tech did not respond to multiple inquires from BuzzFeed.
According to its six-month report to the city, 21Tech has helped the community in other ways, including taking an online pledge to keep streets clean, hiring a summer intern from San Francisco State University, telling staff about a local street fair with emails and a poster in the break room, posting jobs on the city website, going to local restaurants — a list on which it included Subway and Starbucks — and having the local Bike Coalition talk to employees about biking over lunch.
Barnes said he and the community advisory board are in the process of reviewing 21Tech's case.
He and the community board have asked 21Tech for additional information. The company will appear before the board next month to answer this and other questions about its six-month progress report.
"The intent is good, but they haven't verified the deliverables," he said. "Our big focus is how are these benefits serving the geographic area."