Millions Of Americans Have Zero Interest In The Internet
Fifteen percent of adults in the U.S. don't go online. A third of them say they just don't want it and never will.
Fifteen percent of adults in the United States don't use the internet or email, according to a Pew Research Report that came out today. That's about 11 million people over the age of 18. More interesting, though, is that millions simply don't want to.
The main reason people cited is that they just don't see the internet as "relevant." A third of those nonusers say say they are either "just not interested," think it's a "waste of time," don't have the time or need, or just don't want it.
That's right: That thing that you use for just about everything in your daily life simply doesn't have any relevance for about 3.3 million people in the United States. That's like if everyone in Seattle said, "You know, that whole internet thing? That's just not for us."
It's not that they don't know what's on the internet. Fourteen percent of non-internet users used to be online. But the vast majority — 92% — say they aren't interested in going online in the future.
"Most offline adults either don't see the internet as relevant to them, or feel that it would not be worth the effort," Kathryn Zickuhr, the author of the study, told BuzzFeed.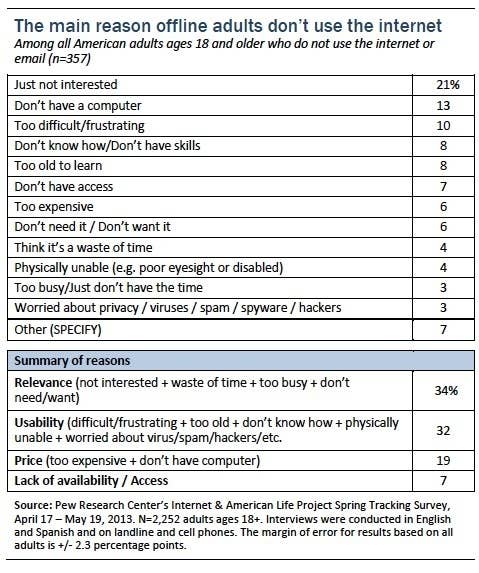 It is worth noting that many of the people who say they aren't interested also say they they'd need assistance getting online. Overall, 63% say they would need some kind of help getting online. It seems that for many, the desire to surf the web just doesn't overcome the hassle of dealing with it.
While it might be confounding that people don't want to go online, it's maybe more depressing that a lot of people want to, but have obstacles. More than a third (32%) of people offline say their main roadblocks are usability problems, like finding using computers too frustrating, not knowing how to get online, or having disabilities like poor eyesight. Nearly 20% of nonusers say they don't log on because they either don't own a computer or it is too expensive. Seven percent don't have physical access.
The population of people offline correlates with age, income, education, and geographic access: 44% people over the age of 65 are offline, as are 24% of adults with household incomes of less than $30,000 a year, 41% of adults without a high school diploma, and 20% of adults living in rural areas.
The study raises obvious, and common, questions about how to get those who want to be online, online; more novel, though, is the subset of people who just don't care. You use the internet every day. Can you imagine just dropping it?