Life Behind The Wheel In The New Rideshare Economy
In streets across the country, taxis, rideshare companies, and regulators are locked in a fight to the death. To sort out the confusion and controversy, I got behind the wheel.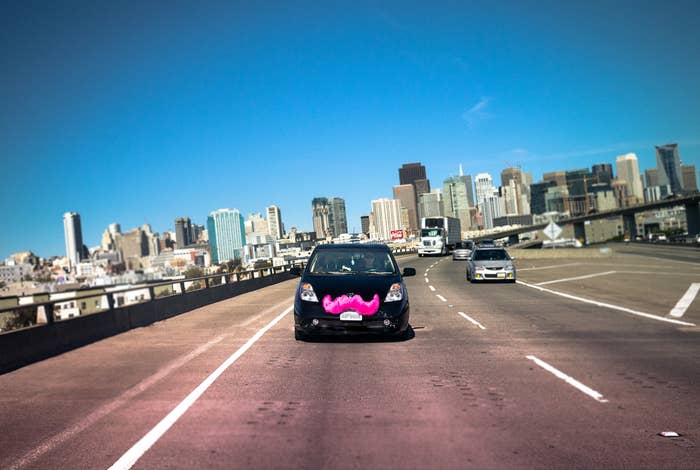 The young blonde woman sitting shotgun in my car was focused intently on her phone. I had just picked her up from her tech job in San Francisco's SOMA neighborhood — after dropping off another tech worker at a happy hour nearby — and was headed toward the Mission, where her coworker was having a house party. I was supposed to be making small talk, exuding friendliness, and playing temporary bestie. But I was starting to feel intrusive.
Plus, I was distracted. The rush-hour traffic was a chaotic maze. The GPS app I was using kept ordering me to turn in the wrong direction, toward the bridge headed to Oakland. I wanted to shut the app off, but I was afraid that would mean I wouldn't get paid. On top of that, the giant pink furry mustache on my car's front grill was coming loose and flapping around perilously.
If you live in San Francisco, you know the kind of mustache I'm talking about, and have no doubt reacted with either enthusiasm or condescending mockery — or at least a bit of embarrassment for the drivers. It's the brand logo for Lyft, the so-called ridesharing company, which is rapidly growing in both popularity and profile. But while its ridesharing concept is easy enough to understand, the way it actually works is confusing and more than a little opaque. So I decided to try it for myself.
Lyft and its direct competitor SideCar are quasi taxi companies that are either revolutionary DIY ridesharing programs, or illegal cab companies, depending on whom you ask. Instead of hiring drivers and buying their own fleets of cars, these companies sign up individuals who use their own cars to pick up riders. Riders pay a voluntary donation via a phone app, and the ridesharing company takes a cut. Publicly, ridesharing companies argue that they don't fall under the legal definition of a cab company. Under that loophole, they argue, they can skirt the industry regulations. And what are regulations but technicalities, anyway?
There is also Uber, an app that lets you hail a car service or limo, which often gets lumped in with Lyft and SideCar. But for now their model is different from ridesharing companies, because they partner with limo companies with professional drivers, instead of relying on individuals who happen to own cars. But Uber, too, has announced plans to dabble in the ridesharing model. Its drivers in Austin, at SXSW this year, were civilian drivers.
Lyft suggests the best comparison to ridesharing is eBay, an online platform that "connects" sellers and buyers just as Lyft connects drivers and riders. It is essentially a coordinated carpooling system, the company says. "As a movement, we remain focused on changing the fact that 80 percent of seats on our roads are empty while transportation continues to be America's second highest household expense," Lyft says on its website. Don't think of a Lyft as a cab, it says, but as a best friend with a car.
But a more apt comparison is to AirBnB, which has also created a business model that has been criticized for avoiding hotel taxes; ignoring commercial licensing laws needed to run a hotel or bed-and-breakfast; eschewing safety regulations, such as fire evacuation requirements; and implicitly encouraging users to flout rental laws. In the meantime, it is waiting—and hoping—for the legislators and regulations to catch up.
Ridesharing companies aren't just a new transportation model, but an employer one as well. Since they don't hire their drivers, they don't have to pay health insurance or workers' comp, or follow any Occupational Safety and Health Administration regulations. There is no monitoring of their hiring practices or how their drivers are treated.
Officials nationwide are debating the legality of ridesharing. Last year, California's Public Utilities Commission (CPUC) issued $20,000 in fines and cease and desist orders to Lyft, SideCar, and Uber for running "charter-party carriers" without proper permits, registrations, and safety checks in place.
On Jan. 30, 2013, Lyft reached an interim agreement with the CPUC. Its cease and desist order was suspended and the $20,000 fine waived. Lyft is temporarily being allowed to operate while the state finalizes regulations, as long as it has certain safety checks in place, including making sure all drivers have proof of insurance, a DMV record check, and national criminal background checks. "The purpose of this rulemaking is not to stifle innovation and the provision of new services that consumers want, but rather to assess public safety risks, and to ensure that the safety of the public is not compromised in the operation of these new business models," said the CPUC in its ruling. The following day, the CPUC also suspended Uber's cease and desist order and waived the $20,000 fine. SideCar, however, is still under its cease and desist order and is operating illegally in the state. The others are in a sort of legal limbo.
As the ridesharing companies spread outside of California, they are facing headwinds. The Philadelphia Parking Authority set up sting operations to bust drivers and hit them with $1,000 fines. Austin issued SideCar a cease and desist letter two weeks before SXSW, followed by a law allowing police impoundment of cars suspected of working for ridesharing companies. In retaliation, SideCar sued the city. (Not wanting to miss SXSW advertising opportunities, SideCar hired drivers for the event through Craigslist, and Lyft offered piggyback rides.) The New York City Taxi and Limousine Commission (NYC TLC) told me that they will take legal action against ridesharers that behaves like cabbies, even if they claim not to be. "If someone is trolling the Meatpacking District using an app to get rides, we will enforce the legislation," says the NYC TLC, which takes about 800 illegal livery services off the streets each month. "If it walks like a duck, it talks like a duck."
"It might work in San Francisco, a bigger city that is more sprawling with fewer cabs," says the NYC TLC. "But New York City has a different dynamic. You don't get into a stranger's car here unless it is a licensed taxi or black car."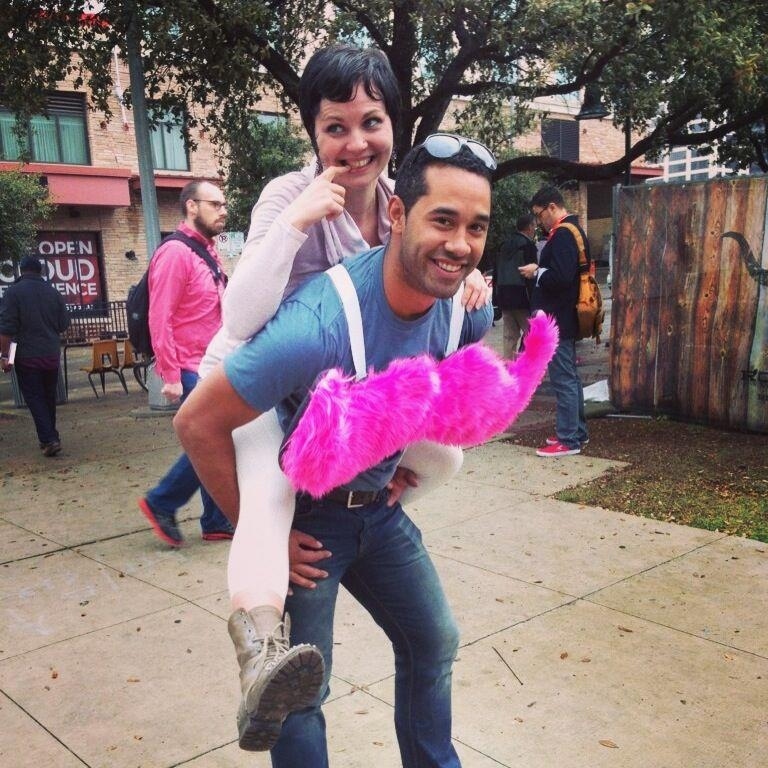 The fight between ridesharing and cab companies has become intense in San Francisco. According to police reports, cabbies have harassed Lyft drivers. There are stories about verbal abuse, cabbies giving them the finger, cutting them off, and making vague threats. There are rumors of cab drivers acting as moles and spies looking for information to take them down. Cab drivers have testified at San Francisco Municipal Transportation Agency (SFMTA) public hearings that Lyft drivers are picking up passengers on the street and taking cash (which would legally qualify them as cab companies), all of which Lyft denies. Lyft has reached out to managers of all major taxi companies. "There were multiple meetings, some more friendly than others," John Zimmer, cofounder and president of Lyft, later told me.
"This is the ultimate decimation of the taxi industry," a cab driver said at a public SFMTA meeting. "Who would pay to get a license or a medallion if there is no money in it because these apps have become the way to get around town?"
Which presents a good question: Why don't they all just switch over to Lyft?
More than 20 cities experimented with taxi deregulation in the late '70s and early '80s. It generally resulted in a decline in cabs but also a decline in efficiency and productivity. Additionally, it produced higher rates, lower driver income, a decrease in service quality, higher response times, and more complaints from riders. Almost all of the cities reinstated regulation.
"Most cab drivers have been assaulted, robbed, worked the very slowest shifts, dealt with countless assholes, cleaned up many barfs, and earned a meager living," says Barry Korengold, president of the San Francisco Cab Drivers' Association. "This makes for a race to the bottom, and when it hits bottom, and even on the way down, it won't be pretty."
Incumbent taxi services and legislators aren't the only ones grappling with the Lyft concept. Drivers and passengers have a lot of questions too — and not all of them have clear answers right now. Are the drivers breaking the law? Are they just offering people rides to places they are going anyway? Is it safe? Are they doing this to make a living or just as a hobby when they have spare time?
That, in short, is why I decided to join Lyft — to don the furry pink mustache. What I discovered: Legally they aren't who they say they are. Donations aren't entirely voluntary; customers who don't pay can be blacklisted. Drivers use it as a way to make a living. They pay taxes, deduct expenses, and follow Lyft guidelines on how to make more cash. It is essentially impossible to use the app to coordinate carpooling. They don't fulfill the legal loopholes they claim to. Lyft even admits as much themselves.
"If you could give a Lyft to anyone, living or dead, who would it be?"
It was the first question during my initial phone interview to become a Lyft driver. I absolutely hate that kind of question. Off the top of my head, I said Joan of Arc. I don't know why. It just came to me. She was kind of a badass, right?
The chatty Lyft employee asked me how I like my car, my neighborhood, and how my friends would describe me. He then went through a checklist of questions: Do I have more than two points on my record, a reckless driving violation, a DUI, or any other major violations? Was I at least 23 years old, do I possess a valid California license, and have I had that license for at least three years? Do I smoke in my car? Do I have insurance and registration? Am I comfortable with smartphones and GPS devices? He wanted the year and make of my car to ensure it was a four-door car, 2000 model year or newer.
The interview lasted five minutes, tops.
The following business day, I headed down to the Lyft office in SOMA for my in-person interview. The office, a converted garage, had a spray-painted Lyft logo on one wall, paper mustaches hanging from the ceiling, and a group of seriously cheerful people with cool haircuts and bright T-shirts. In hand-painted letters over the doorway: "Communities aren't born. They're made, built on the shoulders of shared experiences, created by people with a common cause, a common history, or in our case, a common destination."
I was greeted by the receptionist, with what turned out to be the first of many fist bumps, the Lyft hallmark greeting. Whenever someone gets into a Lyft car, the passenger and driver are supposed to fist-bump. That day I fist-bumped half a dozen people on my way to have my photo taken in front of an Astroturf background (wacky faces and giving thumbs-up are encouraged), get interviewed, and fill out paperwork.
The hardest question during the in-person interview was, "How will you make your car unique?" Just like Jennifer Aniston's waitressing gig in Office Space, this job requires flair. (One driver is a yoga instructor, the interviewer explained, so she mists her car with lavender scent, gives out organic sugar-free gum, and puts Post-it notes with positive affirmations on her dashboard. Another is a DJ, so he has disco lights and a karaoke setup, and spins records out of the back of his car while waiting for riders.)
"Maybe I'd hand out bottled water?" I said.
They wouldn't tell me exactly how much money I would make. Lyft takes a 20% cut of drivers' fares (lowered temporarily to 15%), except during "power hours": on Friday and Saturday nights, early commute hours, and holidays that involve lots of drinking, when the driver gets all the money. Most people make about $18 to $35 an hour, I was told, but it varies depending on how busy it is and whether you are driving during power hours.
I filled out the paperwork for the DMV and criminal background checks. Cab companies also do criminal background and DMV checks — plus fingerprinting and a drug test. However, cab companies don't have specific criteria on what violations or crimes disqualify you: They do it on a case-by-case basis.
Lyft's vehicle safety inspection, which it claims is stricter than those of taxicab services, consisted of checking that my car was clean inside and out and having me demonstrate that my break lights, blinkers, and headlights worked. They copied my driver's license and insurance card and photographed my license plate — there was no need, they explained, to see my registration as long as I had the sticker.
Unlike at a cab company, there was no driver safety test or quiz on city geography. They didn't check references or ask for a résumé. I don't think they even Googled me.
With a fist bump through my car window, I was on my way. A few days later I was contacted that I passed. I was now an official Lyft driver.
A few relevant personal notes here: I have lived my whole life in New York City and San Francisco. I got my driver's license at 21, which I used in my twenties to get into bars, not to drive. I bought my first car last year. I know the city by bus and bike routes. The maze of one-way streets in downtown San Francisco is as much a mystery to me as it is to my prospective passengers. My driving history does not fit the profile of a cab driver.
A few weeks later, I joined about a dozen other people back at the office for training. There was one former cab driver there, who told me he was going to be seen as a traitor amongst his former colleagues. There was a father with graying hair who said his hospital job wasn't bringing in enough money. But the majority of people there were young guys in their twenties and thirties, excited about jumping on the Lyft bandwagon. Some were artists and freelancers looking for a side income, others were in between jobs. There was the typical shyness you'd expect amongst strangers, but when we went around the room and offered our flair ideas, there was major enthusiasm. Snacks, baked goods, Girl Scout cookies, playlists.
Our training focused on using the app, signing up for work hours online, and being friendly. In teams of two, we sat in chairs side by side (Lyft riders are supposed to sit shotgun), acting out welcoming and fist-bumping the rider, making small talk during the mock drive, and using the app on tester phones. We never actually got in a car.
There was, of course, advice about mustache maintenance: Never leave it abandoned since they tend to get stolen (whether by angry cab drivers or avid fans was unclear), and replacements cost $30. They have the unfortunate trait of being absorbent — they get soggy in the rain.
Much of the training concerned Lyft's model and lingo. We were repeatedly reminded, "You are a best friend with a car." "It is a community movement." "Don't make them feel like it is a cab."
We were reassured that allowing strangers in our car was safe, since Lyft has each rider's credit card information, Facebook profile, and their smartphone's GPS location.
We were warned that some people would try to goad us and that cab drivers may harass us. If anyone asks, we were told to give the line that "Lyft is a pre-arranged and noncommercial personal platform to connect riders and drivers. Lyft doesn't employ drivers."
When pressed about cab harassment, the instructor reassured us that Lyft is "building relationships" with the cab companies. For now, we were instructed to always "avoid friction," "keep people calm and happy," and "try not to be aggressive" both from a safety perspective and to avoid making the passenger uncomfortable. "Remember, we are all doing something cool," we were told. "We have no animosity with other companies."
One trainee raised concerns about rumors that you need to remove the mustache when driving to the airport. But we were told that Lyft is also "building a relationship" with the airport.
Legally, taxis and limos have to have a permit to pick people up at the airport, and they have to pay a fee for each trip. Lyft argues they don't have to, which has caused anger amongst cab drivers and the airport itself.
(Since my training, the airport issued a cease and desist letter to ridesharing car companies including Lyft until CPUC regulations are finalized. Airport authorities are stopping drivers and threatening them with $200 citations. Lyft has told drivers to keep taking people to the airport, and if they are ticketed, Lyft will fight back and if need be, pay the fine for the driver.)
There were some strict prohibitions: You cannot pick up people flagging down a cab (as cab companies have accused Lyfters of doing). If you see them, suggest they download the app, and use it to hire a driver. We had to watch out for "Lyft jackings," when people who didn't request a Lyft try to get into the car anyway. And you absolutely cannot accept cash under any circumstances. Always get paid through the app.
An important thing for any Lyfter to remember: You aren't actually earning money; you are getting "Lyft Loot" in the form of voluntary donations. "It is less of a financial transaction and more of a social interaction," we are told. Since it's "awkward" to pay a friend, the passenger pays you with the app, after they get out of your car.
During training, we filled out W-9s and were told that if we made over $20,000 and had more than 200 Lyfts annually, we would would be sent a 1099K form, a relatively new tax form for e-commerce merchants. Otherwise we didn't need to pay taxes. If you do file taxes, though, you can write off any expenses, like gas, car maintenance, your phone, or flair.
We were given strategies on how to maximize our "Lyft Loot," i.e., make more money, by driving during peak hours and waiting in optimal locations. We were shown a map of the city with Outer and Inner Richmond areas labeled as "No" and downtown, SOMA and the Marina as "Yes." In other words, follow the tech money. In the mornings, being closer to the edges of town works as well, since people take Lyft to work.
Hunters Point and the Bayview, low-income minority communities, didn't even make it onto the map. Since the app connects drivers with rides nearest them, Lyft is essentially not available for people in those communities. Granted, it's infamously difficult to get a taxi from any company to come to inner city neighborhoods. But for better or for worse, other companies aren't as explicit about it.
The potential for problematic discrimination is high. Not that this doesn't happen anyway — simply ask Nikki Pearle or just about any African-American living in a major city.
Not just anyone can use Lyft. You can't hail one on the street. To book one, you need a smartphone, good reception, and a Facebook account. Building a platform using Facebook is supposed to create a greater sense of trust between people — as long as they are the type of people who are on Facebook.
Drivers can turn down anyone they like. When someone requests a ride, you see their name, photo, and location, as well as the star rating, which is determined by other Lyft drivers, and decide whether or not you want to pick them up. Even once you arrive, you can turn them down on the spot. Examples given included the caller having a dog, having a child but no car seat, or being an ex-boyfriend.
Drivers can set the app to get calls only from riders who pay above a certain percentage. Cheapskates can be weeded out. If their star rating is low, they won't get kicked out; they just won't get rides.
"They aren't great people to keep in the community," one Lyfter explained to me. Low star ratings can be given out for arbitrary reasons. There are some Lyfter complaints on Facebook that riders won't sit shotgun, preferring to be "Miss Daisies" and treating them like cabbies. "I actually started giving four stars to people who didn't do anything really wrong, except they were far less interesting or not as nice as a lot of my five star people," posted a driver on the Lyft driver Facebook page. "Some people just sit there in silence with that 'you're nothing but a cabbie' attitude."
"Most oft heard comment from my Lyft Passengers: 'Don't Judge Me,'" posted another. "Is it that obvious?"
Most Lyft drivers I spoke with said they drive almost exclusively young tech people. Which in part makes sense: Lyft is a start-up, and these are early-adopter types. Many of the big tech companies reimburse employees for transportation. Some drivers I met even use Lyft as a networking opportunity to hand out business cards or tell people about their start-ups.
"You have to be in the know," points out Kelley, who has used his Lyft job to make friends and professionally network. "The majority are [in the] young, successful, twenties and thirties tech start-up kind of crowd. It comes down to [the] community striving to do something more than just get a ride. I haven't felt a community like this in years."
If Lyft is building a community, however, it's doing so within the larger tech community, in a city increasingly divided into two populations: Those who are part of its biggest industry and those who aren't.
Before we started driving, we were urged to sign onto the Lyft's Drivers' Facebook page. The "Lyft Lounge" is a mix of Lyft fandom and confusion. Among the photos of pink-mustache cookies which drivers have baked for their customers, fun times at driver hangouts, raves about how great Lyft itself and the customers are, there were questions about payments, taxes, and insurance.
Mostly drivers just share advice: how to stop people trying to cram extra passengers in, tips on the best public restrooms, where to get the most riders. There were lots of questions about the app and poor connection areas.
There is a strict, nearly enforced vibe in the group. One driver who tried out Lyft as a passenger complained that her driver went the wrong way down a one-way street because of faulty GPS directions. Users ganged up on her for criticizing one of their own. ("I'm sort of disappointed, I thought we are here to help each other out as Lyft drivers and not criticize each other," wrote one.) Instead of calling for driver training, many sympathized about how hard driving is in the city. Some even admitted to making the same mistake.
When a driver posed a question about taxes, Lyft directed the poster to a fellow driver who is also a tax accountant. "Calling a voluntary payment for service received a 'donation' does not affect whether it's taxable unless the receiver is a tax-exempt organization," she posted. "So all of your Lyft income is taxable since you are not a tax-exempt organization. Hope this helps guys. This is considered self employment income, not a hobby. You can further discuss with your tax advisor for more details." To help out with taxes, in March, Lyft sends each driver their total number of Lyfts, amount of "donations" they've received over the past year, and, if they have earned more than $20,000 in donations, a 1099K form.
Others raised questions about insurance, which is important to people taking rides from Lyft, not just the drivers. Lyft requires drivers have "valid personal auto-insurance that meets or exceeds state requirements." But if you are using your car for commercial purposes, you need commercial insurance, which is expensive. "In situations where a vehicle is insured as a private vehicle and is used to transport passengers for a fee, no insurance coverage would exist," wrote the Personal Insurance Federation of California, which represents six of the nation's largest insurance companies, to the CPUC. "Tracking if accidents have occurred involving such vehicles is difficult, as the insurer will not always have the knowledge that the passenger paid for transport."
Lyft has a "first-of-its-kind" $1 million liability insurance, which, according to its website, covers liability but not collisions or wear and tear to the car. Lyft drivers have reported difficulty in getting the company to answer their questions about the proprietary insurance policy or show them a copy. Lyft confirms that it is careful with who sees the plan because this is its competitive edge over other rideshare companies, but says that it would let any rider look at a copy at the office if they want. So I asked them to show it to me.
With the name of the company Lyft works with blacked out (although they forgot to black out the name of the risk management company by the signature), they showed me the secret document. Lyft has created a new category of drivers, called "Symbol 10," specifically for its insurance policy. They wouldn't offer more explanation of what that entails, other than it covers Lyft drivers. The CPUC confirms that it reviewed the insurance policy and approved it.
By contrast, SideCar offers $1 million in "assurance," not insurance. "We understand additional assurance provides an added layer of peace of mind for everyone. We want you to know that SideCar has your back," says SideCar's website. Its "guarantee," the company explains, is not insurance, and does not cover "certain excluded losses." Its website directs readers to ask SideCar directly for more information. When I asked, as a journalist, SideCar would not offer any further information.
There is a potential loophole in Lyft's terms of service. It states, "Lyft has no responsibility or liability for any transportation services voluntarily provided to any rider by any driver using the Lyft Platform." Furthermore, the Lyft driver is "solely responsible for any and all liability" while Lyfting, "including, but not limited to personal injuries, death and property damages."
When, as a reporter, I asked Zimmer about this later, he explained, "It is standard for any web platform like this to have that type of terms and conditions. We have done the industry standard."
When the time arrived for me to hit the road, I was oddly anxious — not about letting strangers in my car or getting in an accident, but about whether the app was going to work, and if the mustache was going to fall off and I'd be docked $30. I kept fiddling with both.
I got in the driver's seat, turned on the app. And then: nothing. I sat there and waited, went upstairs to grab a book, and then decided I may as well head out. If nothing else, I could see if people would react to the mustache.
Ding! After 15 minutes of waiting, the app chimed, and I accepted my first ride request. I drove a few blocks away and picked up an immensely tall young man at his Mission house, who was headed to the Creamery, a hip coffee shop tech hangout in SOMA. I turned on the app, and it couldn't get reception. I was worried that it wasn't going to calculate the job properly. It wasn't giving me any directions. I knew the way, though, so I just started driving. I made some small talk. He told me about his work as an engineer at a gaming company and shared some tech gossip. I dropped him off, we bumped fists, and I hoped, despite the technological breakdowns, I would get a good rating.
Drivers are evaluated based on three factors: reliability (i.e., how often they flake), acceptance rates (how many Lyfts they accept), and star ratings (how much riders like them). The first two affect whether you get first dibs on popular shifts. The last one determines whether you get to keep using Lyft. You are evaluated solely upon a Yelp-style star rating from your customers. Go below a 4.5 and you may be asked to leave. It is a highly unorthodox — and nerve-racking — approach to performance review.
Soon, I made my first mistake: While getting out to adjust the mustache, I missed an alert. You have 30-second window to accept a ride, and I failed. Good-bye, "reliability" points.
Anytime you can't respond to the app or need a break, even just for a moment, you are supposed to turn your app off of driver mode. You are allowed to take 15% of your time on a shift as breaks — which follows California's legal labor requirements — before it starts to affect your reliability rating.
I had three other rides that night over a two-hour period. A French software engineer who was buying kitchen stuff downtown and needed a lift to his place in the Fillmore, the young woman working in finance going to a house party in the Mission, and an exhausted waitress ending her shift at a Mission restaurant on her way to yoga class and a rest before heading out for her second job. All were friendly, but there was a slightly awkward feeling, especially when they pulled out their phones to text or make calls. More like a disinterested blind date than a bestie. Everyone seemed a little hesitant about the fist bump, and I considered abandoning it.
Toward the end of my shift, I was about to sign out when I figured I may as well accept one last request for my drive home across the city. But then I remembered that there was no way for me to tell if someone was going in my direction or, say, to the airport.
To refer to hosting a Lyft ride as carpooling is most assuredly wrong, according to any known definition of the word. You can't see where the person requesting the ride is headed. Technically you could call all the ride requests, hoping one of them is going in your direction, but it was highly unlikely that would work.
I later confronted Zimmer about this. "Ridesharing is where we are heading. Right now we are at page one of a 100-page book," he says. "You have to build up a base service that is reliable, be careful about the math of the supply and demand, and get people used to riding with each other, and then add incidental trips. Without that peer-to-peer base, real-time ridesharing has no chance."
Lyft's parent company, ZimRide, started as a long-distance carpooling company coordinating rides for college kids leaving campus. ZimRide still arranges rideshares between cities like Los Angeles and San Francisco, but that isn't what is happening around town.
When I asked Zimmer why call themselves a ridesharing company if that isn't what they are doing, he said, "I'm not sure how much that word matters. [Lyft] is more encompassing. There is not a category that fits well for this." None of this was discussed during training.
I never saw how much any of my rides paid, individually. The app provides the rider a suggested donation, but they are free to pay anything they want. If they forget to pay, or don't know to enter zero to opt for no donation, the app automatically pays the suggested amount. Lyft emailed me my "estimated earnings" report, predicting I would get $38 for the two hours. The estimated earnings, though, can be significantly lower than the "actual" earnings deposited into Lyfters' bank accounts. But I earned $40. Not bad.
Taxi drivers who don't own medallions have to pay their companies to rent a car, ranging from $75 to $140 depending on the day and time. The first half of their shift is often devoted to paying the fee. When it is slow, they can come away with no money at all, or less than minimum wage. Many also tip the dispatchers, cashiers, mechanics, and gasmen at the companies. There are currently 1,450 drivers on the list for a medallion in San Francisco. The typical wait to reach the top is about 15 years or more.
Lyft, it turns out, is a good way to make money on a flexible schedule — as long as you don't need health benefits or things like job security or workers' comp. Many Lyfters I spoke with are temporarily Lyfting while looking for work; others are committed full-timers. I have met Lyfters who are stay-at-home parents, college students, as well as freelancers, artists, and musicians.
"Professionally it has helped my networking take off. But I have turned down a ton of jobs in order to Lyft," says Kelley, who moved to San Francisco from Oklahoma without a job. "It pays well, is a ton of fun and a fantastic way to discover the city. My face hurts end of day from laughing and smiling. What kind of job do you get that?"
"I am guessing no driver is being altruistic by Lyfting," wrote another driver on Facebook. "Not to say it isn't a great activity, and a community-building activity, and an awesome gig, because of course it is...But altruism means a completely selfless act... if that were true we wouldn't need/want any donations for driving folks around."