How You'll Tweet When You're Dead
I got to test out a posthumous tweeting service. Unfortunately, things don't look too good for our social afterlives.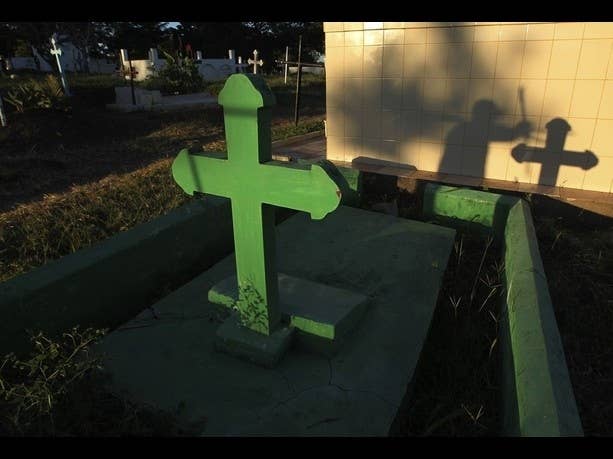 Yesterday, I started preparing for my inevitable death. I'm not writing a will, setting up life insurance, or planning my funeral. I signed up with LivesOn, the service that will tweet for me once I'm gone. Or as they put it, "When your heart stops beating, you'll keep tweeting." Pretty catchy for something so grim.
You may have heard about LivesOn when the service first announced it would be rolling out. The media was all over the idea.
LivesOn selected me as one of its guinea pigs for its alpha-stage product, which would analyze the language and topics of my past tweets and write new ones on my behalf.
First I had to nominate an executor of my LivesOn "will." It would be up to that person to decide whether to keep my account live. Tweets would appear with @_LivesOn in them so my followers understand what they are. For now, I could preview them and decide whether to publish them or not.
No one in my immediate family tweets. My close friends are stuck on Facebook and Instagram. But still, my mom won out as my executor. She's my mom. I called her to explain. She went online to accept the role and emailed, "Done. Kind of creepy."
Everyone has the occasional daydream, particularly when depressed or angry, about seeing their funeral. Who will come? How will I be remembered? What song will they play? Essentially this is the social media version. What does my immortal tweeting legacy look like?
LivesOn analyzes your Twitter feed, picking up on phrases and language style you have used in the past to create new tweets that basically sound like you. You can provide feedback to help the generator learn what's working. It automatically generates a tweet once an hour.
The first few tweets about Google and Facebook product launches thematically kind of made sense — but in reality, they made no sense.
It was a sort of Mad Libs gone wrong. It could almost be a parody of my feed. (Mental note: Stop saying "no joke.") It was definitely not a beautiful memorial, a distillation of myself that would allow my memory to live on forever. It wasn't so much creepy as it was confusing.
Some almost made sense but didn't quite get there.

Some made absolutely no sense at all.

It's almost like I'm drunk tweeting from the grave.

But sometimes the nonsense was almost poetic.

Some were edited versions of former tweets about past events, which only made sense back then.

Sometimes, though, they were points worth repeating...if you remember the rest of the conversation.

But what if this is what the afterlife is like?

Granted, this is still in alpha stage; I can favorite tweets that I particularly like in order to "teach" it.
I pointed out to LivesOn that the mishmash of my tweeted phrases didn't make sense together. "Yes, it will start out like that — and there could always be an element of it," says a rep. "But as you favorite tweets and as we get better at generating content, this should improve. We're working on it!"
Until then, perhaps let's keep Twitter for the living.