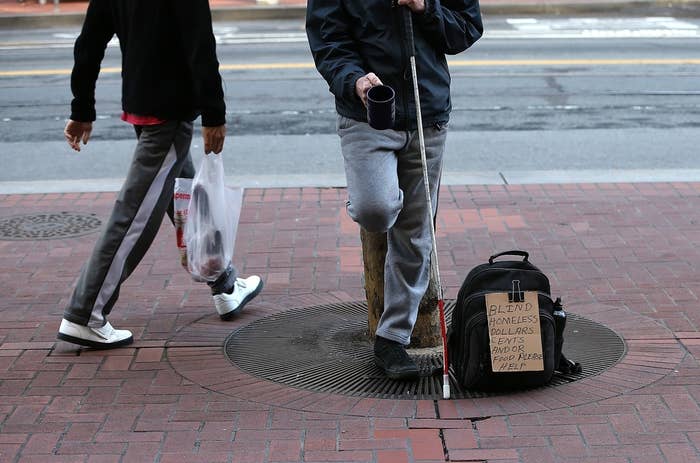 Twitter has received the most attention for receiving tax breaks from the City of San Francisco in exchange for promises of local charity and outreach work. But five other companies are also included in the program: Microsoft subsidiary Yammer, online retailer One Kings Lane, tech consulting firm 21Tech, online dating service Zoosk, and customer service firm Zendesk. Next year Spotify will join the list.
Last week, those five companies handed in their six-month progress reports to the Citizen Advisory Board overseeing the agreements. The companies, like Twitter, have focused on monetary and in-kind donations as well as volunteering. Most reflect their strengths: One Kings Lane has styled and furnished common rooms at homeless shelters and low-income housing; Yammer donated software; 21Tech offered organizations IT support.
But their reports also reflect an unusual, tech-centric interpretation of what it means to give back to a local community. Instead of job training, there are cocktail parties. Community engagement equals Yelp reviews written by and for techies. And some of the "giving back" initiatives conveniently double as employee perks, stretching the definition of charity. Yammer, for instance, hired a local ballet company to perform a private monthlong dance series for employees at its office. 21Tech and One Kings Lane consulted on ways to improve biking infrastructure by having the San Francisco Bike Coalition come to their office to provide a biking workshop.
Perhaps the most questionable effort is Zoosk's Yelp campaign. The company reimburses workers $10 for going to 10 local businesses and following up with one Yelp review; this program is limited to 10 rounds, equaling a payout of $100.
From a tech worker's perspective this may make sense: It's vital advertising, and Yelp reviews have, in certain circles, replaced word-of-mouth promotion. For people who don't search for lunch on smartphones, however, Yelping seems like an unhelpful, even presumptuous, way to help. When Zoosk presented this campaign at City Hall last week, one Citizen Advisory Board member took offense: Having companies new to the neighborhood tell [locals] where they should eat, when they have been here for years, is not helpful. His feedback: "I would advise, toss it out and ask [local businesses] about where their needs are." Zoosk was unavailable for comment.
The Yelp reviews also tilt in the favor of places techies frequent, further insulating the neighborhood's newest residents from its past. A new latte spot will get four stars; the corner store serving dollar coffee, not so much.
Zoosk also didn't demand the reviews be positive. BuzzFeed interviewed one of the Zoosk employees who says he is "making the most" of the Zoosk Yelp campaign. "It's a lot of hoops to jump through for less than $10," he told BuzzFeed. He said, "I think some of my reviews were less than glowing," adding, "lol."
Yelp reviews written by an employee as part of the program: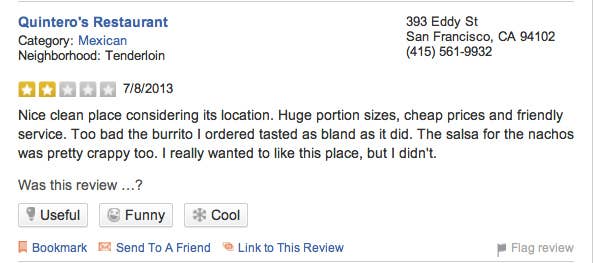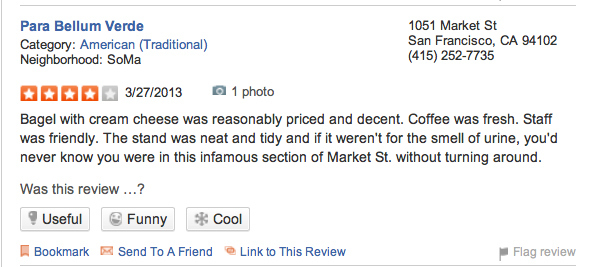 When it comes to the companies' pledge to participate in TechSF, the city's tech training and hiring initiative for people aged 18 to 24 and 40 to 60, the companies are most excited about the cocktail parties. Yammer hosted a "Nerd Underground" monthly event; One Kings Lane encouraged employees to go. TechSF had suggested the companies help shape the curricula, guest lecture, or hire program graduates. But in the tech world it's who you know, and networking parties, the thinking goes, build networks.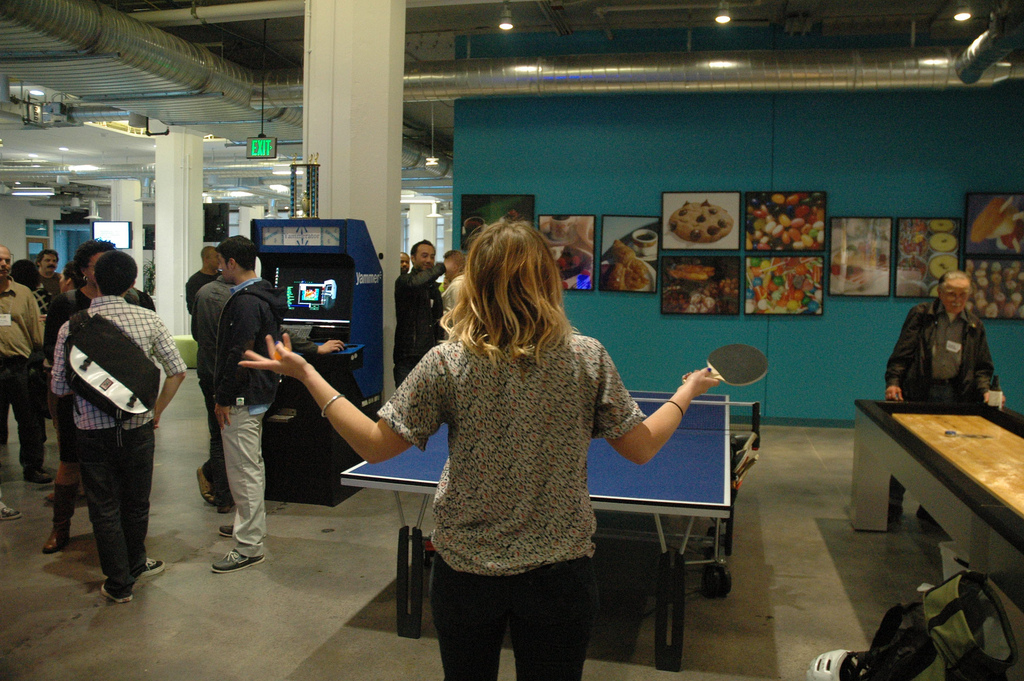 The companies did come through on the promise that they support local businesses, spending money on caterers, company get-togethers at local restaurants and bars, and client meals. Yammer alone spent almost $750,000 in six months.
These figures are promising for the local economy. But with that kind of spending power, these companies also shape the future of the neighborhood, where rents are skyrocketing. One Kings Lane boasted that it bought staff Valentine's Day cookies from a local upscale cookie shop; 21Tech included Starbucks, Subway, and Walgreens on its list of "local" businesses it supports, as well as new high-end restaurants and cocktail lounges.
Of course, San Francisco places a high priority on luring tech companies within city limits, and collects revenue even with tax breaks. And, overall, more companies doing business in San Francisco improves the city's general outlook in quantifiable ways.
But the intention of these agreements was to mitigate negative effects of rapid tech expansion, which has left many longtime residents with higher rents, unrecognizable neighborhoods, and little recourse. San Francisco has shown great hospitality to the tech world; perhaps, in exchange, the tech world could show a little back?
"These [measures] are to offset the impacts the companies have on the neighborhood," said one citizen board member at the City Hall meeting. "Volunteering helps companies too, with team building and job satisfaction. People do it without the [tax breaks.] Don't just use this to promote things that help your organization."