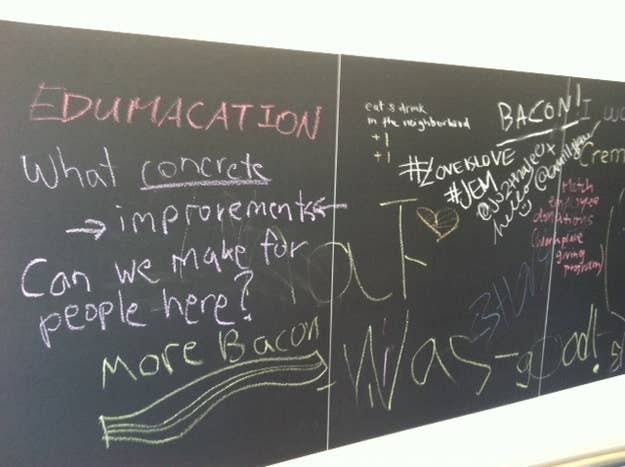 The seven San Francisco tech companies that received the so-called "Twitter Tax Breaks," promised in exchange for giving back to the local community, have submitted their first progress reports to the city. All eyes are on Twitter, which is getting the largest break, estimated to be around $22 million over the course of a multi-year agreement.
So far Twitter has come through on its promises, particularly with its extensive volunteering and $75,000 in donations to nonprofits last year. But in its initial quarterly progress report to the city, it highlighted Twitter-specific initiatives — Twitter training and promoted tweets — as "one of our most powerful resources in our community outreach toolbox."
"This has been a great way for us to reach out to a broad list of organizations and have employees get to know them on a personal level," Twitter wrote to the city in a follow-up report covering the same quarter. "It's also been a great way for the community to get to know what we do and how our product can help them raise awareness of their cause."
Twitter admits it's in the company's best interest to encourage groups to use their product, saying, "This program has become a career development tool for our sales team."
Forty-seven Twitter employees have provided Twitter training to 27 organizations, which include the city library and several national organizations. Those groups were then invited to submit an application detailing three proposals for campaigns and examples of their tweets, in hopes of getting some of their tweets promoted.
There were seven lucky winners, whose promoted tweet campaigns will equal a grand total of $45,000. The seven groups include a Silicon Valley-based nonprofit, a city youth writing program, and a National Public Radio education program, indicating a loose definition of "neighborhood" organizations. Four of the seven have had their tweets promoted so far. The rest are slated for the upcoming months.
So, what exactly does all that look like? The promoted tweets provide a unique look into Twitter's ad product, where a non-profit can expect to spend a few thousand dollars to promote its tweets and receive a handful of extra retweets and tens of new followers in return. For those already well versed in the social media game, that may feel like a raw deal, but for smaller, underexposed organizations these modest returns could prove to be valuable.
Here are the tweets, the promotion of which Twitter says equates to $45,000
WritersCorps got two tweets, worth $1,250 each.
"As a small program with limited avenues for marketing and advertisement, we found [it] pretty useful to get tips and techniques for building better tweets and Twitter strategies in general," says WritersCorps. These two tweets resulted in 30 new followers, 1,670 clicks, and 26 retweets.
Raphael House, a family shelter, received these promoted tweets equaling $2,500.
Great NonProfits got 16 tweets over three weeks, equalling $5,000
"Without a doubt, the Twitter ads were incredibly valuable," says Great NonProfits, a sort of Zagat guide to nonprofits that is based in Silicon Valley. "Without the grant, we would have not had the budget nor staff resources to undertake a campaign of this scale on our own." They gained 319 followers, 132 retweets, 27 replies, and 7,109 clicks.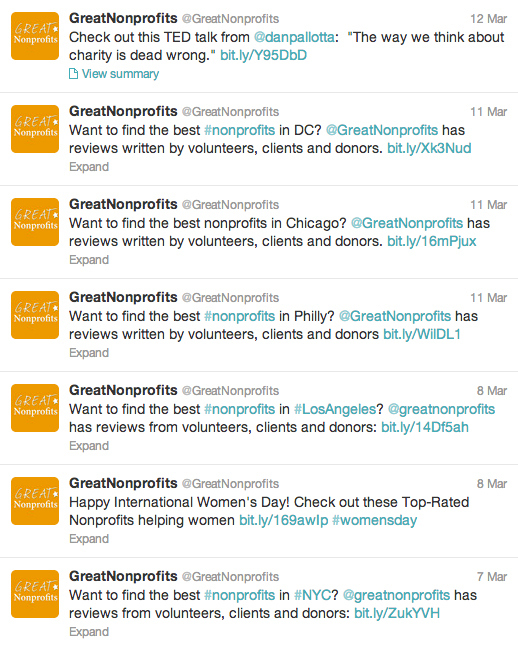 Walk SF got 12 tweets, equalling $2,500.
Walk SF, a nonprofit that promotes urban walking and hosts Walk to Work Day, says, "The tweets did help increase awareness for Walk to Work Day and boosted Walk SF's followers significantly."






Compass Family Services received 17 tweets, worth $4,000.
"It is hard to gauge what it is worth, but for our Mother's Day campaign we raised $2,000," says Compass, a family homeless shelter. "Since we are a nonprofit, I don't know if we would be able to purchase that on a monthly basis." They estimate that they gained about 50 followers over the month.


Update, 5:49 EST: This article has been update to reflect the multi-year nature of Twitter's agreement with the city, as well as to clarify the nature of how Twitter's promoted tweet product works.