A Rare Glimpse At North Korea's Tech Culture
North Koreans are beginning to get access to cell phones, tablets, and even social networking. But freedom of speech is still elusive.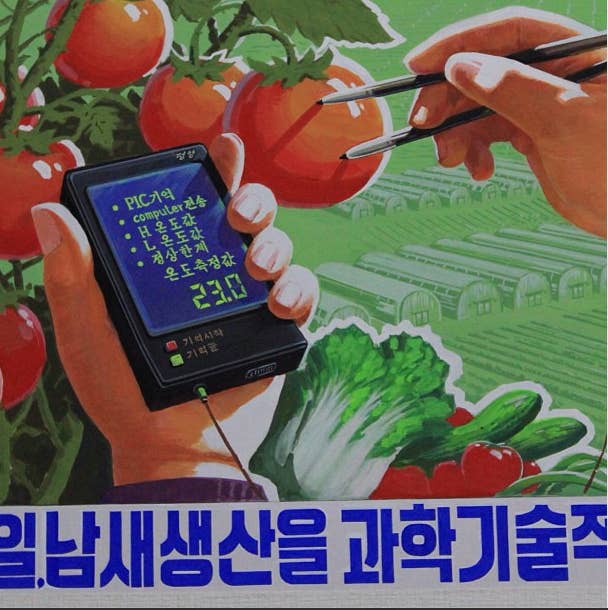 Last week North Korea launched its first 3G data network. Access is severely limited — citizens can't access the network, while foreigners can — which allowed Associated Press reporter Jean H. Lee to be the first person ever to send a tweet from the country. It's a big step forward, considering that back in 2008, when Lee first entered North Korea, she and other foreigners had to leave their smartphones at the airport.
BuzzFeed met Lee at South by Southwest, where she shared insight into North Korea's small but growing tech culture. While reporting on North Korea with photographer David Guttenfelder, she has been posting photos to Instagram and tweeting with regularity. The first photo she posted was of a sign welcoming nuclear-testing scientists to Pyongyang for celebrations, which for her and others in North Korea was a signal that, at least for a couple days, there wouldn't be any nuclear tests — the scientists would be otherwise occupied.

Lee's first Instagram of North Korea: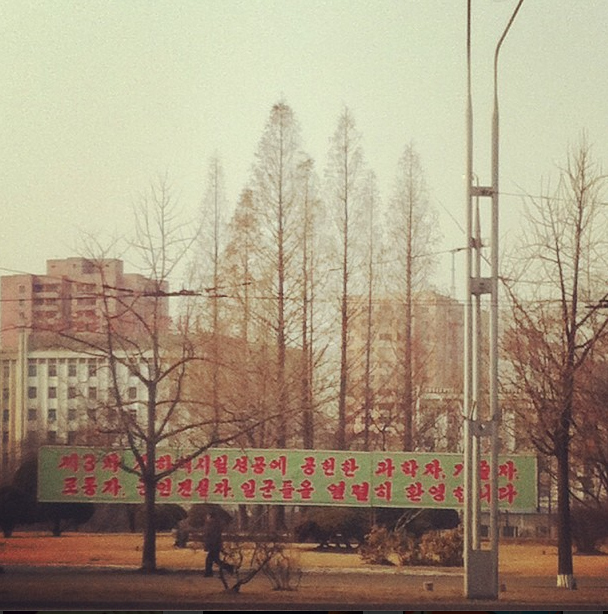 Foreigners and locals live in parallel worlds in North Korea. It is largely illegal for the two to even interact. Foreigners have access to fast broadband internet without firewalls — unthinkable to citizens — but locals have a small but growing tech culture of their own, including a state-controlled intranet system. (The two populations cannot connect online. Unless citizens have special clearance from state security, for example, emails to outside addresses will just bounce back.)
The North Korean intranet is limited to messaging other locals and connecting with North Korean internal websites. (You can try searching it here.) North Koreans can also download certain books to their tablets. There's even a fledgling version of social media in bulletin board form, used mostly in universities, where people publish limited materials: songs, or happy birthday messages to professors. In large part, the North Korean government is enabling online media just to keep people up-to-date on the latest propaganda.
A birthday greeting on a North Korean intranet bulletin board: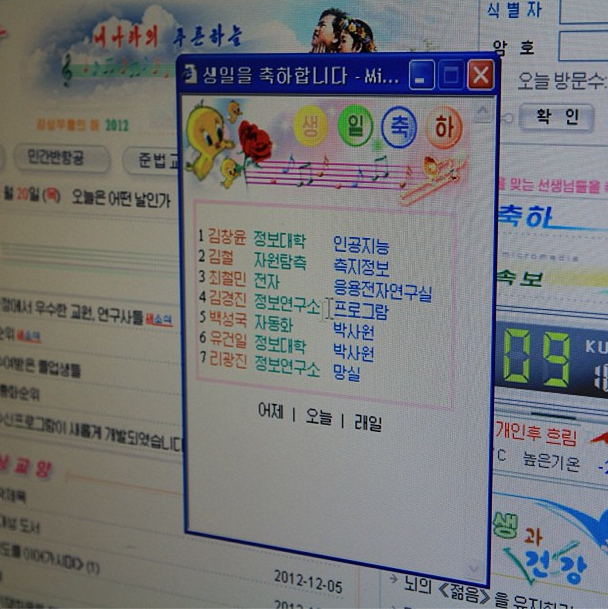 Pyongyang's Kim Chaek University library has books on the intranet and the internet: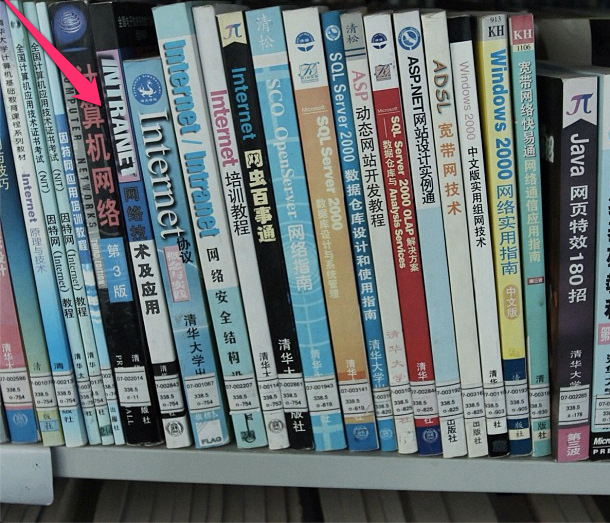 North Koreans, according to Lee, are enthusiastic about gadgets. More and more tablets and computers, which are imported, are seen throughout the country. Now that some middle-class businesspeople with disposable income can travel overseas, they're increasingly bringing back foreign tech. Computers are also imported, mostly from China, where they are manufactured (read: variously crippled) specifically for a North Korean audience. While they are most common amongst urban residents, Lee has seen computers running on generators in rural farmhouses.
Although hardware is almost exclusively imported, there is a nascent North Korean software industry. Lee is currently investigating the movement.
At present, there are 1 million cell phone users in North Korea — out of 24.5 million citizens — who text, call, and send photos to one another. Though any communication between towns and cities used to be rare, North Koreans have acclimated quickly. "It is a huge deal for people to be able to communicate readily, and they tend to get frustrated when people don't pick up phone," says Lee. "There is an expectation to always be in contact with people.
Samjiyon tablet computer manufactured in China for North Koreans: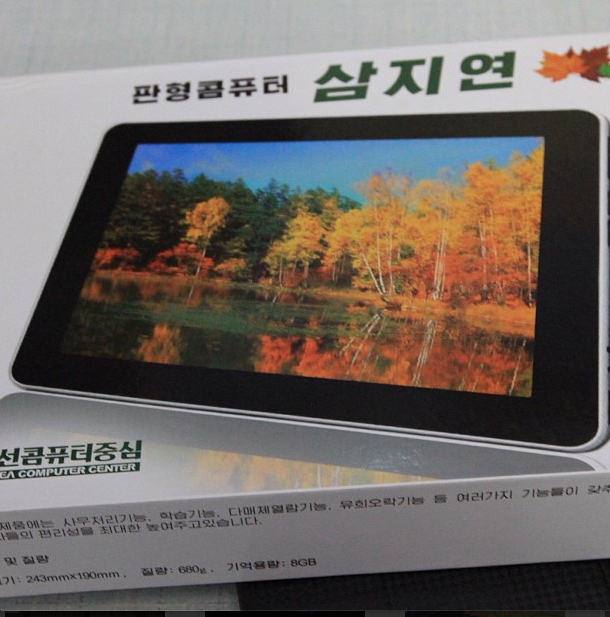 It is illegal for locals to access the "international internet," as it's called there, apart from small exceptions for a select few, including those who have access through elite university labs. However, a handful of North Koreans have accessed the internet covertly, mostly in the workplace or through NGOs. Lee, for instance, says she will sometimes show North Koreans websites and online tools on her phone. For example, when she needed to explain to her North Korean bureau staffers who Dennis Rodman is, in light of his recent visit, she just searched his name on her phone.
(Unfortunately for all, Lee told Rodman about the 3G access while he was visiting. And thus "the Worm" joined the ranks of the earliest tweeters from inside North Korea.)

The first murmurs of modern consumer technology coming to North Korea stared in 2009, when the government began introducing Kim Jong-un to the public. The intention was to portray him as a young, modern computer whiz who loves technology — an attempt connect to a younger generation within the country. There were other hints, too: the government has been promoting Computer Numerical Control — simple CNC machining — and referencing digitizing factories in widely distributed propaganda. Kim Jung-un even has an HTC smartphone.
Kim Jong-Un's (presumably) Android-powered phone: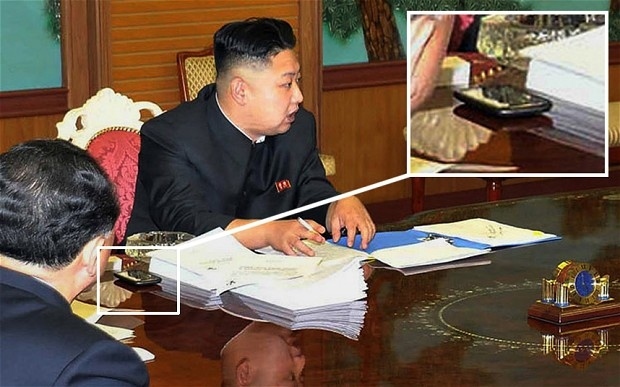 North Koreans download books like "Ivanhoe" on their Samjiyon tablets:
North Koreans are restricted in what they can publish on the intranet, but self-censorship is strong as well. "The culture of fear in North Korea still exists," says Lee. "People are conscious of what they are saying, emailing, and posting. That is something that won't change right away." Lee told BuzzFeed, however, that she has no knowledge of retaliation or punishment for locals posting information on the internet.
Lee also stresses the pride and and nationalism that this network inspires, despite its limits. "They are very aware that they aren't part of the global community, and they take pride in that," says Lee. "Their political philosophy is based on self-reliance, and doing it their own way extends to all social and political structures, including the internet."
She concedes, however, that most North Koreans "wouldn't speak publicly about any frustrations they might feel at not having access to what the rest of the world does."
"It is baby steps. They are so far from free and open discussion," says Lee. "They had such a tight hold on flow of information. Anything that increases the flow of information is a step in right direction."