This is Tori Jenkins and Tyler Newman, a couple living in Seymour, Tennessee.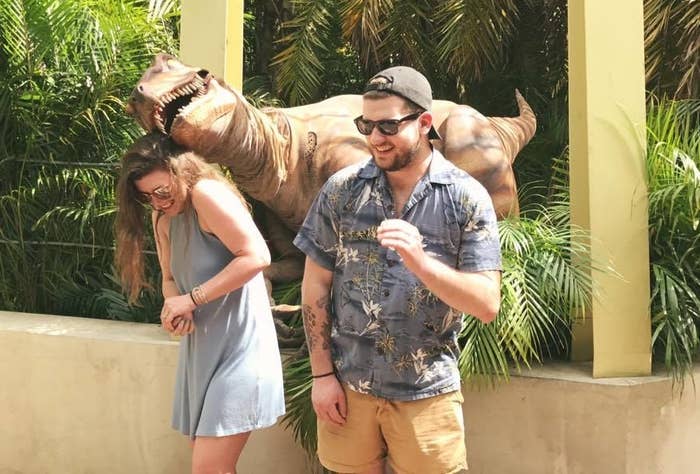 Within a few minutes of arriving, Jenkins said a leasing consultant told her that her pink one-piece swimsuit was "inappropriate" and that she'd need to change, cover up with shorts, or leave.
A list of rules by the pool states that "duly appropriate attire must be worn at all times. No cut offs."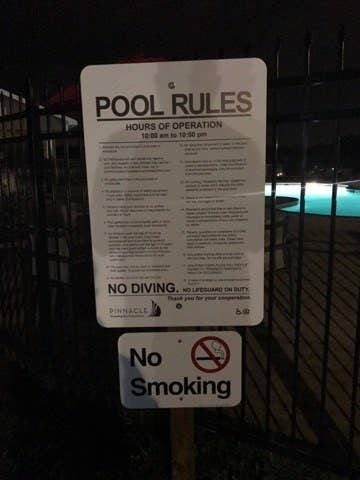 Newman called it his first experience witnessing "sexual harassment and/or 'rape culture.'"
"When Tori explained that yes, she does indeed have a larger butt than a lot of people, and that 95% of the things she wears ride up when she walks, the woman told Tori that a 'normal bathing suit covers your entire butt' and again deemed my fiancée's body inappropriate," he wrote.
Later, when he went to the leasing office to complain about the incident, he was "met with a whole lot of blank stares and stutters," he wrote.
"Today my fiancée was told that she is less important than how men feel around her," he wrote. "That Tori is less important than a man's urges to be sexual towards her."
Staff at the apartment complex didn't immediately return a request for comment, but a spokesperson gave a statement to a local ABC affiliate, claiming "multiple residents" complained about Jenkins' swimsuit and that they asked her to wrap a towel around herself, but denied kicking her out.
The spokesperson said:
Smoky Crossing is a welcoming family community. Multiple residents within our community complained and expressed concerns regarding Ms. Jenkins' swimwear. In accordance with our pool policies, which are posted near the swimming area, one of our leasing consultants requested Ms. Jenkins wrap a towel around herself when she was walking around the pool.

Ms. Jenkins was never asked to leave the pool. In addition, our leasing agent did not state that Ms. Jenkins swimwear would "excite teenage boys."

Ms. Jenkins and Mr. Newman are valued members of our community. However, we feel it is inappropriate to equate requesting Ms. Jenkins to cover up with sexual harassment or "rape culture." Smoky Crossing denounces harassment in all forms.
In response to this statement, Jenkins said "they're trying to say that they 'didn't kick me out' because the words they used were, 'You can't be in the pool area with this swimsuit on.'"
Jenkins said the experience symbolizes "that the oversexualization of women is far from an end."
"I was point-blank told that my comfortability at a pool that I paid to use was less important than a teenage boy being able to control himself," she said. "It perpetuates the idea that how a man feels around a woman is more important than how a woman feels around herself."