A painting depicting the body of Emmett Till is drawing controversy and protests due to its artist being white.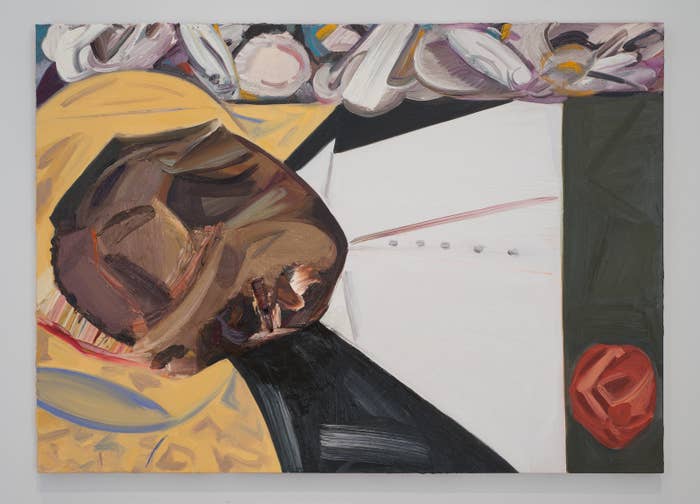 The painting was displayed at the Whitney Biennial, a renowned contemporary art show in New York. It quickly drew reproach from black artists for what many saw as exploitation of black suffering for a white person's gain.
In an open letter to the museum, Berlin-based British artist Hannah Black called for the painting's removal and destroyal so profit cannot be made off of it in the future.
Black condemned the painting, saying "it is not acceptable for a white person to transmute black suffering into profit and fun, though the practice has been normalized for a long time."
"The subject matter is not Schutz's," she wrote.
"Although Schutz's intention may be to present white shame, this shame is not correctly represented as a painting of a dead black boy by a white artist," she wrote. "Those non-black artists who sincerely wish to highlight the shameful nature of white violence should first of all stop treating black pain as raw material."
The full letter, cosigned by dozens of black artists, is below:
To the curators and staff of the Whitney biennial:

I am writing to ask you to remove Dana Schutz's painting "Open Casket" and with the urgent recommendation that the painting be destroyed and not entered into any market or museum.

As you know, this painting depicts the dead body of 14-year-old Emmett Till in the open casket that his mother chose, saying, "Let the people see what I've seen." That even the disfigured corpse of a child was not sufficient to move the white gaze from its habitual cold calculation is evident daily and in a myriad of ways, not least the fact that this painting exists at all. In brief: the painting should not be acceptable to anyone who cares or pretends to care about Black people because it is not acceptable for a white person to transmute Black suffering into profit and fun, though the practice has been normalized for a long time.

Although Schutz's intention may be to present white shame, this shame is not correctly represented as a painting of a dead Black boy by a white artist – those non-Black artists who sincerely wish to highlight the shameful nature of white violence should first of all stop treating Black pain as raw material. The subject matter is not Schutz's; white free speech and white creative freedom have been founded on the constraint of others, and are not natural rights. The painting must go.

Emmett Till's name has circulated widely since his death. It has come to stand not only for Till himself but also for the mournability (to each other, if not to everyone) of people marked as disposable, for the weight so often given to a white woman's word above a Black child's comfort or survival, and for the injustice of anti-Black legal systems. Through his mother's courage, Till was made available to Black people as an inspiration and warning. Non-Black people must accept that they will never embody and cannot understand this gesture: the evidence of their collective lack of understanding is that Black people go on dying at the hands of white supremacists, that Black communities go on living in desperate poverty not far from the museum where this valuable painting hangs, that Black children are still denied childhood. Even if Schutz has not been gifted with any real sensitivity to history, if Black people are telling her that the painting has caused unnecessary hurt, she and you must accept the truth of this. The painting must go.

Ongoing debates on the appropriation of Black culture by non-Black artists have highlighted the relation of these appropriations to the systematic oppression of Black communities in the US and worldwide, and, in a wider historical view, to the capitalist appropriation of the lives and bodies of Black people with which our present era began. Meanwhile, a similarly high-stakes conversation has been going on about the willingness of a largely non-Black media to share images and footage of Black people in torment and distress or even at the moment of death, evoking deeply shameful white American traditions such as the public lynching. Although derided by many white and white-affiliated critics as trivial and naive, discussions of appropriation and representation go to the heart of the question of how we might seek to live in a reparative mode, with humility, clarity, humour and hope, given the barbaric realities of racial and gendered violence on which our lives are founded. I see no more important foundational consideration for art than this question, which otherwise dissolves into empty formalism or irony, into a pastime or a therapy.

The curators of the Whitney biennial surely agree, because they have staged a show in which Black life and anti-Black violence feature as themes, and been approvingly reviewed in major publications for doing so. Although it is possible that this inclusion means no more than that blackness is hot right now, driven into non-Black consciousness by prominent Black uprisings and struggles across the US and elsewhere, I choose to assume as much capacity for insight and sincerity in the biennial curators as I do in myself. Which is to say – we all make terrible mistakes sometimes, but through effort the more important thing could be how we move to make amends for them and what we learn in the process. The painting must go.

Thank you for reading
Hannah Black
Artist/writer
Whitney ISP 2013-14

Co-signatories:
Amal Alhaag
Andrea Arrubla
Hannah Assebe
Thea Ballard
Anwar Batte
Parker Bright
Harry Burke
Gaby Cepeda
Vivian Crockett
Jareh Das
Jesse Darling
Aria Dean
Kimberly Drew
Chrissy Etienne
Hamishi Farah
Ja'Tovia Gary
Hannah Gregory
Jack Gross
Rose-Anne Gush
Mostafa Heddaya
Juliana Huxtable
Alexander Iadarola
Anisa Jackson
Hannah Catherine Jones
Devin Kenny
Dana Kopel
Carolyn Lazard
Taylor LeMelle
Beatrice Loft Schulz
Jacqueline Mabey
Mia Matthias
Tiona Nekkia McClodden
Sandra Mujinga
Lulu Nunn
Precious Okoyomon
Emmanuel Olunkwa
Mathew Parkin
Temra Pavlović
Imani Robinson
Andrew Ross
Cory Scozzari
Christina Sharpe
Misu Simbiatu
Addie Wagenknecht
Dominique White
Kandis Williams
Robert Wilson
The painting has also received widespread criticism on social media.
One person pointed out that Till's mother intentionally left her son's casket open so the graphic photos of his body would always be a symbol of racial violence, rather than allow his death be softened through artistic depictions.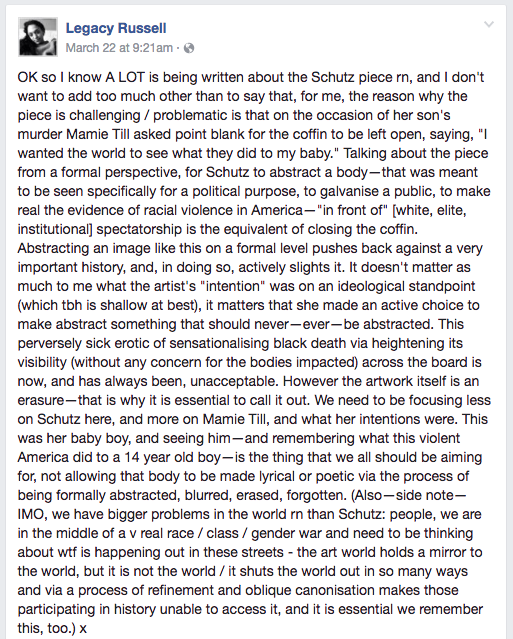 Still, some people think the painting should stay up.
Artist Kara Walker shared her perspective on the painting on Instagram, comparing it to Baroque painter Artemisia Gentileschi's often violent subject matter.
The full caption read:
The history of painting is full of graphic violence and narratives that don't necessarily belong to the artists own life, or perhaps, when we are feeling generous we can ascribe the artist some human feeling, some empathy toward her subject.

Perhaps, as with Gentileschi we hastily associate her work with trauma she experienced in her own life. I tend to think this unfair, as she is more than just her trauma. As are we all.

I am more than a woman, more than the descendant of Africa, more than my fathers daughter. More than black more than the sum of my experiences thus far. I experience painting too as a site of potentiality, of query, a space to join physical and emotional energy, political and allegorical forms.

Painting - and a lot of art often lasts longer than the controversies that greet it. I say this as a shout to every artist and artwork that gives rise to vocal outrage. Perhaps it too gives rise to deeper inquiries and better art. It can only do this when it is seen.
It even came up on The View, where Whoopi Goldberg criticized Hannah Black for her letter.
In a statement to BuzzFeed News, museum curators Mia Locks and Christopher Y. Lew defended the "extremely consequential and solemn image."
The 2017 Whitney Biennial brings to light many facets of the human experience, including conditions that are painful or difficult to confront such as violence, racism, and death. Many artists in the exhibition push in on these issues, seeking empathetic connections in an especially divisive time.

Dana Schutz's painting, Open Casket (2016), is an unsettling image that speaks to the long-standing violence that has been inflicted upon African Americans. For many African Americans in particular, this image has tremendous emotional resonance.

By exhibiting the painting we wanted to acknowledge the importance of this extremely consequential and solemn image in American and African American history and the history of race relations in this country. As curators of this exhibition we believe in providing a museum platform for artists to explore these critical issues.
Schutz told the New York Times she never intends to sell the painting.
She also pinned her inspiration for the painting on being a mother.
"I don't know what it is like to be black in America but I do know what it is like to be a mother," she said. "Emmett was Mamie Till's only son. The thought of anything happening to your child is beyond comprehension. Their pain is your pain. My engagement with this image was through empathy with his mother."
"Art can be a space for empathy, a vehicle for connection," she added. "I don't believe that people can ever really know what it is like to be someone else (I will never know the fear that black parents may have) but neither are we all completely unknowable."
Schutz did not apologize for the painting or respond to the people who want it removed or destroyed.
However, in a bizarre turn of events, a viral apology letter purportedly from Schutz — which called for her painting's removal from the exhibit — turned out to be a hoax.
Here is the full (fake) letter:
Dear Mia and Christopher,

I am writing to publicly request that my painting, "Open Casket," be removed from this year's Whitney Biennial. Though it was not at all my intention to cause harm, many artists have come forward to announce that my depiction of suffering is in turn causing them suffering. I cannot rightly protect a painting at the expense of human beings.

I understand that many have attempted to defend my work in the interest of free speech, and with calls against censorship. However, the artists and writers generously critiquing "Open Casket" have made plain to me that I have benefited from the very systems of racism I aimed to critique, in a way that blinded me to what my re-presenting this image would mean to Black audiences. Particularly because, with my stamp of authorship, "Open Casket" could enter into the market and, in turn, commodify the very suffering I wished to explore. And while I agree with your curatorial statement that art can be an appropriate venue for political expression and debate, I do not agree with your implication that Black pain—what you refer to as "tremendous emotional resonance"—is a social good to be sought after through art. At least, not within a historically white-run institution, at the hands of a white artist, in an exhibit organized by a predominantly non-Black staff.

Indeed, I wanted to critique anti-Black violence and explore the real empathy I found between myself and the mother of Emmett Till, but I have learned that my re-presentation of violence against her son has proven to demonstrate its opposite: appealing to the universal truth of motherhood goes against what I have learned about the denial of motherhood, and of humanity itself, on the basis of race. I recognize that the calls for the painting's removal have been made not as an imputation of my person or my career but of this artistic choice, this work, and the system that supports, even celebrates, such a gesture. Donna Haraway credits getting "called to account" by Black feminist thinkers for her most famous text (itself a call for sensitivity, a willingness to be wrong and a commitment to anti-racist coalition building). I want to model a willingness to learn from my mistakes, and honesty about accounting for them.

People who have been harmed by and are at risk of continued harm by systems of racist violence are in a much better position to know what is needed for restitution for that violence. If the removal of my painting has been called for by Black artists, writers, and activists, I can no longer protect an object at their expense. The painting must go.

I now join them in calling for the immediate removal of "Open Casket." I have already promised the work will never be for sale, and I will also promise to make it impossible for the work to re-enter the public sphere. I also plan to redirect all funds from the sales of my other paintings included in the Biennial towards the Black liberation movement.

Finally, out of continued respect for those harmed by the work, I ask that the catalog and the press in the future and retroactively remove all images of the work from circulation, and replace it with images of the work's subsequent protest.

Sincerely,
Dana Schutz