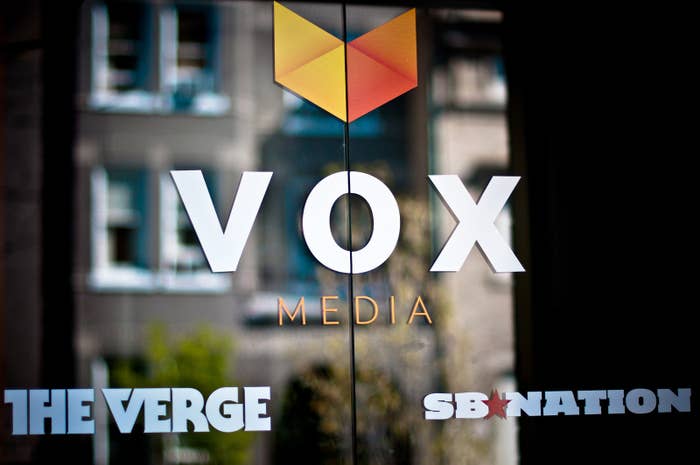 Vox Media is laying off around 50 people, its CEO Jim Bankoff announced Wednesday morning.
Bankoff informed Vox Media staffers of the layoffs in an email Wednesday morning, which was obtained by BuzzFeed News.
Company verticals Racked, Curbed, and SB Nation, as well as the Video Services teams, will bear the brunt of the job cuts, Bankoff said. Vox Media will also wind down its focus on native social video.
The digital media company, which also includes verticals Eater, Polygon, Recode, the Verge, and Vox.com, will also offer role changes to about a dozen staffers.
"There is an obvious human impact on those who lose their job and it also implies that we failed at something," Bankoff said, but he stressed that native social video had been "growing successfully and surpassing their audience growth goals."
The pivot away from video comes after leadership decided it "won't be viable audience or revenue growth drivers for us relative to other investments we are making."
"Building a company requires us to take calculated risks," said Bankoff. "I take responsibility for bets that don't work out."
Affected staffers are being met with throughout the day, and each vertical will hold team meetings throughout the afternoon, anonymous Vox Media staffers told BuzzFeed News.
There's an "extremely macabre 'wait and see'" mood around the office, one staffer said.
After rumors began circulating that Racked, the company's popular shopping vertical, was folding in its entirety, a spokesperson for Vox Media told BuzzFeed News this was not the case.
It is, however, cutting Racked's native social video and shopping programs.
The company "will continue to support the rest of their incredible journalism and talented team of reporters," the spokesperson said.
Racked editor-in-chief Britt Aboutaleb said that even though the brand would not be folding, "today's obviously been brutal for our team."
Last month, the Vox Media Union obtained recognition by management, joining the ranks of Vice, HuffPost, Gizmodo, and many other digital media companies that have recently unionized.
On Twitter on Wednesday, the Vox Media Union said they "stand in solidarity with our colleagues and are committed to fighting for them."
CORRECTION
Each Vox Media vertical will hold team meetings throughout Wednesday afternoon. A previous version of this article misstated how the meetings would be structured.