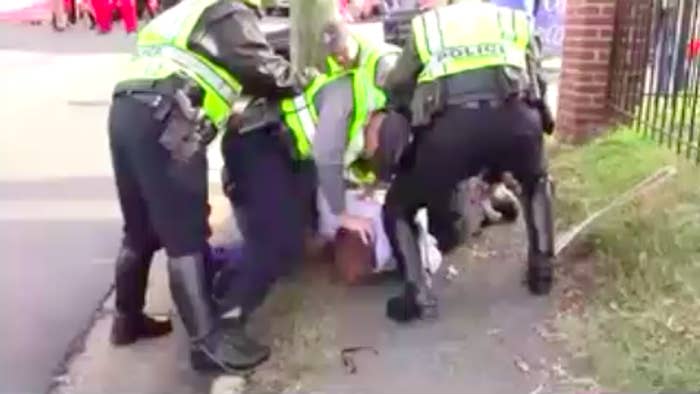 Police in Virginia say it does not appear officers violated any policies when they slammed a reporter to the ground over the weekend while he was filming the Republican nominee for governor.
Mike Stark, a reporter for the left-wing media site Shareblue Media, was thrown to the ground and arrested Saturday while filming gubernatorial candidate Ed Gillespie as his campaign vehicle made its way through a parade in Annandale.
Stark told BuzzFeed News he'd become well-known to the Gillespie campaign for pushing the candidate on questions related to his platform, and has previously been "removed from events, had credentials revoked, and been threatened with arrest for trespass."
A video taken of the incident shows a police officer confronting Stark, ordering him to stop filming and back up from the road.
According to Stark, the discussion grew heated and he used profanity. The police captain joined in and "told me that if I swore at a cop again, I'd be arrested," Stark said.
Stark loudly replied "fuck this," and was arrested.
While trying to pull Stark's arms behind his back, one of the officers swept Stark's legs out from under him, slamming his body to the ground. Both officers then got on top of him and pinned him down.
At that point, four more officers showed up and appear to pile onto Stark in order to pull his arms behind his back.
"You have your weight on top of me, I cannot give you my hand. My hand is stuck beneath me," Stark says in the video before he is eventually handcuffed.
In the video, police told Stark he was being arrested for cursing, which they said violates a local ordinance.
Stark said he was actually charged with disorderly conduct and resisting arrest, and was later released.
Shareblue, which promotes its goal to "delegitimize Trump, embolden opposition, & empower Americans" on Twitter, claims a woman seen accompanying officers "raised an objection" to Stark's presence at a Gillespie event the night before.
Gillespie's campaign flatly denies the woman in the video is a staff member, and directed all questions regarding the incident to the Fairfax County Police Department.
In a news conference on Tuesday, Fairfax County Police Chief Edwin C. Roessler Jr. defended the officers who made the arrest, saying they were "enforcing the law to protect our community at a parade."
The Fairfax County Police Department said in a statement that Stark had been arrested due to "his refusal to comply with police orders" after police "asked him to move out of the street and to stop using obscene language due to other parade spectators around him."
According to preliminary results of an internal review, "it doesn't appear any policy was violated," he added.
"I'm standing before you to defend the lawful actions of my police officers enforcing the law to protect our community at a parade," Roessler said at the briefing. "I can ensure I will remain transparent moving forward by providing updates to the community."
However, the ACLU criticized the department for arresting a member of the media, calling it an "attack on our constitutional democracy."
Others also called Stark's arrest an attack on the free press.
Roessler said the investigation into the arrest remained ongoing and asked that anyone with more information, video footage, or photographs of the incident contact Fairfax County police.