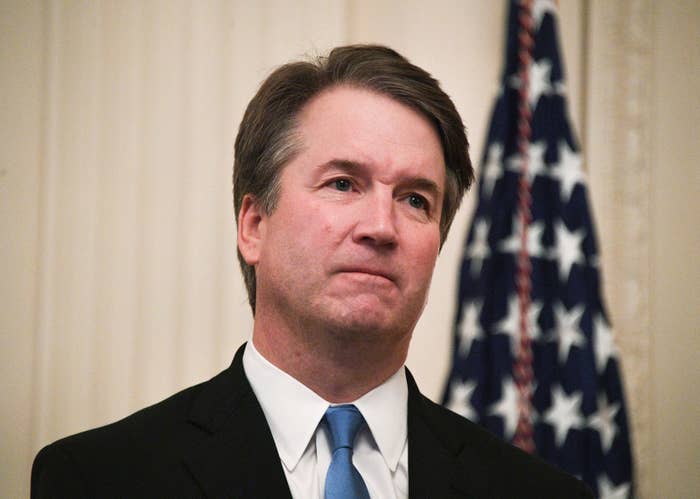 A top Senate Republican referred a woman to the FBI on Friday after she admitted to making an anonymous and false accusation of rape against Brett Kavanaugh — a development President Trump was quick to use to try to discredit the now Supreme Court justice's other accusers.
In a tweet on Saturday, the president called the woman only a "vicious accuser" who had made "disgusting False Statements."
"What about the others?" he asked.
The "vicious accuser" Trump tweeted about was Judy Munro-Leighton, a woman whose specific allegations were never made public or treated as credible by lawmakers or the media.
Christine Blasey Ford and Deborah Ramirez, who were both interviewed by the FBI about their allegations, have not been referred to the FBI for any possible criminal investigation.
In a letter to Attorney General Jeff Sessions and FBI Director Chris Wray on Friday, Sen. Chuck Grassley, the chair of the Senate Judiciary Committee, said Munro-Leighton had made fraudulent statements to congressional investigators in a bid to obstruct their probe of the then–Supreme Court nominee.
Grassley said the office of Sen. Kamala Harris in California was sent an anonymous letter with no return address around Sept. 25 from a woman who gave her name only as "Jane Doe" from Oceanside, California.
The woman claimed Kavanaugh and a friend had raped her "several times each" in the backseat of a car, but provided no timeframe for the alleged incident.
On Sept. 26, investigators quizzed Kavanaugh about the claims, but he told them it was "ridiculous," Grassley said.
"[T]he whole thing is just a crock, farce, wrong, didn't happen, not anything close," Kavanaugh told investigators.
Then, on Oct. 3, Munro-Leighton emailed investigators to say she was the Jane Doe, and included a typed copy of the letter, according to Grassley.
"Given her relatively unique name," Grassley said the committee was able to find her and determine she is "a left-wing activist" who "is decades older than Judge Kavanaugh" and "lives in neither the Washington DC area nor California, but in Kentucky."
According to public records, Munro-Leighton is 70 and lives in Louisville. She is a teacher and protested against the Iraq War in 2005, according to a Washington Post article from the time.
Munro-Leighton did not immediately return a request for comment from BuzzFeed News.
Grassley said investigators tried to speak with Munro-Leighton on Oct. 3 but weren't successful. They tried again on Oct. 29 and left a voicemail, and she responded by leaving her own voicemail this past Thursday.
On the same day, investigators spoke with her by phone. It was during this questioning, Grassley said, that Munro-Leighton admitted she had fabricated the claim because she "just wanted to get attention," describing it as "a tactic" and "a ploy."
She said she had never even met Kavanaugh.
"I was angry, and I sent it out," she said of the email.
Last Thursday, Grassley also referred Michael Avenatti and his client Julie Swetnick to the FBI for what he said were "contradictions" in her allegations that Kavanaugh would spike girls' drinks at high school parties and was present when she was gang-raped at one.