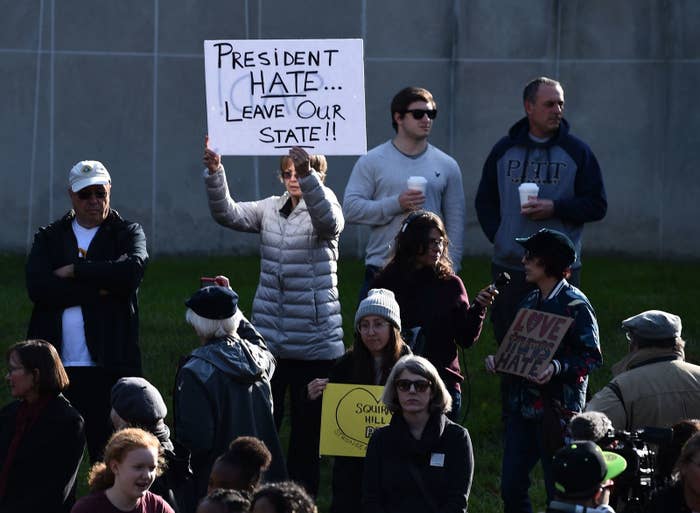 PITTSBURGH — It's not unusual for the president to visit a town struck by tragedy to offer condolences and comfort citizens.
But Donald Trump's visit to Pittsburgh on Tuesday has upset many in the community traumatized by the shooting deaths of 11 Jewish Americans at a synagogue on Saturday. Even the city's mayor decided to skip meeting him.

"[The president's visit is] not something the people here want," said Suzette Hufford, who was walking her dog in the Squirrel Hill neighborhood near the Tree of Life synagogue where the shooting occurred. "He has promoted more negativity than he has support and solidarity."
As Air Force One landed in Pittsburgh on Tuesday afternoon, demonstrators wearing black had gathered in Squirrel Hill to hold a shiva, a Jewish mourning ritual, that also doubled as a protest against Trump's visit. The gathering of approximately 200 young and old residents was organized by IfNotNow, a progressive Jewish group.
"He's fostered an administration of white supremacy and he is not welcome here in our time of mourning," said one of the organizers, Arielle Cohen.

Another demonstrator, Giulianna Lamanna, wore a green jacket emblazoned with the words "I REALLY DO CARE, Y DON'T YOU?" — a riff on the infamous jacket that first lady Melania Trump wore in June when she went to visit children separated from their parents at the southern border.

Lamanna told BuzzFeed News she was there to "honor the 11 people who were lost to hatred, and to send a message to Trump, who has fanned the flames of hate and is partially responsible for this tragedy, and is only making things worse by coming."
Critics of the president have accused his heated rhetoric of inflaming division in the country and emboldening bigots. In February, the Anti-Defamation League said there had been a 57% surge of anti-Semitic attacks in 2017 since the previous year. "Kids repeat what they hear," ADL's Jonathan A. Greenblatt told the New York Times when the report was released. "And so in an environment in which prejudice isn't called out by public figures, figures of authority, we shouldn't be surprised when we see young people repeat these same kind of tropes."
During the 2016 presidential campaign, Trump tweeted a photo of Hillary Clinton's face imposed on a Star of David and a pile of money, which many interpreted as anti-Semitic. The Trump campaign dismissed the charge and said the image, which first appeared on a white supremacist forum, was using a sheriff's star. His final campaign advertisement was also criticized as anti-Semitic because of its depictions of prominent Jewish Americans, including wealthy liberal donor George Soros, former chair of the Federal Reserve Janet Yellen, and Lloyd Blankfein, the former CEO of Goldman Sachs.
As president, Trump said there was blame "on both sides" after neo-Nazis clashed with anti-racist counterprotesters in Charlottesville last year. Last year, the White House also released a statement on International Holocaust Remembrance Day that made no mention of Jews or anti-Semitism. And just last week, Trump told a rally he considered himself "a nationalist," a term that can refer to supporting one's country's interests but which has also been associated with the alt-right and the white nationalist movement.

In recent months, he has also falsely blamed Soros, who was among the Trump critics who had a pipe bomb mailed to him last week, for covertly funding protests against Brett Kavanaugh to the Supreme Court. Trump has also helped spread conspiracies that Soros was responsible for the caravan of Central American migrants trying to reach the US border to apply for asylum — something the president has compared to an invasion.
Shortly before Saturday's shooting, the alleged gunman wrote on Gab, a social media platform popular with the far right, that he was "going in" because he was concerned that HIAS, a Jewish organization that assists refugees, wanted to "bring invaders that kill our people."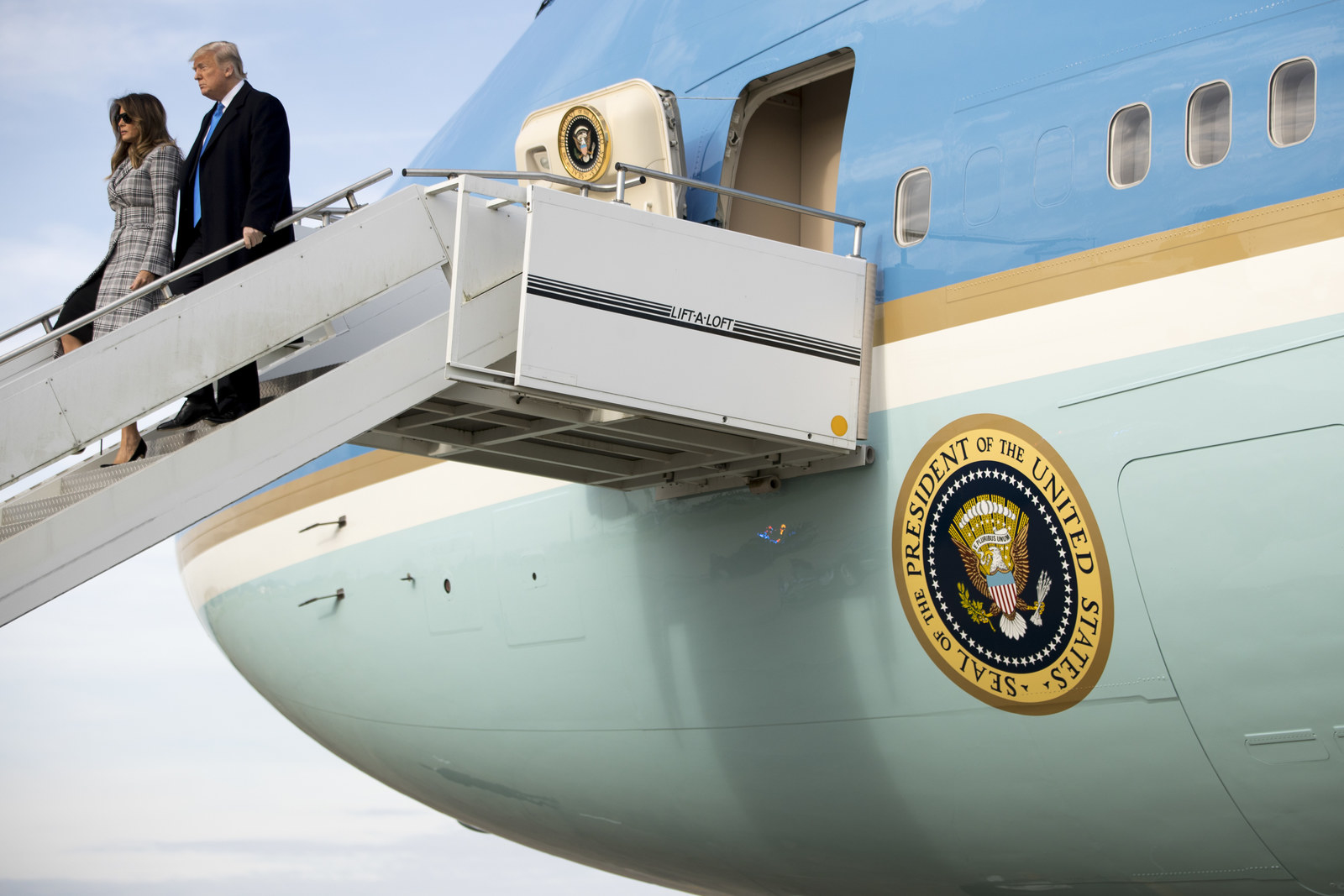 The White House has angrily rejected attempts to link the president's rhetoric to Saturday's violence.
"The very first thing that the president did was condemn the attacks, both in Pittsburgh and in the pipe bombs," White House press secretary Sarah Huckabee Sanders said Monday. "The very first thing the media did was blame the president and make him responsible for these ridiculous acts."
Sanders also noted Trump is a grandfather to several Jewish grandchildren born to Ivanka Trump and Jared Kushner.
Rabbi Jeffrey Myers, who heads the Tree of Life synagogue, told CNN that Trump was welcome in the city. "The president of the United States is always welcome," he said. "I'm a citizen. He's my president. He is certainly welcome."
Myers met Trump at the synagogue Tuesday afternoon, joined by the Israeli Ambassador to the US, Ron Dermer, and Treasury Secretary Steven Mnuchin. Together, they lit a candle in the vestibule inside the synagogue, then placed stones outside in memory of the dead, per Jewish custom.
The president then visited the UPMC Presbyterian hospital, where he met with medical staff, as well as two Pittsburgh police officers and two synagogue members who were injured in the shooting and some of their family members.
"They seemed very grateful for his interest and his visit," Dr. Donald Yealy, the hospital's head of emergency medicine, told reporters.
Trump did not make any public statements during trip. In a response to a reporter's question about why the president didn't publicly denounce hate and anti-Semitism, Sanders said Trump had been clear on that in the past. On Tuesday, his primary focus was showing the victims they had the nation's support, she said.
"The president has been very clear on that and spoken on it a number of times," she told reporters aboard Air Force One after Trump's visit. "He wanted today to be about showing respect for the families and the friends of the victims as well as for Jewish Americans."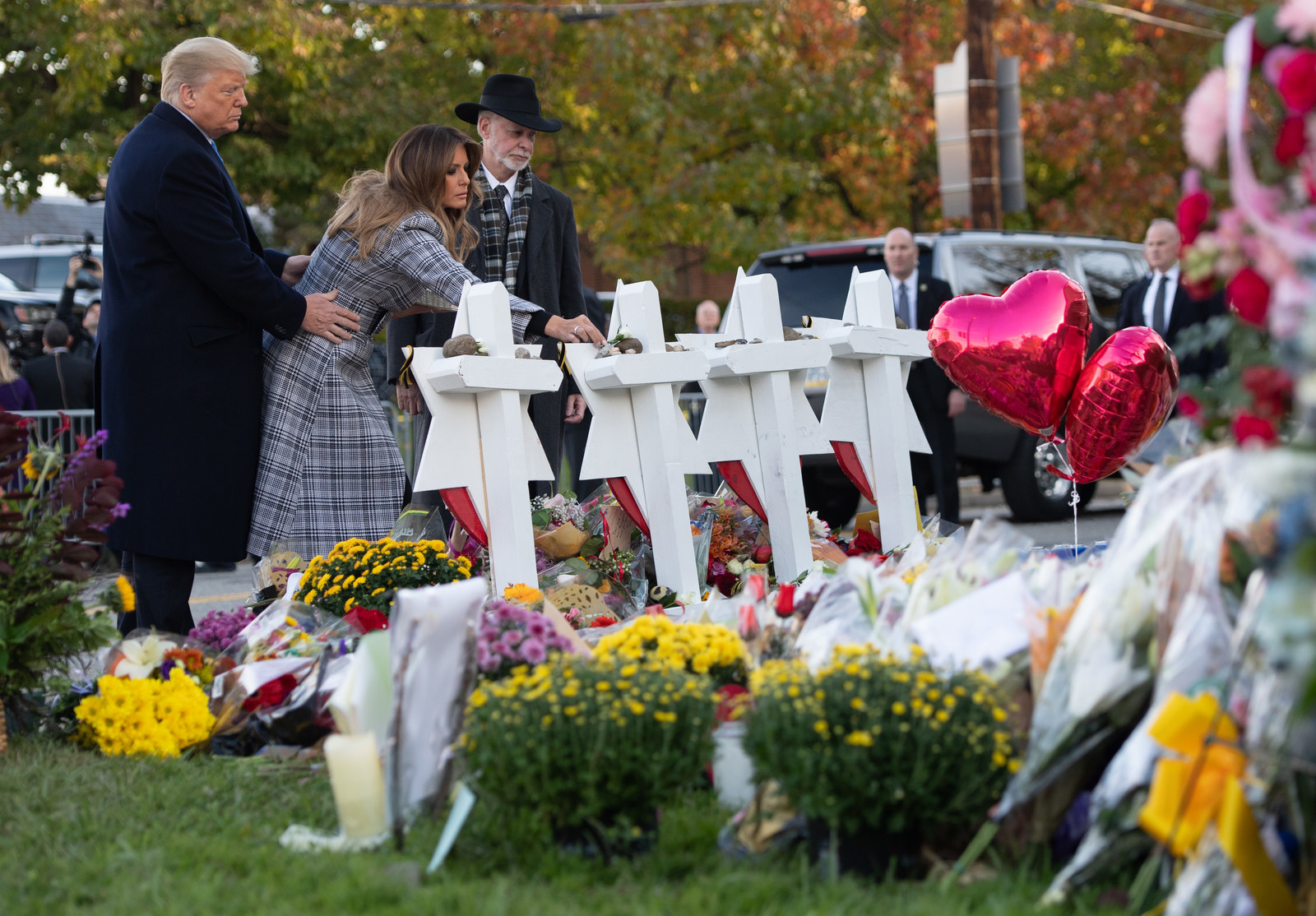 But Pittsburgh Mayor Bill Peduto, a Democrat, declined to meet with Trump during his visit to the city; a spokesperson told CNN his emphasis was "on the funerals and supporting the families."
On Sunday, the mayor rebuked the president's comments that the synagogue was partially to blame for not having armed security. "I think the approach that we need to be looking at," Peduto said, "is how we take the guns, which is the common denominator of every mass shooting in America, out of the hands of those that are looking to express hatred through murder."
Resident Gary Brown, who spoke to BuzzFeed News near the Tree of Life, said he thinks it's too soon for Trump to be visiting, given that funerals only began earlier on Tuesday. "He should wait until the funerals are over," he said.
As the president and first lady moved through Pittsburgh's streets in their motorcade, an even larger demonstration organized by Bend the Arc was taking place in another part of Squirrel Hill near some leafy cemeteries.
Thousands of people filled the entirety of the normally quiet suburban street holding signs that called on the president to explicitly denounce white nationalism. "Hate breeds death," read one sign. "Words matter," read another.
At least one man was arrested by police as a section of the group surged around a squad car, but the demonstration was mostly peaceful.
The crowd joined together to sing the Hebrew song "Olam Chesed Yibaneh."

"I will build this world from love / And you must build this world from love," the crowd sang. "And if we build this world from love / Then God will build this world from love."
David Mack contributed reporting from New York City.