Late Friday night, Attorney General Jeff Sessions fired Andrew McCabe, the former deputy director of the FBI.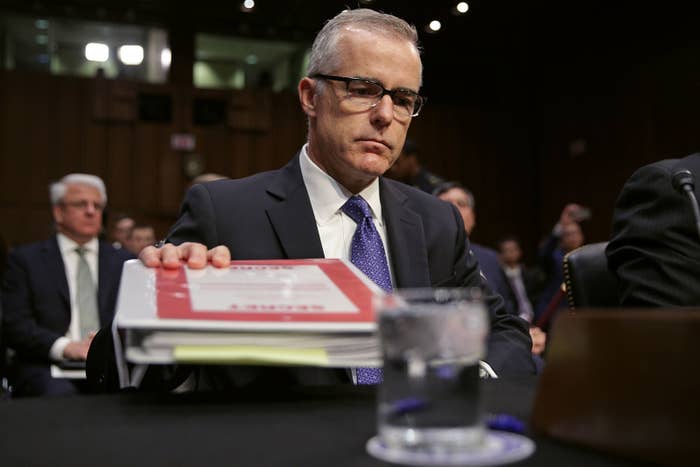 McCabe had worked at the agency for 21 years, including serving as the acting director of the FBI last year after President Trump fired James Comey. He subsequently became a favorite target of Trump on Twitter in part because his wife once ran for office as a Democrat, taking money from former Virginia Gov. Terry McAuliffe, an ally of the Clintons.
In a statement announcing the firing, Sessions said McCabe had "made an unauthorized disclosure the news media and lacked candor — including under oath — on multiple occasions."
McCabe, who had been set to retire on Sunday, said he was fired in order to demean his integrity as a witness in the special counsel's probe.
"I am being singled out and treated this way because of the role I played, the actions I took, and the events I witnessed in the aftermath of the firing of James Comey," McCabe said in a statement.
Trump celebrated the firing on Saturday, gleefully tweeting that McCabe "knew all about the lies and corruption going on at the highest levels of the FBI!"
On Saturday morning, John Brennan, who headed the CIA from 2013–2017, responded to the tweet, blasting Trump as a "disgraced demagogue."
Several Democrats in Congress also criticized McCabe's firing. California Rep. Adam Schiff, the top Democrat on the House committee that had been investigating Russia's involvement in the 2016 election, suggested the firing could be "obstruction of justice" and called on politicians to "condemn this flagrant abuse of power."
Wisconsin Rep. Mark Pocan, another Democrat, responded to a tweet suggesting a member of Congress hire McCabe so he'd qualify for pension benefits: "Andrew call me," he wrote. "I could use a good two-day report on the biggest crime families in Washington, D.C."
On the other side of the aisle, some Republican politicians expressed their support for McCabe's firing. Florida Rep. Ron DeSantis called it a "rare example of someone being held accountable in Washington."
Former Arkansas Gov. Mike Huckabee accused McCabe of letting his politics "wreck his career by lying under oath."
The report from the Office of the Inspector General and the findings from the FBI Office of Professional Responsibility, both of which were used by Sessions to justify McCabe's firing, have not been publicly released.
In his statement, McCabe said he had the authority to share some information with reporters and he "answered questions truthfully and as accurately as [he] could amidst the chaos that surrounded [him]."