Mike Pence attended a Broadway performance of Hamilton Friday night, and was met with widespread boos from the audience. Afterward, a member of the cast spoke directly to Pence from the stage.
On Saturday morning, Donald Trump responded on Twitter, saying the vice president-elect was "harassed" by the cast of Hamilton and demanding an apology:
Trump again demanded the cast apologize to Pence on Sunday morning, while calling the show "highly overrated."
Dixon, who gave the speech, responded to Trump, saying "conversation is not harassment," and expressed appreciation that Pence listened.
Lin-Manuel Miranda, the show's creator and original star, said he was proud of Dixon and the cast "for leading with love."
And Javier Muñoz, the show's current lead, retweeted a fan's tweet to Pence that Muñoz is a "proud, gay, HIV+ man."
Christopher Jackson, who played George Washington, said the cast makes him "so very proud."
In response to widespread criticism of the booing, Josh Gad, former star of Book of Mormon, said "this is what happens when you run on a platform of hate."
In a separate tweet demanding an apology, Trump also said the theater should "always be a safe and special place."
Hours later, Trump continued to tweet about the incident calling it "very rude and insulting." He deleted the tweet minutes later.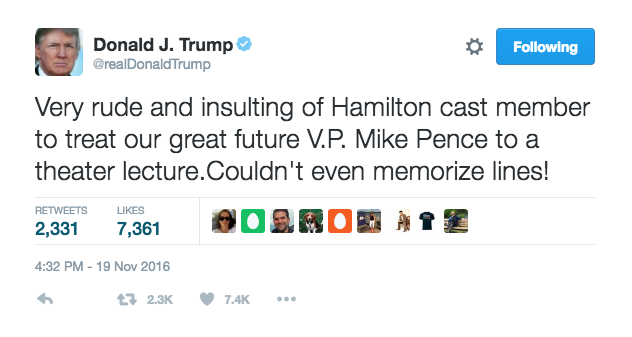 Many have been mocking this sentiment, comparing it to frequent condemnation of "safe spaces" by conservatives.