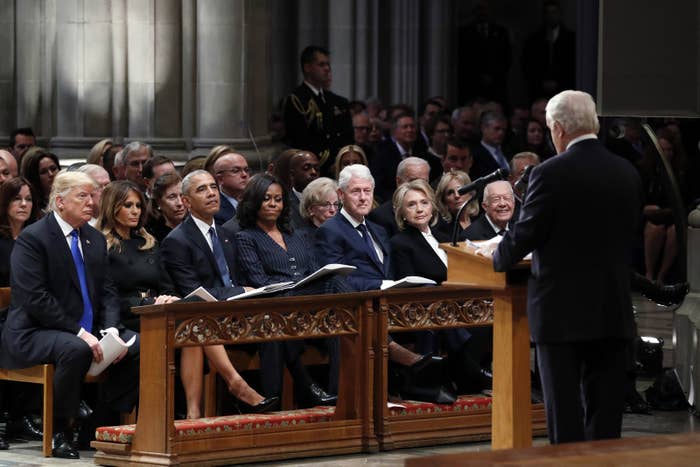 Upon arriving at his seat, President Trump shook hands with the Obamas but did not appear to acknowledge the Clintons or Carters.
It was his first time seeing the Obamas and Clintons since his inauguration in 2017.
Since then, he has accused (without evidence) Obama of spying on him during the 2016 campaign and has worked hard to undo Obama's domestic and international legacies.
Hillary Clinton, meanwhile, stared straight ahead, appearing to avoid eye contact with Trump.

Prior to the Trumps' arrival, the Obamas and Clintons had been seen talking and laughing with one another.

But the mood seemed markedly different once President Trump got there.
Some thought "no one looks happy to see one another."
George W. Bush, on the other hand, shook hands with all of the presidents and first ladies when he arrived.

He even appeared to pass something to Michelle Obama, who laughed appreciatively, in what seemed to be a callback to how he snuck her a cough drop at John McCain's funeral in September.