Trump And Bannon Are Publicly Feuding And Mitch McConnell Is Just Here For The Drama
*Smiles.*
So, in case you missed it, President Donald Trump and his former chief strategist Steve Bannon are fighting now.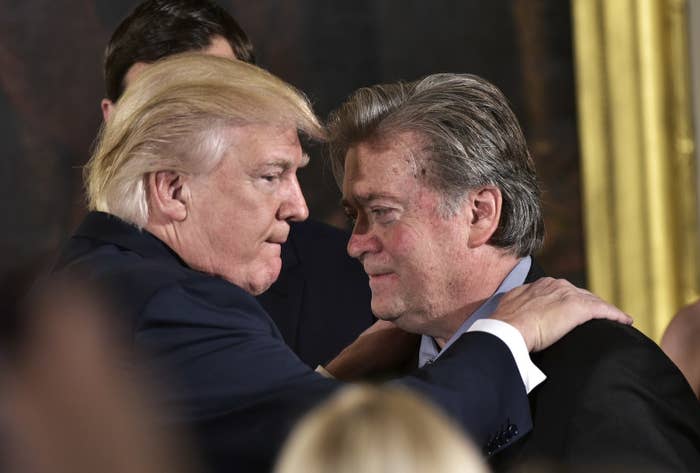 It all started on Wednesday, when excerpts of author and media critic Michael Wolff's book about the Trump campaign and administration were leaked.
Excerpts of Fire and Fury: Inside the White House, which BuzzFeed News obtained a copy of, include a number of juicy details.
These include allegations that Fox News CEO Rupert Murdoch called Trump a "fucking idiot" once and that Trump apparently likes to eat at McDonald's due to a "longtime fear of being poisoned."
Some of the most explosive details were attributed to Bannon, who reportedly called a meeting between Trump campaign officials and Russians at Trump Tower during the 2016 presidential campaign "treasonous."
"The three senior guys in the campaign thought it was a good idea to meet with a foreign government inside Trump Tower in the conference room on the 25th floor — with no lawyers. They didn't have any lawyers," Bannon reportedly told Wolff.
"Even if you thought that this was not treasonous, or unpatriotic, or bad shit, and I happen to think it's all of that, you should have called the FBI immediately."
Speaking about Mueller's investigation, Bannon reportedly said "they're going to crack Don Junior like an egg on national TV."
In response, Trump released a statement that absolutely blasted Bannon, saying he "lost his mind" after being fired.
White House Press Secretary Sarah Sanders responded to the leak of the book by calling it "trashy tabloid fiction" that was "filled with false and misleading accounts from individuals who have no access or influence with the White House."
Then, of course, Don Jr. stepped in to defend his dad, accusing Bannon of lying and saying Andrew Breitbart "would be ashamed."
Even the Mooch popped in to defend Trump (and to double down on his infamous diatribe against Bannon from this summer).
Meanwhile, Senate Majority Leader Mitch McConnell — who has previously had public disputes with Bannon — needed only a GIF to respond to the drama.
Many people are calling it out as a subtweet for the ages.
But many are just trolling McConnell right back.