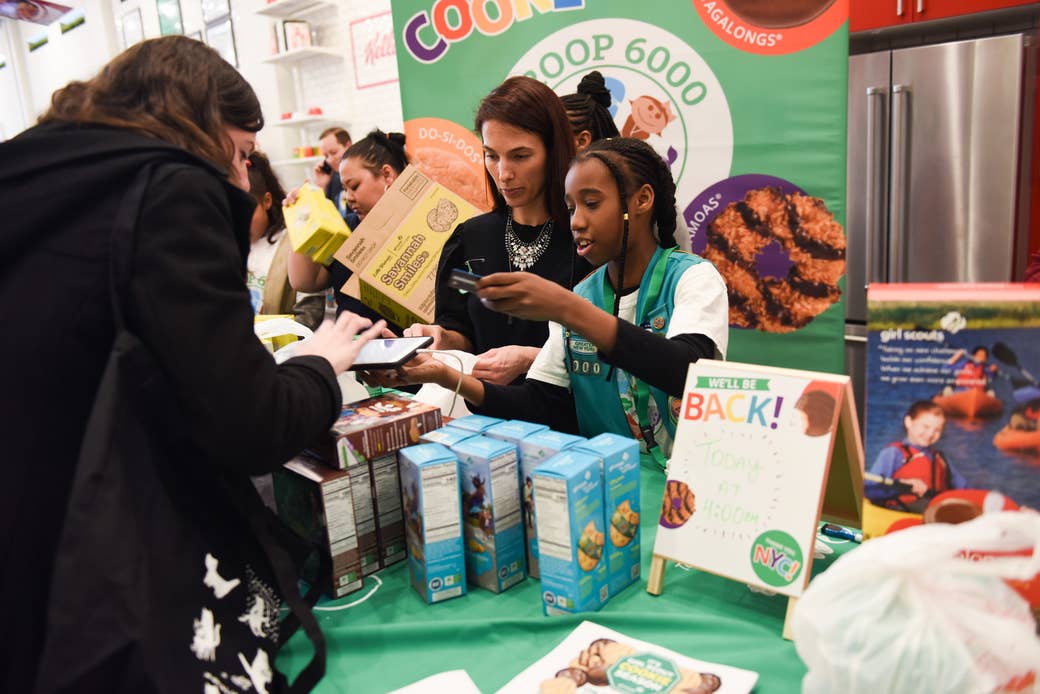 Jasmine, Jazmine, and Juwanda are best friends and they love being Girl Scouts. In fact, they love it so much, they are dressed up as Girl Scout Cookies.

"I get to do art here! Painting, clay, we make bowls, cups, and spoons," said Jasmine, 8, who was dressed as a Thin Mint.

"I like selling cookies and going on trips. We went to the farm!" said Jazmine, also 8, also in a Thin Mint costume. Juwanda, 6, dressed as a Samoa, nodded excitedly in agreement.
Just like many other girls in Girl Scout troops around this time of year, the three girls were getting ready to sell cookies Wednesday. Their fellow troop members, wearing their signature patch-adorned vests, lined up boxes of Tagalongs and Trefoils across a counter.

In most ways, their troop — Troop 6000 — is just like any other Girl Scout troop. What makes it different is that it's the first Girl Scout troop formed specifically to serve New York City's girls who are homeless.

Their meetings are based out of a homeless shelter, where many of the members live or have previously lived. (The troop allows girls to remain in the troop if they are no longer homeless, which happens to many.)

Giselle Burgess, 32, started the troop in February 2017, a few months after she found herself and her five children living in a homeless shelter for the first time.
"When I first became homeless myself, I'd always thought homelessness was the man outside with the cardboard sign asking for money," Burgess told BuzzFeed News. "But it's working women, it's working families. It's hard for us to make it in our own communities because the cost of living is so high."
Burgess had already been working for the Girl Scouts of Greater New York, so the idea came naturally to start a troop right there in the shelter, something that could help her three daughters feel less alone in what they were going through.

"I also wanted them to understand that life happens," said Burgess. "This is not something to be embarrassed about — it's something to push us forward and motivate us to be optimistic."
When she pitched the idea to the Girl Scouts, the organization gave her a resounding yes. Their first meeting had eight girls, three of whom were Burgess's daughters. A week later, they had 17. About two months later, the New York Times wrote about them, and their numbers — and donations — skyrocketed.
Now, a year later, Troop 6000 has 297 members ages 5 through 17, and there are 12 chapters based across 14 New York homeless shelters.

Burgess is no longer homeless as of August, but she is still the troop leader and her daughters are still involved.
"Traditionally, Girl Scouts builds community and consistency, it gives girls skills they'll need in their future, and it empowers young women," said Burgess. "But the difference I've noticed in the Troop 6000 girls is there's a stronger sisterhood that's in there that the girls are taking back from this. They don't feel alone."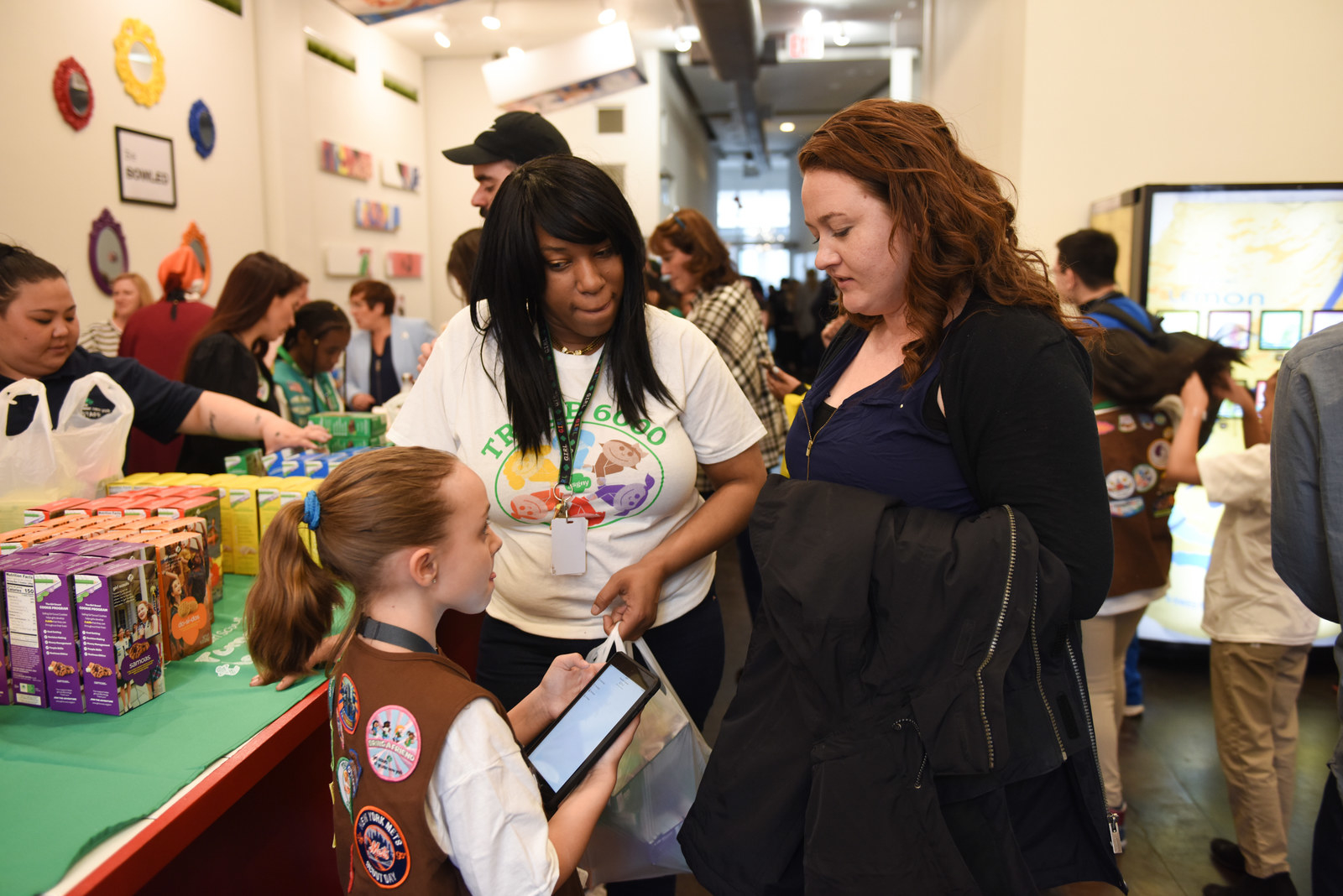 Even as troop membership has grown into the hundreds, that bond runs strong, she said.
"They have such a strong connection with other girls, even from different chapters," she said. "It's like they know each other and they've been family forever."

Troop 6000 is holding its first-ever cookie sale this week in the Kellogg's Cafe off Union Square. They are selling the cookies directly, rather than taking orders for delivery, as was previously traditional.

The sale will be held from Tuesday through Friday from 4–6 p.m., and on Saturday from 2–4 p.m.

Proceeds from the fundraiser will go toward programming for the troop, such as trips to museums and movies, as well as supplies and uniforms.

"When the founding girls started last year, their first question was 'When do we get to sell cookies?'" said Burgess.

On Wednesday, the second day of the sale — and the first day many of the founding troop members would be selling — the excitement was explosive. Just a few minutes after they opened for business, the line of customers extended out the door.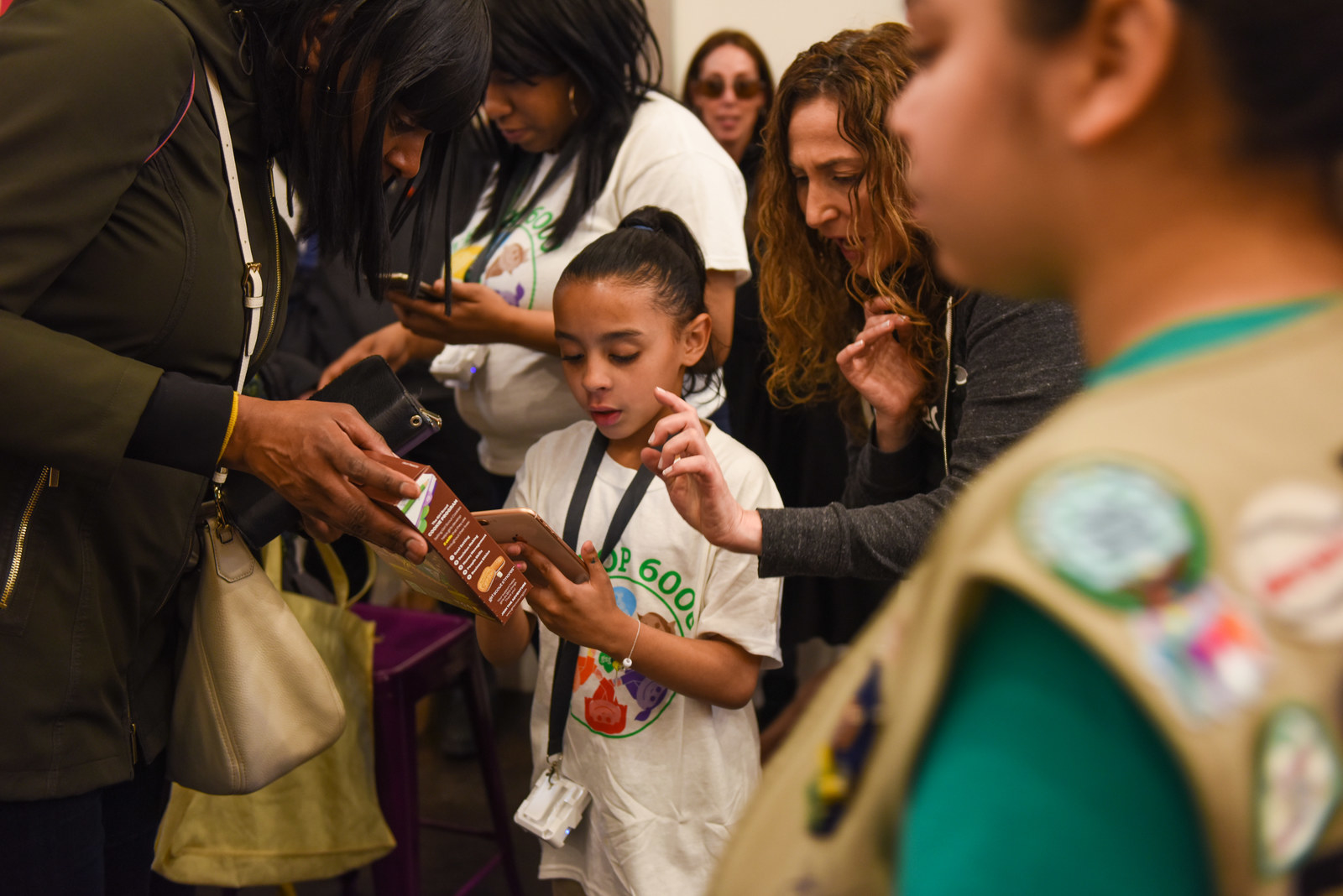 One of the troop members, an 8-year-old named Brianna, could not believe the turnout.

"I thought it was gonna be like 16 or 26 [people], but it's like…over 26," she said.
On the cookie-covered counter where they were selling, they displayed a whiteboard that tracked how close they were getting to their goal of 6,000 boxes sold.

"We're Troop 6000, so we're gonna sell 6,000!" Juwanda said.

By the end of their Wednesday sale, the troop hit their goal of 6,000. Now, they're aiming for 12,000.
The girls have been preparing for the cookie sale for a while, learning all about how businesses work, how to advertise and sell a product, budgeting, and money management.

"They have been selling like cookie bosses, like they were born to do it," said Burgess. "They're little entrepreneurs, I'm telling you."

The sale has also brought a lot of the quieter girls out of their shell, she said.

"A lot of our girls that were shy are now very open and outspoken, and they're speaking up and they're talking to people," said Burgess.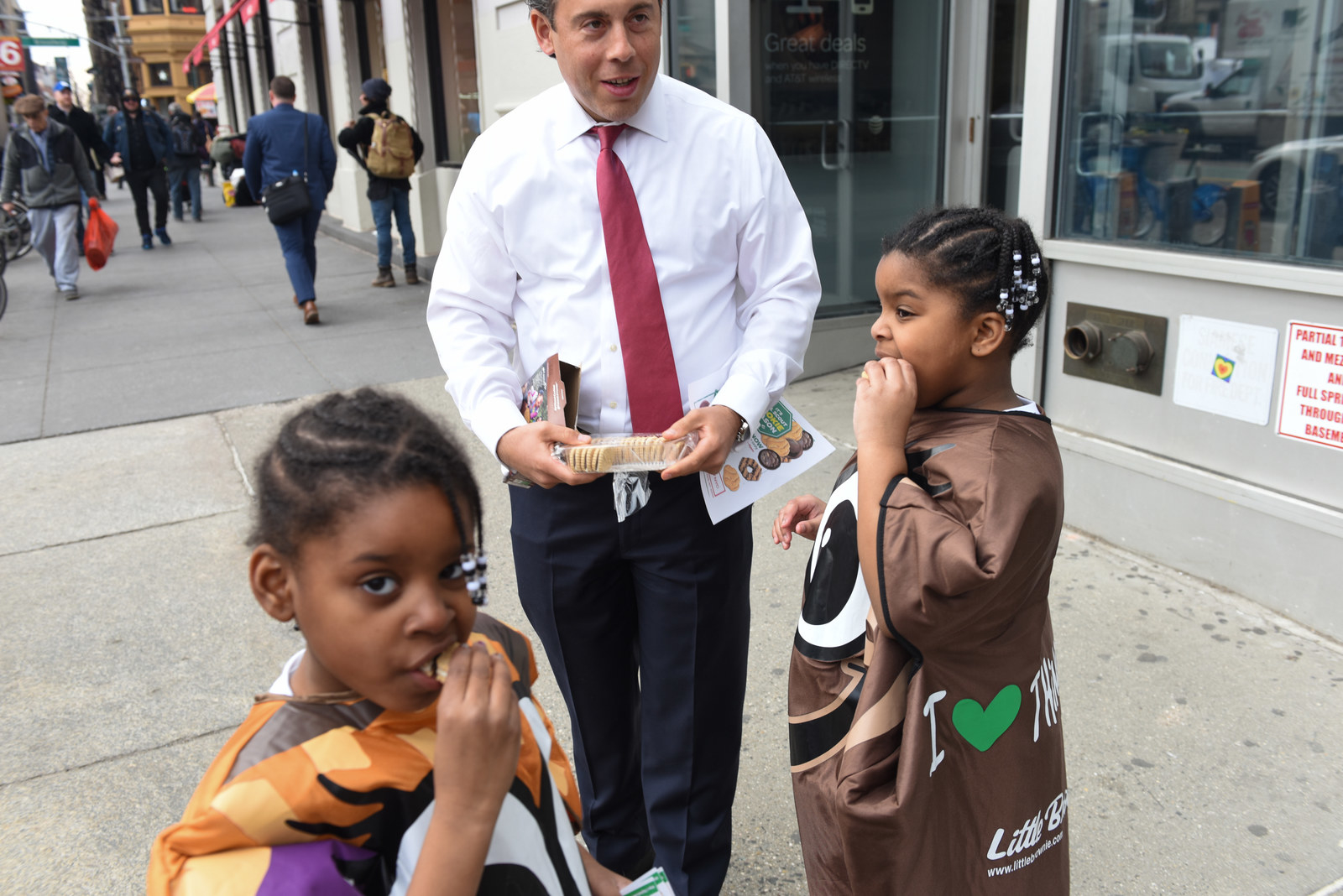 And it has some of the girls dreaming even bigger.

"There isn't a law that says you can't own a business if you're 10 years old!" Sanaa, 10, boldly declared.
The girls of Troop 6000 are more than just friends. As many of the members will tell you, they consider each other their sisters.

Hailey, 15, who's one of Burgess's daughters, said she sees the troop as "kind of like my family."

"They're my sisters," said Hailey. "Girl Scouting is all about being sister Girl Scouts. I know a lot of people say that, but I really mean it."

Some of Hailey's classmates don't get why she'd still be in Girl Scouts as a teenager. But — just like her mom — she wants to stay involved for a long time.

"I'm going to finish Girl Scouts soon, and I want to continue and be a troop leader," said Hailey. "I also want to be a fashion designer."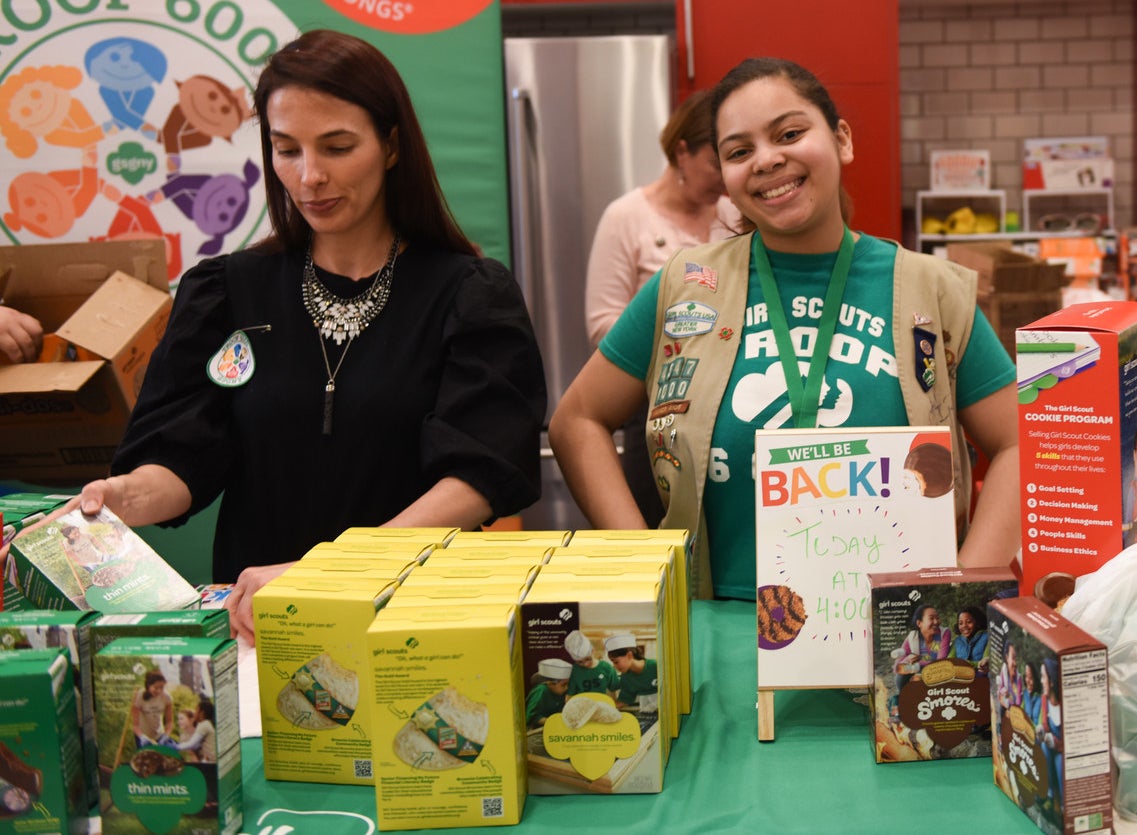 Brianna tried to list off all her best friends in the troop, but the list kept growing, and she eventually said all the members are her best friends.
"Everybody is my friend here!" said Brianna. "We've even discussed about it like two days ago when we had a trip — we discussed how much we love this."

She wants to be a Girl Scout for "a long time, till I turn into a grandma," Brianna said.
Connecting with other girls who've faced homelessness has been particularly meaningful to a lot of the troop members.

Sanaa, one of the troop's first members, said Girl Scouts was the first place where she didn't feel like she had to hide what she was going through.
"It was fun, because then I had some girls I could talk to about the situation that I had, and that I wouldn't have to hide it or feel that I was different," she said. "Before there was Girl Scouts, I would have to hide it away when I went to school, and I had no one to talk to."

"These girls aren't just ordinary girls," she said. "They're my sisters and I love them to death."
Staring at the long line of people waiting to buy cookies, Sanaa imagined what her troop could do with their earnings.

"We're gonna use the money to go on trips and do activities," she said. "I always wanted to go to the Bahamas, or Ohio."

When asked what she wanted to do in Ohio, Sanaa laughed and shrugged.

"I don't know, I just want to see the world!"