A Police Officer Who Warned He's "A Little Trigger-Happy" In A Viral Video Has Been Fired
"If anybody wants to fight or run, I'm a little trigger-happy, guys, I'm not gonna lie," the officer, Stephen Barone, was heard saying in a video that went viral.
A police officer in Hartford, Connecticut, who warned a group of men that he was "a little trigger-happy," has been fired.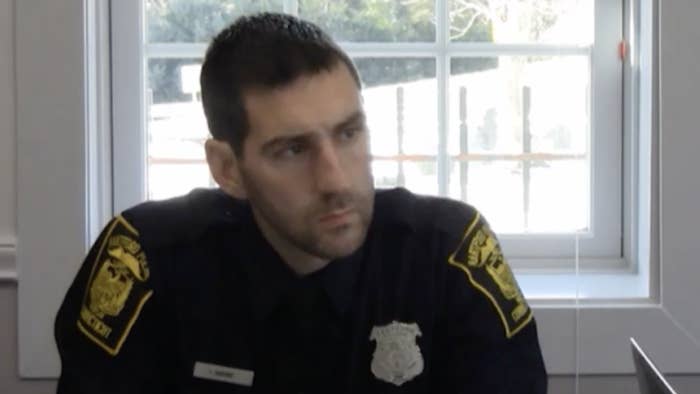 In a Facebook video that went viral in August, the officer, Stephen Barone, was recorded questioning the seven men, whom he'd accused of trespassing, the Hartford Courant reported.
"If anybody wants to fight or run, I'm a little trigger-happy, guys, I'm not gonna lie," Barone can be heard saying in the video.
Barone went on to warn the group that he is "paid a ton of money in overtime if I have to shoot somebody, so don't do anything stupid."
Rashawn Johnson, who filmed the video, told NBC Connecticut he was drinking on his friend's porch when Barone approached them.
"We weren't doing nothing wrong," Johnson said. "We were all just in shock to hear him say that and glad there were other officers there that were more professional about their job."
"It was kind of sick, you know, to have to sit there and listen to a cop say that," said Johnson. He added that he was "honestly just glad I didn't record somebody there getting shot."
Hartford Police Chief David Rosado fired Barone on Wednesday, the department announced on Facebook.
Barone, who had been a police officer with the department for 10 years, had been under an internal investigation for the incident, as well as for "a traffic incident in July 2018," the post said.
He was demoted last month and put on desk duty, and his salary was lowered from $89,200 to $76,800, according to the Hartford Courant.
The Courant reported that in an interview for the internal investigation, Barone reportedly said he could have used "a better choice of words," but thought his words were "effective in maintaining control." He also said he felt "very apologetic" for how the media had portrayed the incident.
Barone declined to comment to the Hartford Courant, and BuzzFeed News was unable to reach him for comment Wednesday night.
Rosado said in a statement that Barone's "conduct does not reflect the values of our agency," and that he saw "no scenario in which Mr. Barone can return to his duties."
"We hold ourselves to high standards, and when we fall short, we take responsibility for it," the police chief continued. "After reviewing the findings related to these two incidents, it's clear to me that there's no scenario in which Mr. Barone can return to his duties as a productive member of the Hartford Police Department."
"As a department, we are committed to building and rebuilding a strong relationship with residents across our city based on mutual respect, accountability, transparency, and a shared desire to live in a strong Hartford."