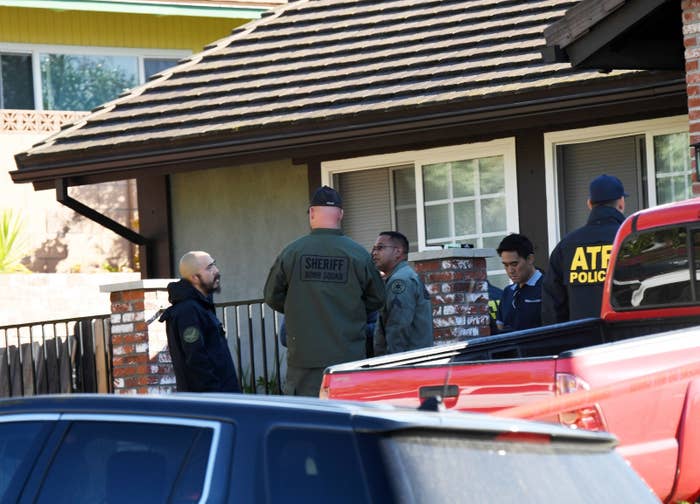 NEWBURY PARK, California — The man who opened fire on a bar in Thousand Oaks, California, on Wednesday night, killing 12 people, was identified by authorities as a Marine Corps veteran.
The shooter, 28-year-old Ian David Long, had been in contact with police in the past for a minor traffic collision, for being the victim of a battery at a bar in April 2015, and for acting "irrationally" at his home earlier this year, said Ventura County Sheriff Geoff Dean.
Authorities who responded to that scene earlier this year said that "mental health specialists who met with him talked to him and cleared him," and that they didn't feel he was a candidate for involuntary psychiatric commitment.

Dean said the authorities on that scene earlier this year "felt he might be suffering from PTSD" due to his time in the armed forces.

This is the second mass shooting in a week by someone who served in the military, after a man who was in the Army — and who had railed against women and minorities online — opened fire in a Tallahassee yoga studio, killing two and injuring five.
Donald Macleod, who lives directly behind Long's home in Newbury Park, California, told BuzzFeed News that he would hear the man and his mother argue frequently and loudly.

Macleod said the arguments would often be late at night, waking him and his wife.

"I'd hate to use the word violent, but close to violent," he said of the shooter's behavior. "I told my wife, 'Keep your distance. There's something wrong with him.'"

Macleod said that he had never spoken to the shooter — "you don't want to get involved with that guy," he said.
Tim Tanner, 41, a neighbor who lives just a few houses down from Long's home, also said that in April, he had heard several loud noises at night and walked outside to see where they were coming from. A few minutes later, he saw several police cars at the home.
"They had an argument or something," he said.
However, Blake Winnett, lived with Long twice and went out to bars with the 28-year-old gunman, told BuzzFeed News that during the time he knew him, he never saw an angry side, although he dabbled in recreational party drug molly.
"He wasn't a bad guy," he said. "I never saw an angry side to him."
The two met around 2012 when Long answered an ad to rent a room in an apartment Winnett was already living in Simi Valley. Winnett eventually moved out to Reseda and, a year later, learned that Long had answered an ad to rent a room there.
The two men were not close and their conversations were usually short, Winnett said. He knew Long had served in the military, but Winnett said he didn't want to pry and the subject never really came up. It wasn't until some time later that a now ex-girlfriend of Long's mentioned to Winnett that the Marine had been suffering from PTSD.
"He kept that to himself," he said. "He would always shut himself up in his room and it was hard for me to get him out to bars."
When they did go out, he said, it was usually to small dive bars and. He thinks the two might have gone to the Borderline at some point, since it's a regular spot for Winnett, but he remembers distinctly that Long didn't like country music.
When the two went out, Long usually stayed with him and seemed uncomfortable talking to new people.
Winnett also remembers Long owning a handgun when they lived together, but it wasn't something that ever raised red flags.
"He wasn't a bad person, he just had some bad shit in his head," he said. "He was just quiet and I don't know what made him snap."
The United States Marine Corps confirmed to BuzzFeed News that Long was enlisted from August 2008 to March 2013. He was an infantry machine gunner and attained the rank of corporal in 2011.
The Marines said he was deployed to Afghanistan as part of Operation Enduring Freedom from Nov. 16, 2010, to June 14, 2011.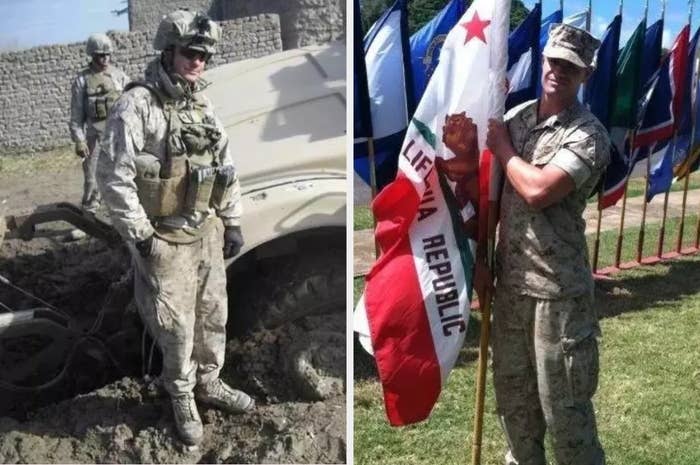 Long was a member of a special forces internet forum where he wrote sporadically about his experience in the military.
In one post, he said he had been deployed to Marjah in Afghanistan, where in 2010 thousands of US, British and Afghan troops launched the largest joint offensive in the war. The town in Helmand Province was a Taliban stronghold and site of Operation Moshtarak from February to December 2010, the first attack launched after the Obama administration announced plans to send 30,000 more troops to Afghanistan. Long's deployment to Afghanistan overlapped for the last month of that operation.

Long wrote on the forum last year that he was interested in pursuing further military service as an Army Ranger and was just waiting for a spot to open up for him. In the same post, dated March 28, 2017, Long told members of the forum that he realized he didn't want to be a Marine "a little too late."

"Maybe the ego got the better of me, but it took only one time for a 19-year-old D-2 athlete to talk down to me and tell me how to do my job that I realized this wasn't the career I wanted to head."
Long wrote that he was deployed to Okinawa in 2011, right after his Afghanistan tour ended, where he served as a Jungle Warfare Training Center instructor.
Robert B. Neller, the 37th Commandant of the Marines, called Long's actions "despicable," adding that they "run counter to what the vast majority of veterans are rightfully known for."
Long was also pursuing a Bachelor of Science degree in athletic training and planned to graduate in two months.
"On behalf of California State University, Northridge, our hearts and thoughts are with the victims, survivors, first responders and loved ones affected by the horrific massacre that occurred in Thousand Oaks last night. We have learned that the reported shooter is a former CSUN student, who last attended in 2016," California State University, Northridge, said in a statement.

Long was found dead inside an office in the Borderline Bar & Grill after the shooting, Sheriff Dean said.
"We have no idea what the motive was at this point," Dean said.
CNN, citing unnamed law enforcement officials, reported that authorities identified a social media post believed to be written by Long.
According to CNN, the post states, "I hope people call me insane," with a laughing face emoji.
"wouldn't that just be a big ball of irony? Yeah.. I'm insane, but the only thing you people do after these shootings is 'hopes and prayers'.. or 'keep you in my thoughts'... every time... and wonder why these keep happening," he also reportedly wrote.
Instagram said Long's accounts on the platform and Facebook have been deactivated, and any praise or support for the crime or the shooter will be removed "as soon as we're aware." The company is also cooperating with authorities. The Ventura County Sheriff's Office and the FBI, meanwhile, did not immediately return BuzzFeed News' requests for comment on the post.
Witnesses said Long may have also used smoke bombs, though the police have not confirmed that.

"Obviously, he had something going on in his head that would cause him to do something like this," said Dean. "So he obviously had some sort of issues."
Long purchased the weapon used in the attack legally.
The security guard who was shot was not armed, and neither was anyone in the bar that police are aware of.
Dean said "anywhere from 150 to 200" people were inside the bar, and many lives were saved by the swift police response.
Sheriff's Sgt. Ron Helus, 54, had been with the department for 29 years and was close to retiring when he and a California Highway Patrol officer entered the bar to confront Long. Helus was killed as a result, making "the ultimate sacrifice," Dean said.

"There's no doubt that they saved lives by going in there and engaging with the suspect," Dean said. "Not that by any means the loss of 13 lives is good, but it could have been much, much worse."