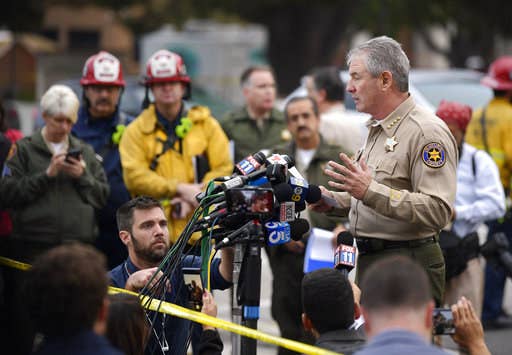 After 12 people were killed by a gunman at a California bar late Wednesday night, Ventura County Sheriff Geoff Dean said it "is impossible to put logic or sense to the senseless."
Dean is retiring tomorrow, and said leaving at such a tragic time "can't be any worse."
In his 41 years as a police officer, Dean said, he's never before had a mass shooting and "never thought [he] would see the things around the country that would happen."
"But I have learned it doesn't matter what community you are in; it doesn't matter how safe your community is. It can happen anywhere," Dean said.
This is the second mass shooting in a week by someone who served in the military, after a man who was in the Army — and who railed against women and minorities online — opened fired in a Tallahassee yoga studio, killing two and injuring five.
Remembering Sgt. Ron Helus, the police officer who was killed in the shooting, Dean said the community has "lost a hero."
"It's so tragic losing Ron," said Dean. "You know, we'd go to the gym together and work out together. And it's horrific and terrible and it saddens our heart."
The police department is heartbroken to lose Helus, Dean said.
"They're mourning. They're sad. It's awful. Ron was a great guy," he said. "He was close to everybody. He was a hard worker, and our hearts are broken all over."
"But there's also the parents of the 11 other victims in there whose hearts are ripped out tonight," Dean said, "And I know there are parents wondering, 'Oh my gosh, was one of my children in there, or my sister or my brother?'"
Dean said the shooter likely had mental health issues, and that "obviously for somebody to do this they have to have mental illness."
When asked by a reporter why mass shootings keep happening in the US, Dean said he "think[s] we see unfortunate horrific actions that happen all over the world" and is unsure "if it happens more in the United States or doesn't."
When the reporter replied that it does happen more in the US than in other comparable countries, Dean said he does not know why that is.
"I don't know," he said. "If I knew the answer to that, I would do something to stop it."
Dean said he spoke at a synagogue and to a rabbi following the recent mass shooting at the Tree of Life synagogue in Pittsburgh, which left 11 people dead.
"I said, we've got to do something about the hate," Dean said. "And we've got to do something to just spread the love and reach out and help people and be patient with them and understand them, because this will touch so many lives around our community."
"There's just no way to describe" the tragedy in Thousand Oaks, Dean said.
"It saddens us all and it tears at our hearts and emotions as it should, and if we ever get to the point where it doesn't, then there is something wrong with us," he said.