This is Bill and Jill Young, a father and 19-year-old daughter from Dallas, Texas.
Bill is a corporate pilot with a side job in photography, so he travels a lot for work and often stays in hotels, he told BuzzFeed News.
Back in 2015, he was bored in a hotel room when he noticed how weird the carpeting was. He snapped a picture and uploaded it to his Instagram.
And just like that, an Instagram star was born.
Bill kept posting carpet photos to his personal Instagram, until his wife Heidi suggested he start a separate account, which he named @MyHotelCarpet.
"I just decided to do it as something fun while on the road," said Bill.
Bill said when it comes to carpets, "the crazier the better."
"Some of them have like, almost weird Illuminati symbols on them...or big badges or crazy gargoyles on them, or something like that," he said. "I definitely prefer this over just a plain one."
For two years, his Instagram had just 82 followers. But, on Saturday, that all changed.
Jill had "always loved [his Instagram] because it's just very pure," she told BuzzFeed News.
"But I was always surprised he never put in effort to get a whole bunch of followers," she said. "He didn't really care about that. He just really liked carpet, and that made me really happy."
So, while she was home from college for Thanksgiving, she posted about her dad's account on her own Instagram to try to help him get a bigger audience.
"He got so excited about that, and it made me so happy how excited he got," Jill told BuzzFeed News.
So, she decided to also post about it on Twitter — and it blew up.
People freaking loved it.
It got pretty out of control.
And they followed it like mad. Bill's account has more than 430,000 followers and counting as of Wednesday afternoon.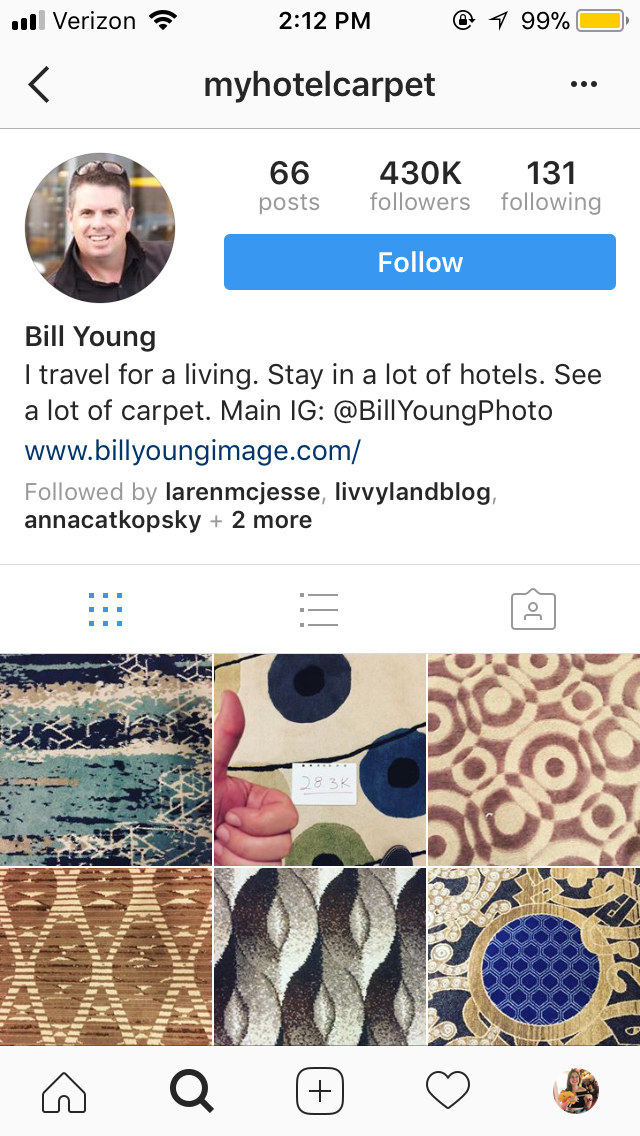 And they're commenting nonstop.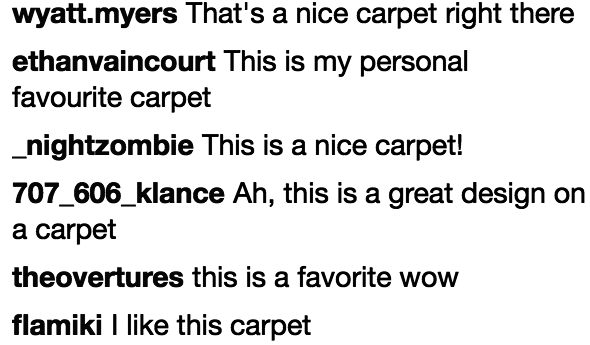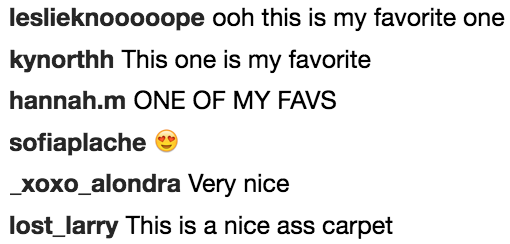 Both Bill and Jill said the newfound Instagram fame has been "crazy."
"People have been overwhelmingly kind and saying such nice, positive things about my dad and calling him the 'Carpet King' and saying 'You're the dad of Twitter,'" said Jill. "Someone said, 'I would die for you, Bill Young.'"
Some people have suggested Bill branch out into posting tile or wood floors, Jill said, but Bill thinks he'll just keep posting hotel carpets for now.
"I want to keep it semi-pure," said Bill. "I'm not looking to sell out."