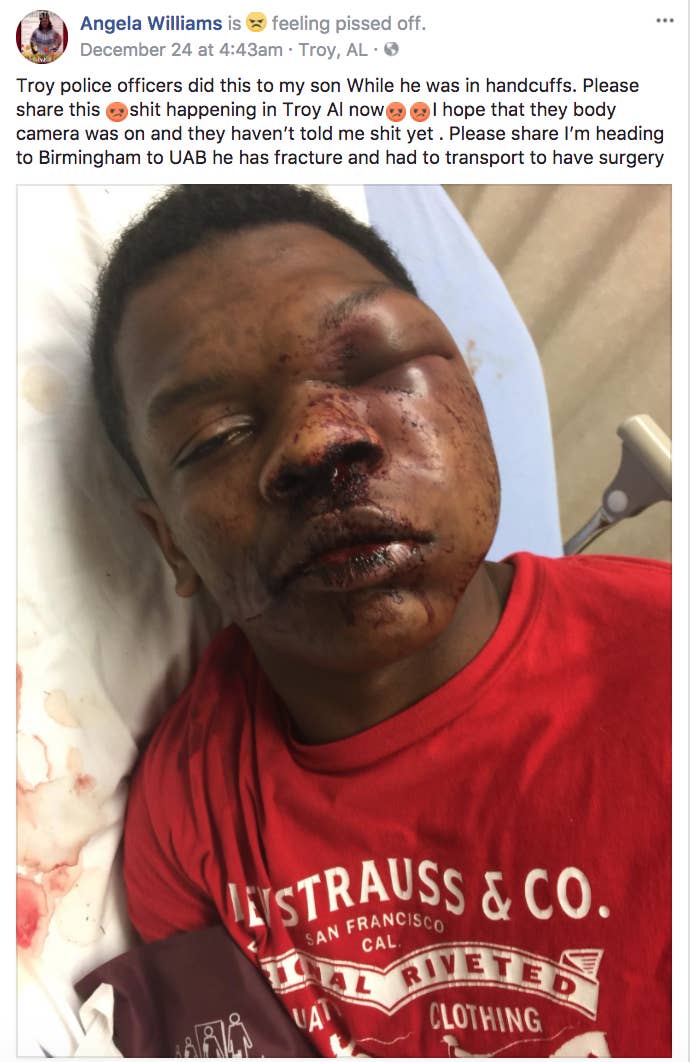 Officials are investigating how a 17-year-old was left bruised, bloodied, and swollen beyond recognition during an encounter with police Saturday night in Troy, Alabama.
Police officers in Troy saw the teenager, Ulysses Wilkerson, walking behind a closed business in the city's downtown late Saturday night, the department said in a statement. When the officers exited their vehicle and approached him, he ran away. Officers chased him down and after "a lengthy pursuit," and a struggle ensued, police said.
Police say the use of force was "necessary" because it looked like Ulysses was reaching for a weapon.
In their statement, police say the teenager "resisted arrest and refused to comply with commands from the officers to place his hands behind his back. The subject continued to struggle with officers and kept reaching toward his waistband as if he was attempting to access a weapon; all while repeatedly ignoring officers' commands to stop resisting and give them his hands."
"Due to the subject's actions and failure to comply with officers commands Officers had to use physical force to affect the arrest. The force used was reasonable and necessary," police said.
After Ulysses was taken to the hospital, the department said its officers returned to where they made "initial contact" with the teen and "retraced the path" he ran and found a handgun on the ground.
The handgun was collected and placed into evidence for further processing. However, Ulysses' family, activists, and members of the community are demanding answers as to why the 17-year-old was so severely injured.
The Troy police chief is now asking for an independent investigation. A spokesperson for the police department told BuzzFeed News that all questions about the incident should be directed to the Alabama State Bureau of Investigation.
In a statement, the bureau confirmed that Troy police officers arrested a 17-year-old at 11:52 p.m. on Saturday, Dec. 23. During the arrest, the teen was injured and transported to Troy Regional Medical Center, the statement said. He was later transported to University of Alabama Medical Center in Birmingham and subsequently released.
"City of Troy Police Chief Randall Barr requested the Alabama State Bureau of Investigation (SBI) conduct an independent investigation into the use of force by his officers," the bureau's statement continued. "Chief Barr's request was approved and Agents from SBI immediately responded to Troy, conducting interviews and collecting evidence."
On Friday, Troy Mayor Jason Reeves announced that the officer involved was put on leave and that the two misdemeanor charges (obstructing governmental operations and resisting arrest) still stand, though he said "the investigation is ongoing" and asked for "patience" as the probe continues.
"I want to stress to our community that we all must let the independent review process take its course," Reeves said in a statement. "Regardless of the outcome, I want our citizens to know that I will diligently work to make sure the public is informed. I love this city and am concerned about the welfare of all our citizens."
Meanwhile, the teen's family is demanding to see police body camera and dashcam footage, claiming that officers beat their son when he was already in handcuffs. His parents both shared now-viral photos of Ulysses lying on a bloody white sheet in the hospital, his eye swollen shut and nose, lips, and face bruised and crusted with blood.
"Troy police officers did this to my son while he was in handcuffs," Angela Williams, Wilkerson's mother, wrote in a on Facebook. Williams added that her son had been transported to the hospital for his injuries and that she still knew little about what had actually transpired.
"Please share this," she wrote. "Shit happening in Troy, Alabama now."
More than 80,000 people have shared the post, with many calling for answers from the police in comments.
"As y'all can see troy police officers tried to kill my son and he has massive swelling and they can't start surgery until swelling goes down," the teen's father, Ulysses Wilkerson Jr., said on Sunday.
"He had trauma to the brain, swelling on the brain, and a cracked eye socket in three different places," he told local station, DothanFirst.
Lawyers hired by the family released a statement on Thursday saying they are working with the State Bureau of Investigation and will "do everything in our power to seek justice for Ulysses Wilkerson, an African-American teenager who was brutally beaten at the hands of police."
"The family is adamant about the community staying engaged to help seek for justice for their 17-year-old son," the lawyers said. "This is not just a matter of black and white, it is a matter of humanity."
The lawyers say the Troy Police Department "still owes the community answers and transparency," and is calling upon them to release the body cam and dash cam footage.
In a press conference on Friday, Williams delivered a statement calling for justice for her son.
"On Saturday night, my son, Ulysses Wilkerson, was handcuffed and beaten to unconsciousness by police officers in Troy, Alabama," said Williams. "As a mother, I was shocked, horrified and devastated to see my son this way — a victim of police brutality."
"While I am hopeful that the State Bureau of Investigation will uncover the truth, I still call on the community to take a stand against injustices like this," said Williams. "We will not settle until we know the truth behind the brutal beating of my dear son, and until these police officers are held accountable for their crimes."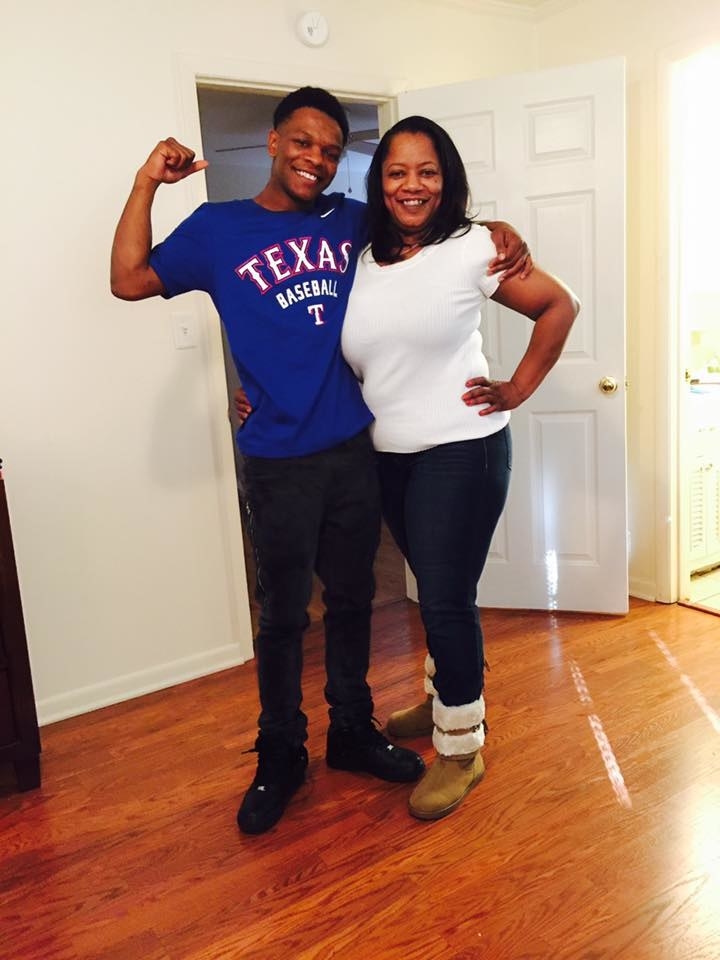 In their statement, police say they charged Ulysses with misdemeanor obstruction and resisting arrest, though his father says those charges have been dropped.
Troy Police and the SBI would not comment on how many officers were involved and if they were wearing body cameras, but Pike County District Attorney Tom Anderson told CNN some of the officers involved were not wearing cameras. One officer was, but he didn't turn it on, Anderson added.
While there is video of the incident, Anderson told CNN he has not yet seen the footage, nor has he spoken with police about releasing it.
The University of Alabama at Birmingham told BuzzFeed News on Thursday that Ulysses was admitted to the emergency room on Dec. 24 and was discharged the same day.
Civil rights activists plan to demonstrate outside the Troy Police Department's headquarters on Dec. 30 at 11 a.m., Rev. Al Sharpton wrote on Facebook.
Gerald Jackson, a leader with Alabama's We Want Justice Now who has been working with Ulysses' parents, said on Facebook that the teen was walking with a friend and "feared for his life, safety, and ran from the police."