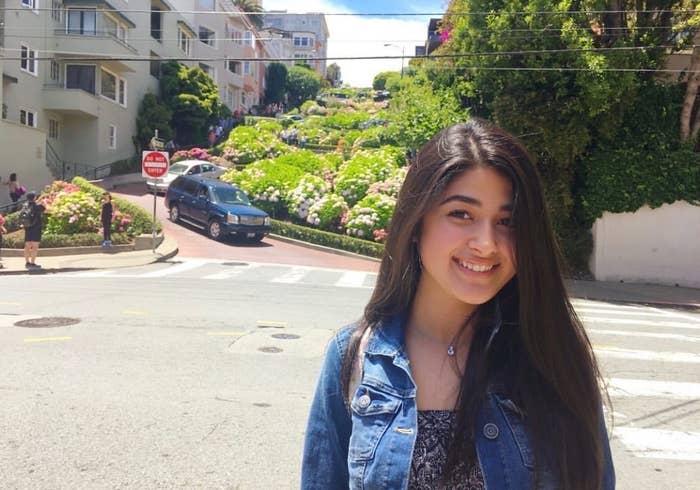 A 17-year-old Muslim girl's TikTok — which started as a makeup tutorial and bait-and-switched to a quick lesson on China's Muslim concentration camps — went viral over the weekend.
People were outraged when TikTok banned Feroza Aziz, who is from New Jersey, days later. They said the app's Chinese developer, ByteDance, was censoring views that went against the Chinese Communist Party, indicative of the delicate balance the company finds itself in. But TikTok told BuzzFeed News that Aziz was actually suspended for another video — one with a meme about Osama bin Laden.
"So, the first thing you need to do is grab your lash curler, curl your lashes, obviously," Aziz begins in the TikTok about China. "Then, you're gonna put them down and use the phone you're using right now to search what's happening in China, how they're getting concentration camps, throwing innocent Muslims in there. ... This is another Holocaust, yet no one is talking about it."

An estimated 1 million Uighur Muslims are currently imprisoned in internment camps in northwest China's Xinjiang region. The camps have been widely condemned by the United States and other nations.

In the camps, Uighur Muslim families are separated from each other, and those imprisoned have reportedly been beaten, tortured, and forced to study communist propaganda and sing songs of praise to the government.

On Monday, Aziz was banned from using TikTok on her phone, prompting widespread outrage and accusations that the Chinese company was censoring criticism about the country.

TikTok denied that Aziz's ban had anything to do with her videos on the internment camps, but she doesn't quite believe it. "I still find it suspicious that TikTok took down my video right when my posts on China's concentration camps were made. Doesn't sound right to me," she said.

On Wednesday evening, TikTok apologized to Aziz for banning her from the platform, reinstated her access to her account, but maintained that her viral video talking about China's imprisonment of Uighur Muslims was a human error, not an effort to silence her message.
In the post, TikTok said the viral video was removed "due to a human moderation error," and that the video was reinstated minutes later after a "senior member of our moderation team identified the error."

"In total, the video was offline for 50 minutes," the company said in the post.
The incident comes just a month after Congress raised questions about whether the Chinese app poses "national security risks."

"With over 110 million downloads in the U.S. alone, TikTok is a potential counterintelligence threat we cannot ignore," wrote Sens. Chuck Schumer and Tom Cotton. "Given these concerns, we ask that the Intelligence Community conduct an assessment of the national security risks posed by TikTok and other China-based content platforms operating in the U.S. and brief Congress on these findings."
Responding in a blog post last month, the company said it does not "remove content based on sensitivities related to China."
"We have never been asked by the Chinese government to remove any content and we would not do so if asked. Period," the company said.
But a spokesperson for TikTok told BuzzFeed News that Aziz wasn't suspended for that video, but another: one that sexualized Osama bin Laden, they said.

The spokesperson's representation of the video was not entirely accurate. Aziz has posted about the dead al-Qaeda leader and mastermind of the 9/11 attacks, but in an interview with BuzzFeed News she said the offending video was a dark spin on a TikTok meme — not a sexualization of him.
"There's a trend on TikTok where you post like, 'The type of boys or girls I liked when I was little,'" Aziz said. "Mine was like, 'I liked a lot of white guys, but now I like brown people' and at the end was [bin Laden] as a joke."

She added, "It was a dark humor joke that he was at the end, because obviously no one in their right mind would think or say that."
In the TikTok, Aziz shows images of the white male celebrities — such as Justin Bieber — she had crushes on in middle school. "Whatcha Say" by Jason Derulo plays over the short video as she reveals she now has crushes on nonwhite and Muslim celebrities like Zayn Malik. The last photo in the video is of bin Laden.
Aziz did not know why she was banned before her interview with BuzzFeed News, despite having reached out to TikTok about it.

"I emailed them about this, and they never got back to me," she said. "I woke up on Monday and saw [I was banned], and was like, wow, okay."
In the blog post, TikTok said Aziz posted the bin Laden video on Nov. 14, resulting in that account being banned.
"While we recognize that this video may have been intended as satire, our policies on this front are currently strict," the company wrote. "Any such content, when identified, is deemed a violation of our Community Guidelines and Terms of Service, resulting in a permanent ban of the account and associated devices."
TikTok said Aziz then created another account the same day and, on Saturday, posted the video speaking about the Uighur community. On Monday, TikTok banned 2,406 devices associated with banned accounts, including Aziz's.
"This had the effect of locking her out of being able to access her second, active account from that device," the company wrote.
On Wednesday, the viral video was removed, then reinstated, they said.
TikTok said they planned to reach out to Aziz to let her know of the decision to "override the device ban on this case."
"Our moderation approach of banning devices associated with a banned account is designed to protect against the spread of coordinated malicious behavior - and it's clear that this was not the intent here," the company wrote. "We acknowledge that at times, this process will not be perfect. Humans will sometimes make mistakes, such as the one made today."
In response to TikTok's statement, Aziz responded on Twitter, saying she didn't believe the company.
"Do I believe they took it away because of a unrelated satirical video that was deleted on a previous deleted account of mine? Right after I finished posting a 3 part video about the Uyghurs? No."
This isn't the first time Aziz's account has been taken down or had videos removed, she said. She believes many of them got reported by other users; her previous account was banned too. (The video about China was posted on Saturday from a new account.)

"For my last account, I had multiple videos taken down, and all the videos taken down were my Muslim videos — me making jokes Muslims could laugh about, relatable Muslim content," she said. "That's just how TikTok is. There's always people that report things."
All in all, it equates to an exceptionally 2019 story. Aziz said she's frustrated and confused that she could get banned for what she believes was clearly a joke.

"Everybody has dark humor, and there are people on TikTok who post explicit things about murder and very intense stuff, and that's not taken down," she said. "My thing that's a joke that my group can laugh at, that Muslims and brown people can laugh at, that's taken down."
Still, she's also glad so many people now know about the human rights crisis in China.
"As a Muslim girl, I've always been oppressed and seen my people be oppressed, and always I've been into human rights," she said.
She added: "I've known about this [crisis] since 2018, and I've always talked about it, but whenever I talked about it, no one would care to listen. Everyone just cares what people are wearing, what's the new style, who's the new YouTuber, who's doing this. So I wanted to make a TikTok about it.
"I just wish I could do more to help. I hope something can be done from this."