This is Jenn and Lorenzo Trujillo, a newlywed couple living in Leesburg, Virginia.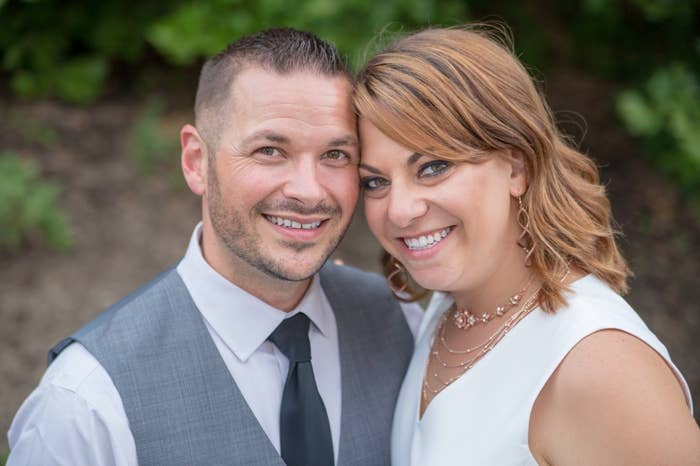 Both Jenn and Lorenzo are US Army Band musicians their late thirties. They have been together for two and a half years and had planned on getting married for a while.
"We kind of said we'd probably just go to the courthouse and elope, do something small," Jenn told BuzzFeed News. "We've both done the big thing in the past, we didn't need to do it again."
A few months ago, they got a marriage license, but still had no plan of when they'd hold their wedding.
"She came to me and said, 'We have this marriage license — when are we going to get married?' and I said, 'You know what? Don't worry about it. I'll figure it out,'" said Lorenzo.
"All along, the plan was just to do something in the next couple months, just go to the courthouse with some friends, nothing big at all," he said. "But I didn't think that was good enough."
So, on Friday, Jenn and Lorenzo had a SURPRISE WEDDING.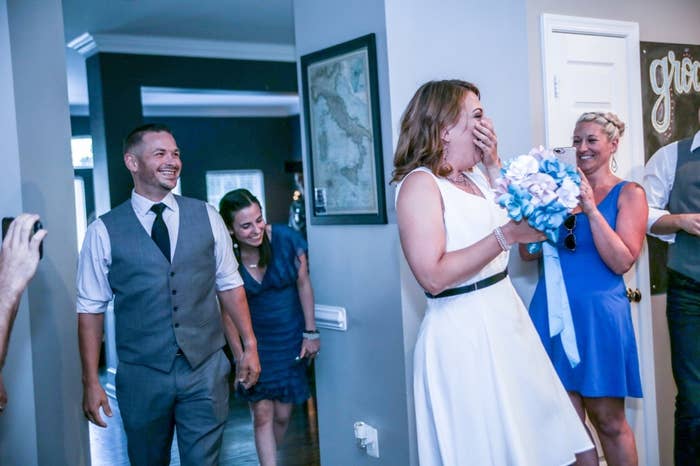 Now, perhaps you are under the impression (particularly if you've seen Girls) that a "surprise wedding" is when a couple surprise their guests by getting married. But let me be perfectly clear — that is not what we're talking about here.
No, no — the wedding was a surprise FOR THE BRIDE.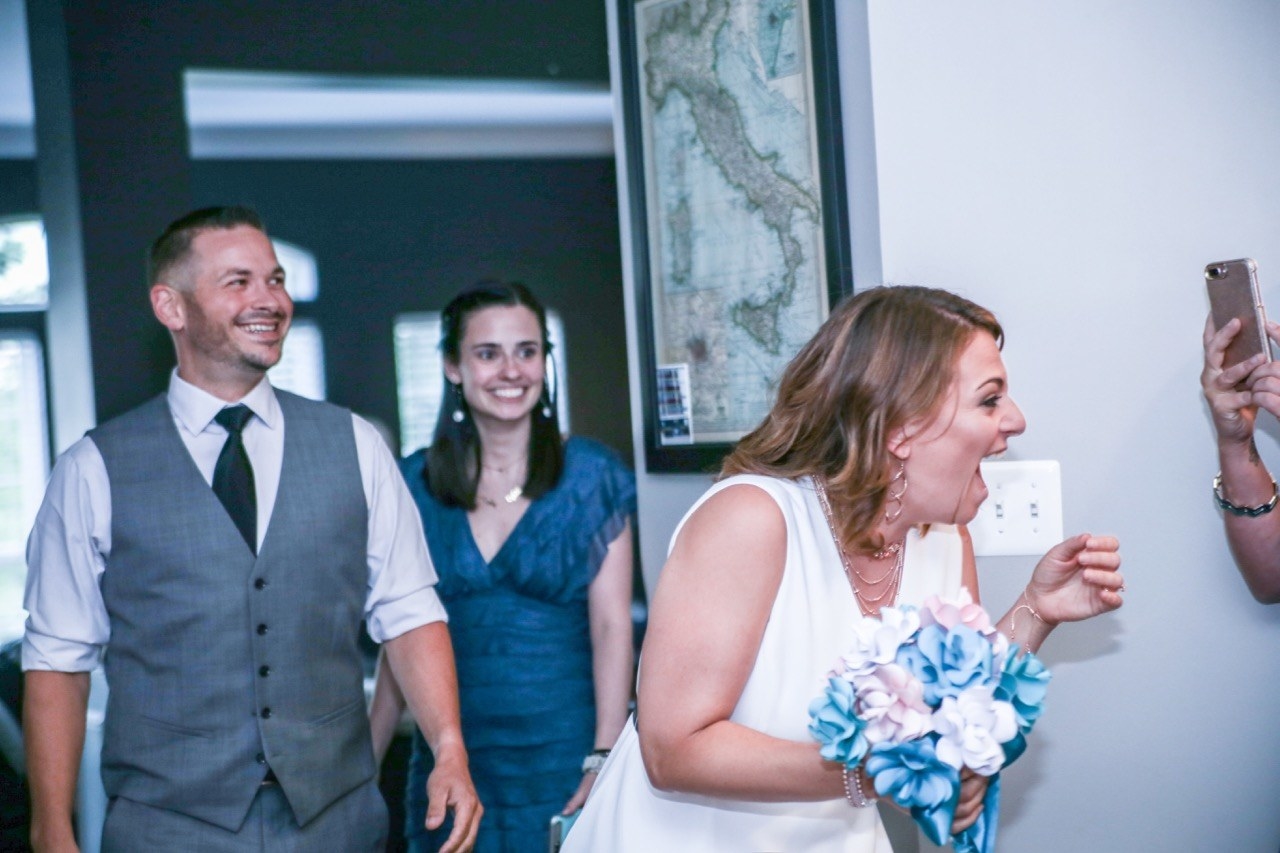 I KNOW, RIGHT?
With the help of their best friends Allie and Ryan, who live next door, the plan came together in just 10 days. Lorenzo told Jenn they were going on a big fancy date that night.
"I told her to go buy a new dress for this date because we got tickets to this event that are really hard to get, so we have to look nice," he said.
Jenn decided to just get something she could wear again to their courthouse wedding, and wound up picking out a white dress.
On Friday, the two went out to dinner. At the end of the meal, Lorenzo got down on one knee, pulled out a ring, and asked Jenn to marry him. Naturally, she said yes.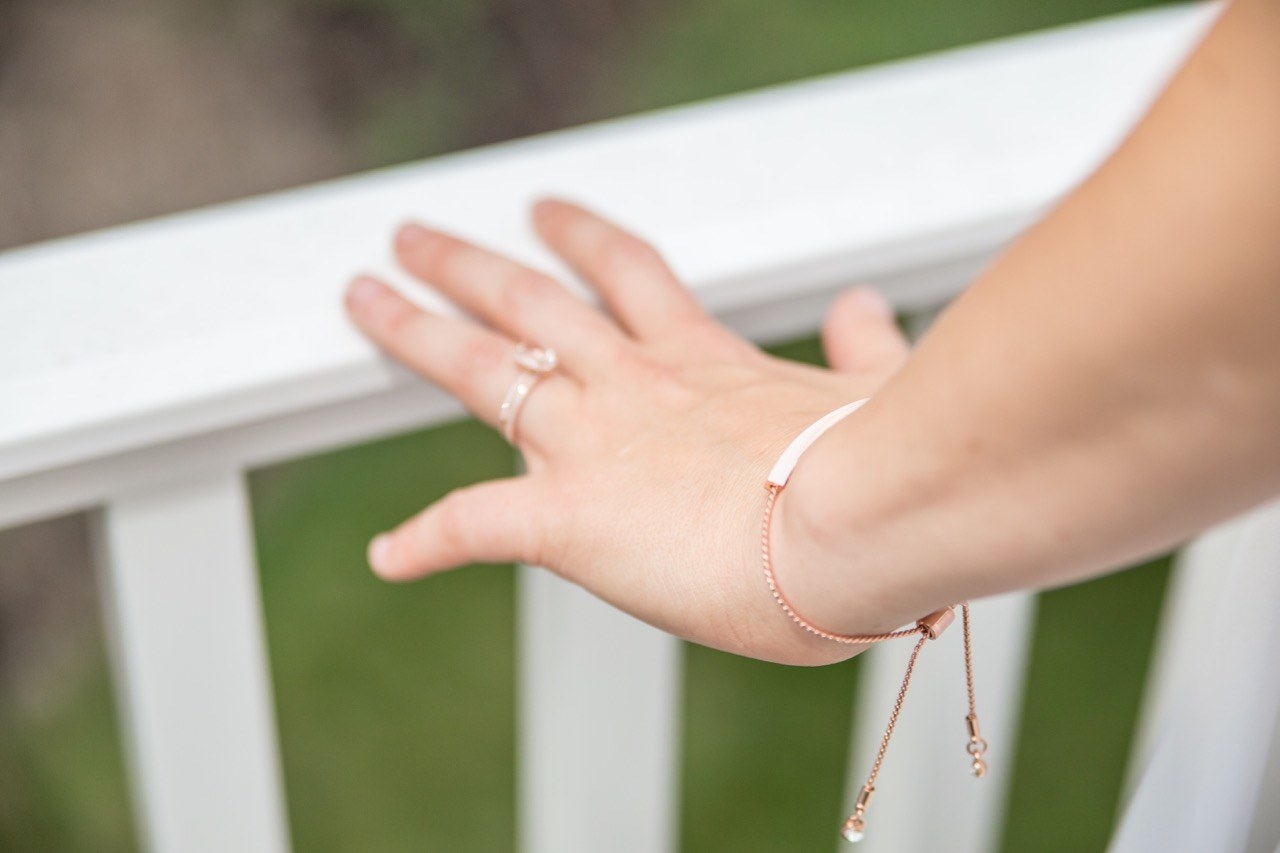 Then, they drove back to their neighbors' house because Lorenzo said they had the "tickets" to the mysterious event he was supposedly taking her to.
"She said, 'Now that we're engaged, are you going to tell me when we're actually going to get married?'" said Lorenzo. "So the whole way home, I'm sitting there thinking, I can't tell her anything!"
"He lied his ass off," said Jenn.
"So we walk in...and right when we got to the top of the stairs, she sees twinkle lights," he said. "And she says, 'What's going on?'"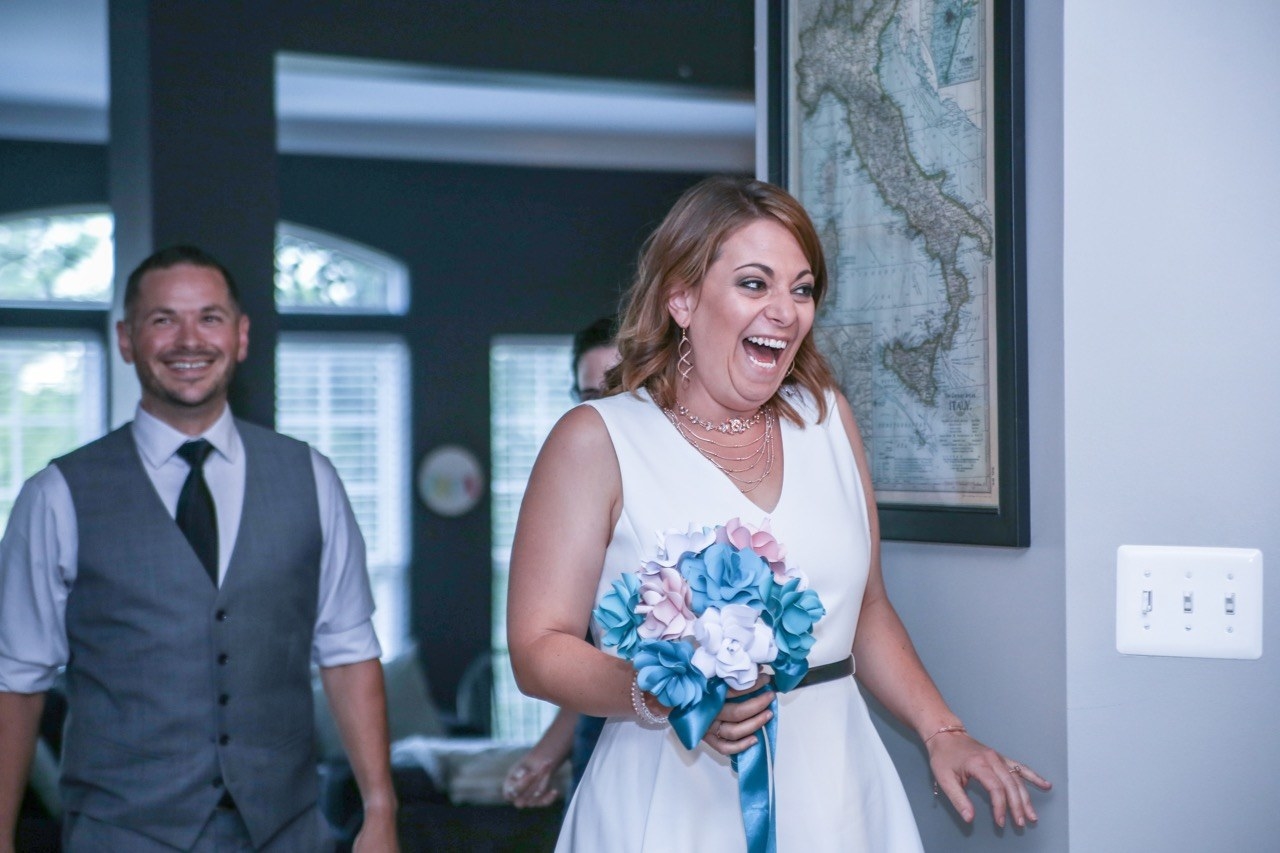 That's when Allie handed Jenn a bouquet, and she began noticing photographers.
"I was like, 'Is this happening right now?'" she said. "'Are we getting married? Are we doing this?'"
And yup — they were doing this.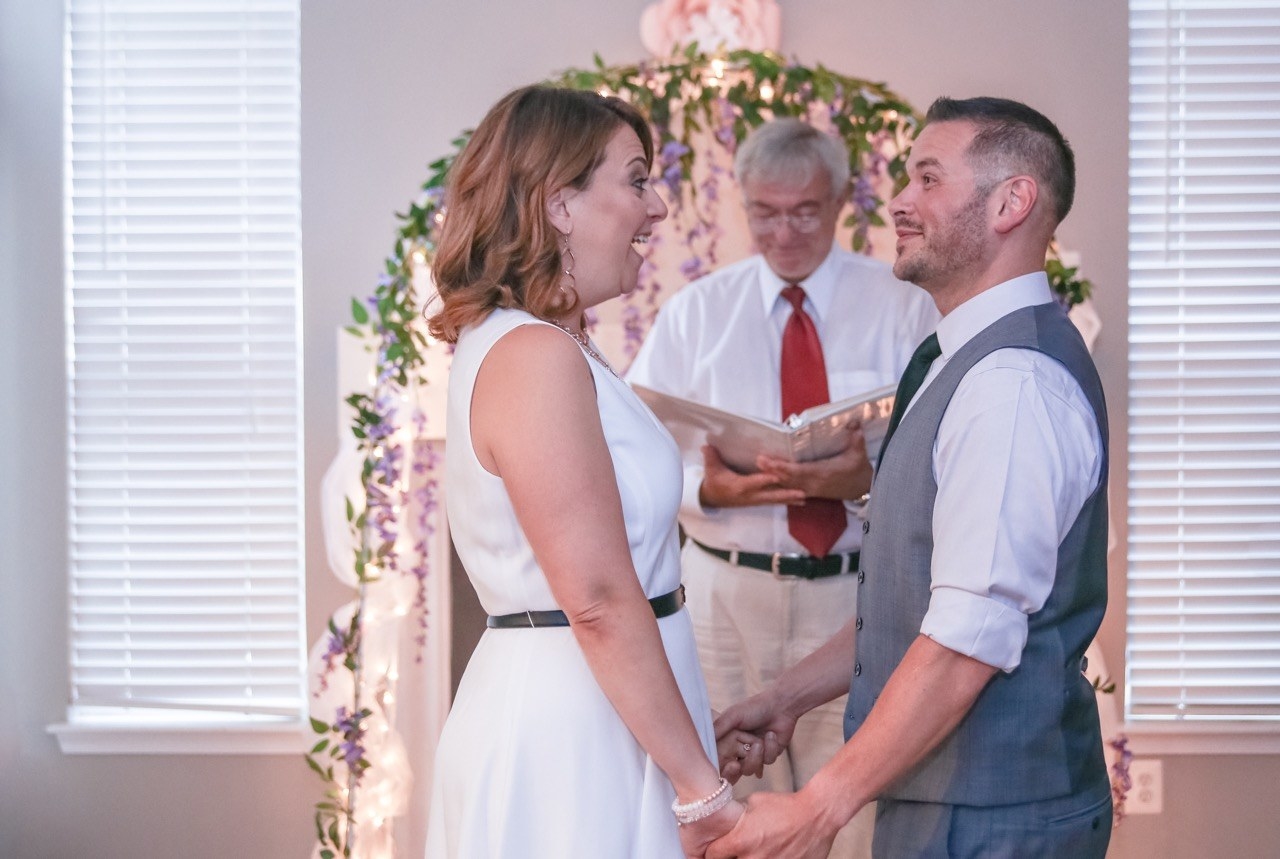 Lorenzo had simply told most of the guests it was a surprise party for Jenn, and they only found out it was a wedding when they got to the house.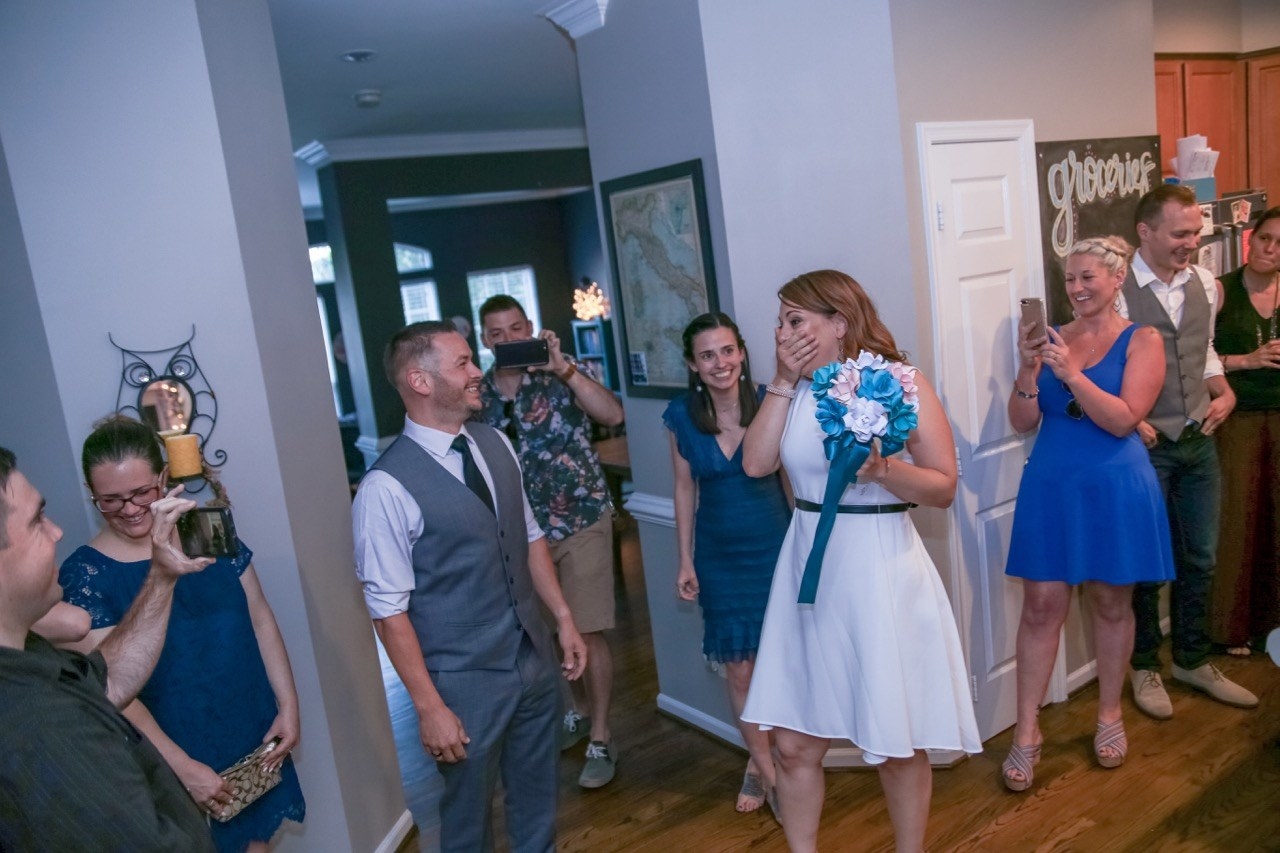 Lorenzo knew it was a pretty crazy idea. In fact, several people tried to talk him out of it, he said.
"The photographer called me a couple times," said Lorenzo. "He was like, 'Now, you're sure this is okay, right? Because you're surprising the bride at her own wedding. She's on board, right?'"
Even the best man had his doubts.
"The best man told me he was really nervous and said to one of our other friends, 'Should I tell him no, this is a bad idea?'"
Jenn said she was in complete shock, but that she wouldn't have had her wedding any other way.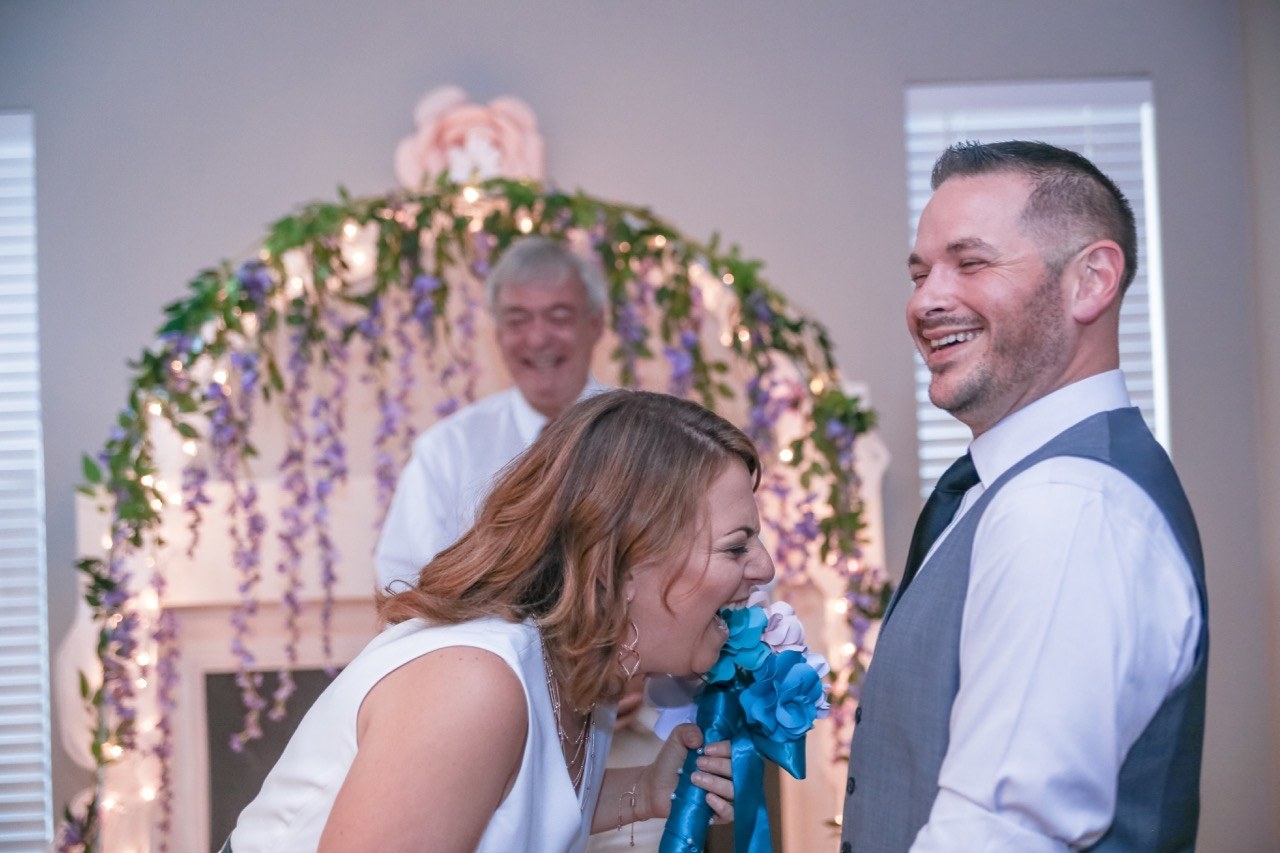 "For me, it was the most perfect thing. Every ounce of it was perfect," she said.
"He likes to make memories," she said. "He definitely made a good one this time."