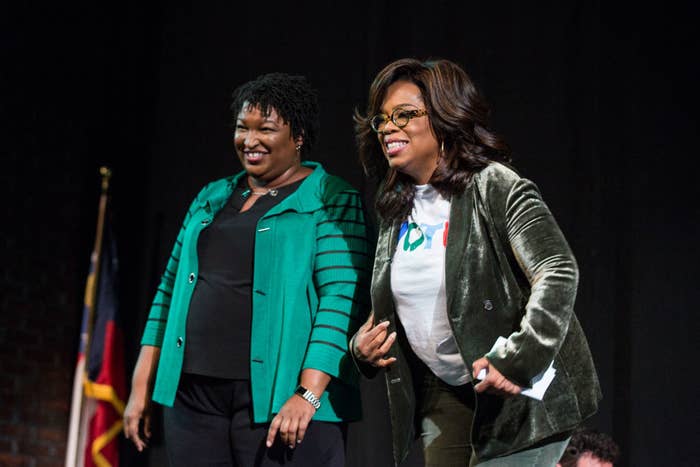 In a robocall that some Georgia voters have reported receiving, Democratic candidate for governor Stacey Abrams and Oprah Winfrey, who is campaigning for her, were targeted with racist attacks.
The call, which claimed to be from "magical negress" Oprah Winfrey, mocked Abrams as a "poor man's Aunt Jemima" and "someone white women can be tricked into voting for, especially the fat ones."
"Years ago, the Jews who own the American media saw something in me — the ability to trick dumb white women into thinking I was like them," the call says. "I see that same potential in Stacey Abrams."
Several people on social media said they'd received the call, including the chair of the Forsyth County Democratic Party, who called it "morally bankrupt."
The call says it was paid for by the Road to Power, a white supremacist website which in October put out similarly racist robocalls against Andrew Gillum, the black Democratic candidate for Florida governor.
According to the Anti-Defamation League, the Road to Power is run by Scott D. Rhodes, a white supremacist in Sandpoint, Idaho.
Rhodes has also been connected to racist robocalls in California, Idaho, Iowa, and Pennsylvania, which have attacked Jews, immigrants, black people, and many more groups.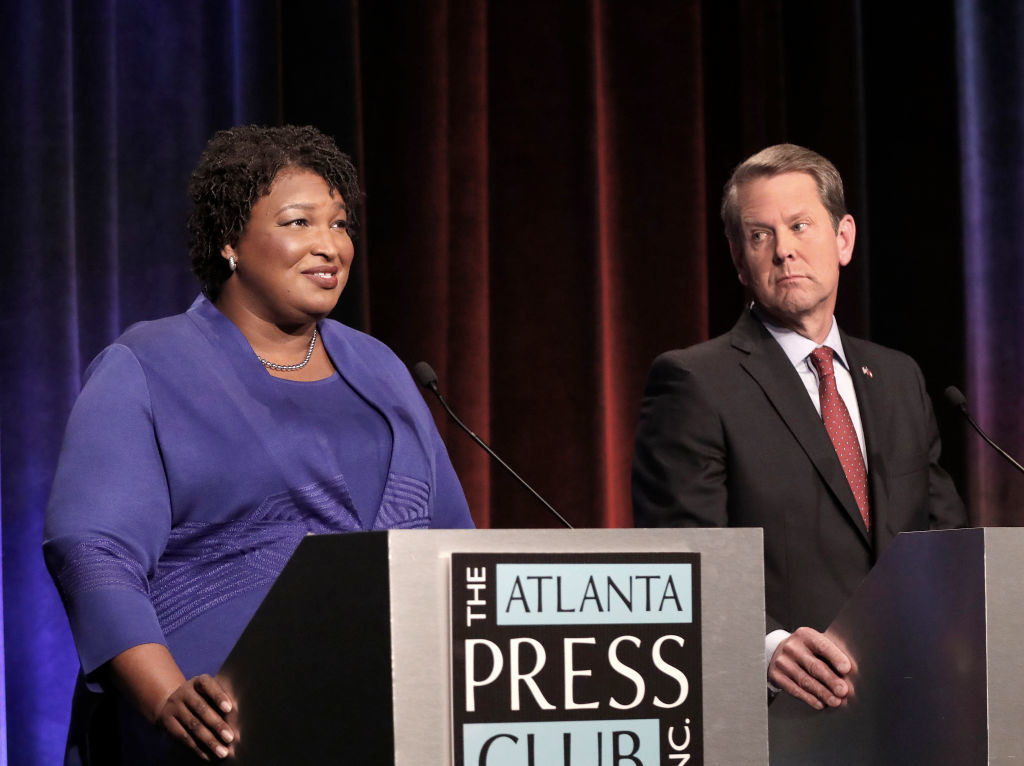 In a statement to CNN, Abrams' opponent, Republican Brian Kemp, condemned the robocall.
"I stand against any person or organization that peddles this type of unbridled hate and unapologetic bigotry," Kemp said. "These vile efforts to degrade and disparage others are contrary to the highest ideals of our state and country. We unequivocally condemn this group and their horrible actions."
In a statement to BuzzFeed News, spokesperson for Abrams' campaign Abigail Collazo blamed President Trump and the Republican party for the proliferation of racist rhetoric:
It is not surprising that in a race that has consistently been very close, we've seen several weeks of increasing desperation from many dark corners trying to steal the election, cheat, lie, and prey on people's fears rather than having the respect to listen to voters and speak to their hopes. It's disturbing that after months of racist, sexist and inaccurate attacks against Stacey Abrams, Brian Kemp has only now suddenly decided to find a conscience as polls are tightening and Georgia voters are making it clear that they reject the kind of hate he and his allies have been spewing around the state.

These automated calls are being sent into homes just days before President Trump arrives, reminding voters exactly which political party is promoting a climate that champions this kind of vile, poisonous thinking. Georgians are better than this, and that's why they are turning out in record numbers to vote for Stacey Abrams, who is the only candidate in this race who has consistently stood against bigotry and hatred and instead has celebrated the rich diversity of our community and our state. Those voters know that when we vote and we make our voices heard, we can overcome this kind of evil and move our state out of this darkness and into a brighter future.