This is Spike, a stag beetle who lives in Japan with his 27-year-old human, an English teacher named Mandy.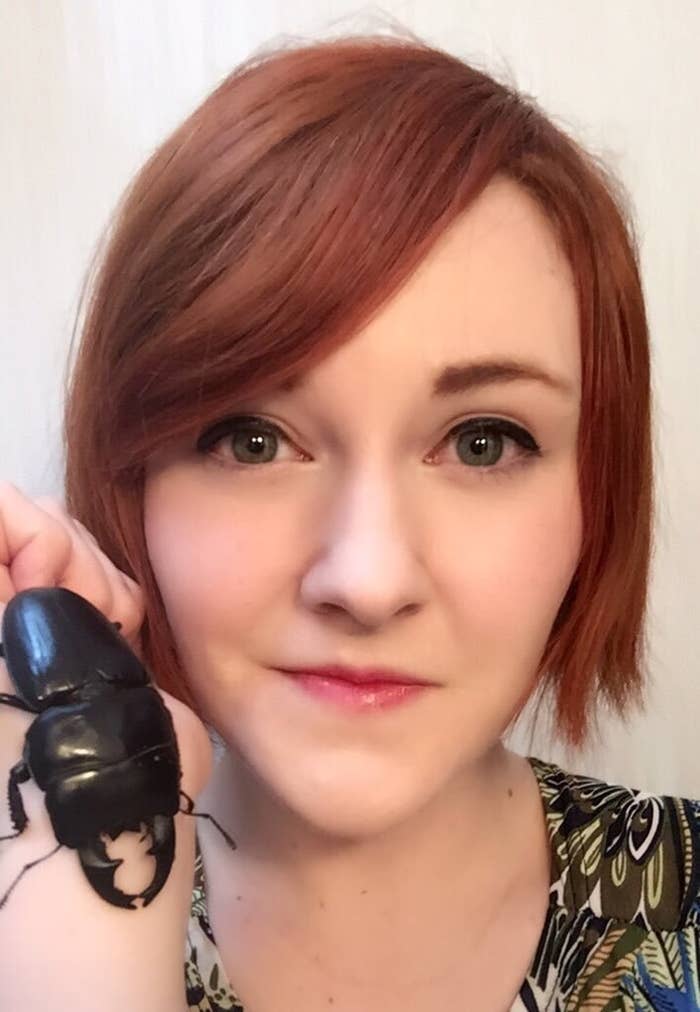 Stag beetles are popular children's pets in Japan, Mandy told BuzzFeed News (Mandy asked her last name not be used for this story).
Mandy first became interested in getting a beetle after she saw them being sold at a festival.
She bought Spike around six months ago, and now also has three other beetles named Sally, Julius, and Cleo.
On Monday, Mandy was playing around with Spike, seeing what he could pick up in his mandibles.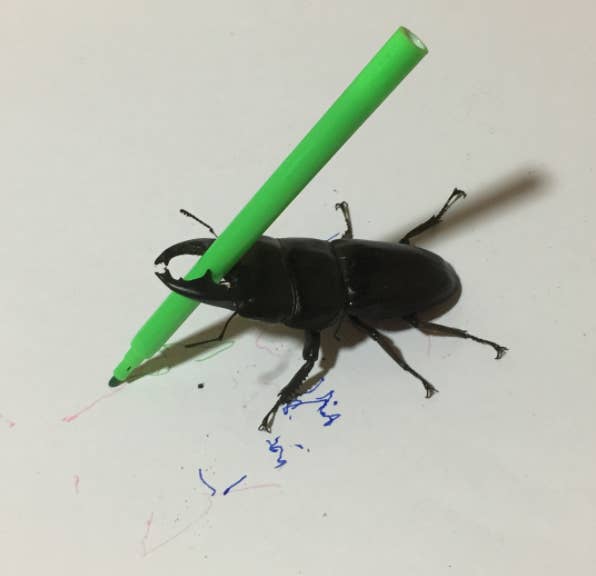 And that's when the greatest artist of our time was born.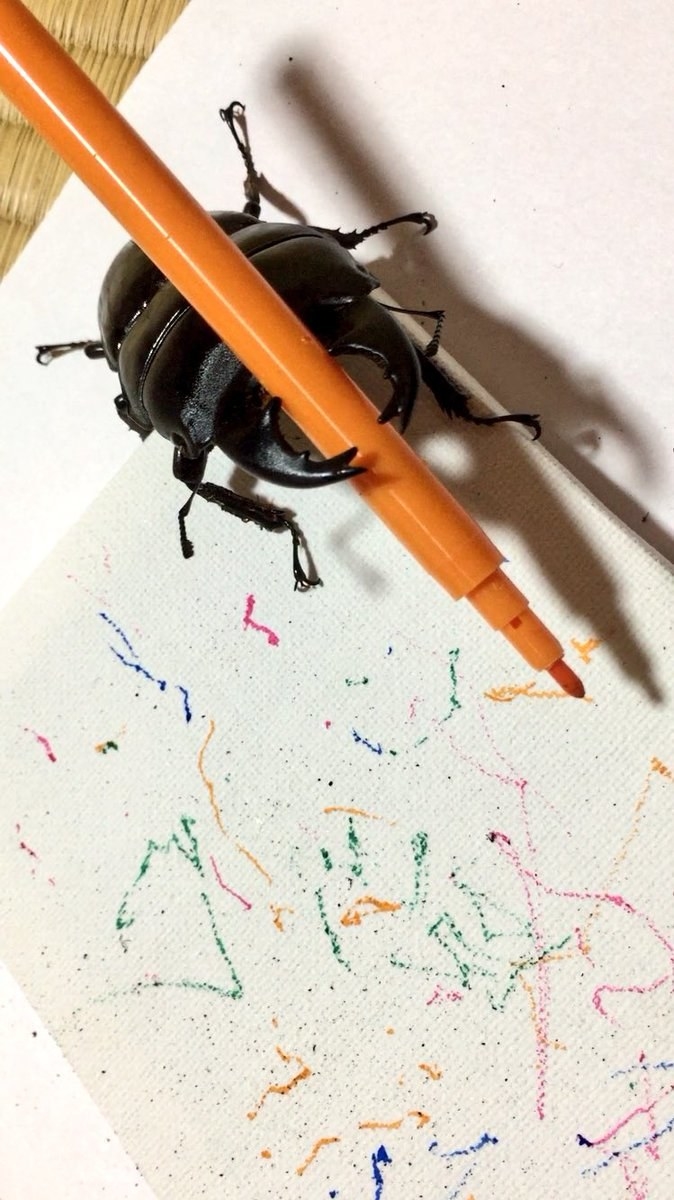 "Spike sometimes tries to clamp things in his mandibles – like fingers, if I'm not careful!" said Mandy.
"That night, I had just taken a few silly pictures of him holding things like utensils, and tried a marker, too," she said. "He moved it around on the page, so I took some photos of his 'work.'"
Mandy posted pictures of Spike's masterpiece on Twitter, and it blew up overnight.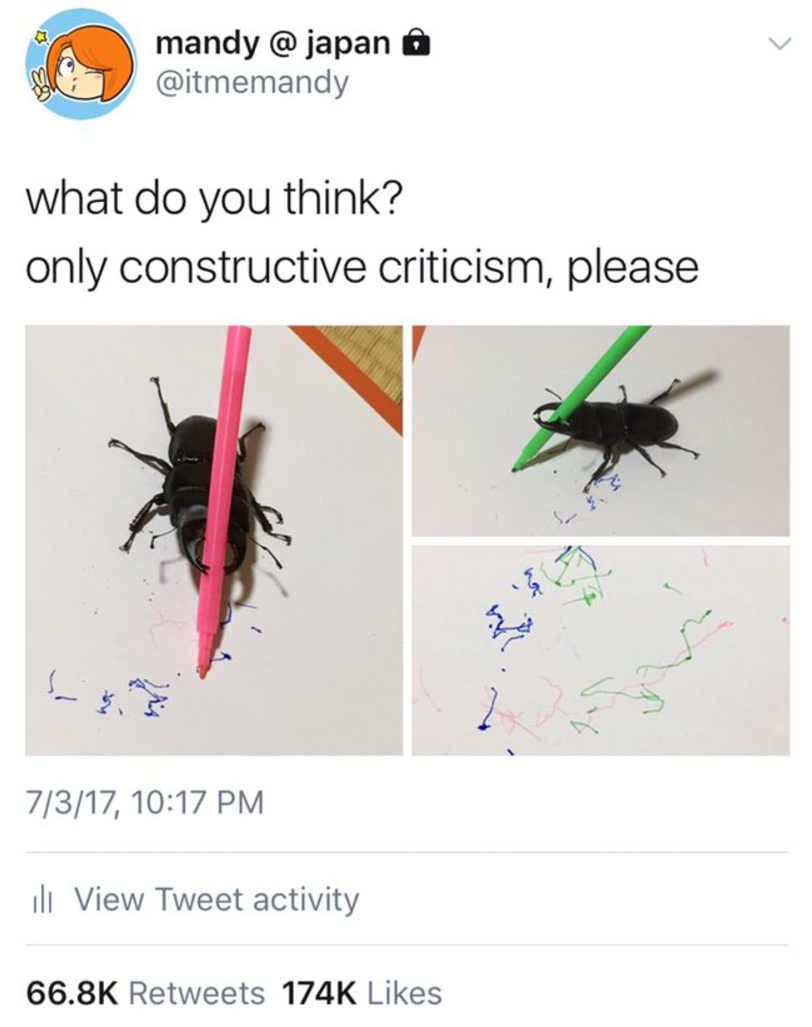 Mandy said the response was "surreal," since she'd only expected her friends to see it.
After more than 60,000 retweets, she made her account private and started a new one just for Spike.
Since then, Spike has become the six-legged sweetheart of Twitter. Mandy shares pictures and videos of his artistic process...
...his intense physical stamina...
...his love for bananas...
...and his culinary skills.
People really, REALLY love him.
He's even inspired fan art.
After many requests from his fans, Mandy decided to auction off one of Spike's originals on Ebay. More than 40 people have bid on it so far, with the current bid now over $130.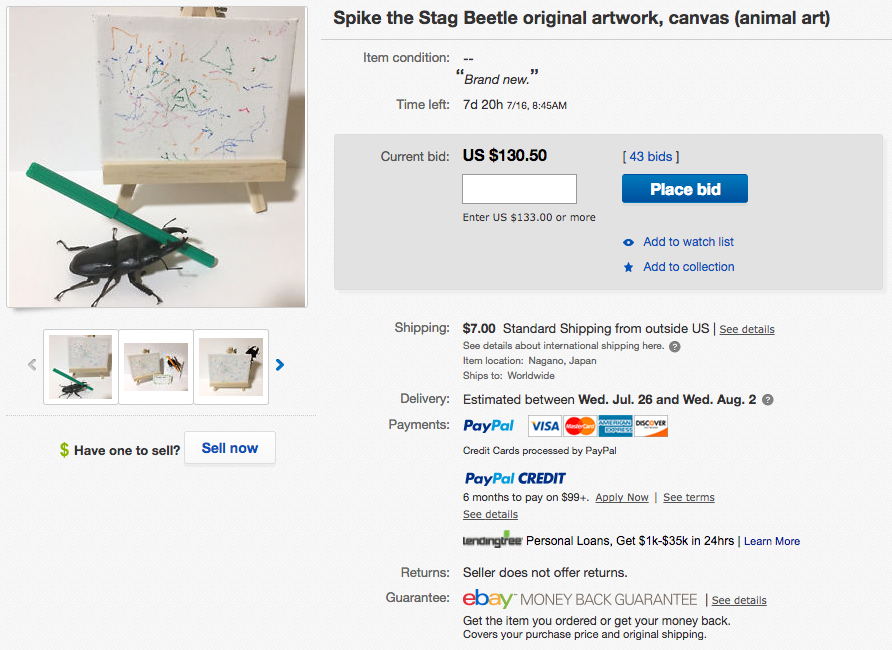 "I thought an auction would be fun, because how do you price a drawing by a beetle?" she said. "I had no idea, but so many people wanted art from him."
She's also selling "I Like Spike" buttons with a handwritten "thank you notes" from the artist himself.
Mandy said she'll be donating 15% of auction proceeds to the People's Trust for Endangered Species, which works to preserve the habitat of stag beetles in the UK. The rest will go towards food and supplies for Mandy's beetles, as well as setting up Spike's online shop.
Mandy said she's so happy people are loving Spike as much as she loves him.
"I adore Spike, but taking cute pictures was always just for friends," she said. "Having this many people love him too is incredibly touching."
"I often get messages of people who are afraid of bugs, but Spike has helped them start to overcome that fear," she said. "That means so much to me. Bugs really are cute."