A cartoon published in conservative British magazine the Spectator is drawing ire, with many saying it normalizes stalking.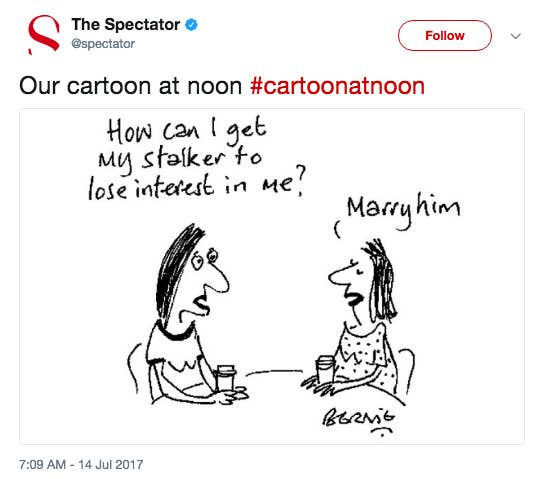 The cartoon depicts two women speaking to each other at a table. "How can I get my stalker to lose interest in me?" asks the first woman.
"Marry him," the second woman responds.
Many people struggled to find humor in the cartoon due to the very serious danger of stalking.
Guardian writer Hadley Freeman tweeted that "two women a week are killed by a current or former partner" in the UK.
Sophie Walker, the leader of the UK's Women's Equality Party, called stalking "murder in slow motion" and pointed out that only 1% of UK cases are prosecuted.
Stalking is a criminal offense defined in the US as targeting a specific person with repeated instances of "visual or physical proximity, nonconsensual communication, or verbal, written, or implied threats, or a combination thereof, that would cause a reasonable person fear," according to the National Institute of Justice.
It was made a criminal offense in the UK in 2012.
In response to the cartoon, women are sharing their stories of being stalked, as well as stories of knowing people who've been victims.
And now, many people are calling on the Spectator to retract the cartoon and issue an apology.
Sal Brinton, the president of Britain's Liberal Democrats, called upon the magazine's editor, Fraser Nelson, to not only to retract the cartoon and apologize, but to also publish a piece on the dangers of stalking.
Nelson and Spectator representatives did not immediately respond to request for comment.