After it surfaced online and was accused by students and parents of being too right-wing, administrators at Spanish Fort High School in Alabama pulled an Advanced Placement government class's reading list.
The reading list began circulating after Elizabeth Denham, the mother of a senior in the class, posted a picture of it in a private Facebook group for local progressives.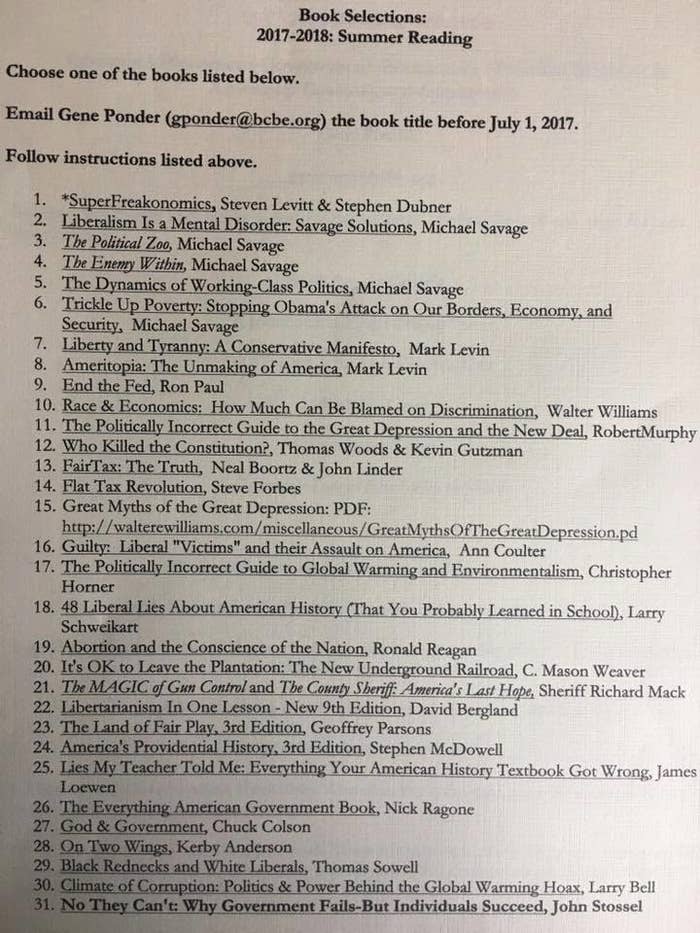 In an email sent on Wednesday evening and obtained by BuzzFeed News, school principal Brian Williamson told parents and students to "disregard this assignment" as "there is not a current summer reading list that has been approved by the school."
Ponder ran as a Republican in an unsuccessful 2010 campaign for Alabama lieutenant governor.
During the race, Ponder took a radical limited-government stance, and said in an email that he wanted to stop the federal government's "coercion, intimidation and blackmail" of states, according to AL.com.
He proposed that "all compulsory federal legislation that directs states to comply under threat of force by civil or criminal penalties or sanctions ... be prohibited and repealed."
Local politicians on both sides of the aisle criticized Ponder's strong words. His Republican primary opponent, Hank Erwin, said "language like that" bordered on secessionism.
"We're not trying to secede from the Union," Erwin said at the time.
Jennifer, a mother whose son graduated this spring, told BuzzFeed News her son "completely changed" after being exposed to Ponder's "right-wing propaganda."
Jennifer, who asked that her last name not be used, is a Democrat. Still, she said, she always taught her children to do "their own research, their own deciding on things."
But her teenage son hadn't really formed his own political beliefs before meeting Ponder, she said. And when he started the AP government class, his sudden transformation was "scary."
"[My son] asked, 'Why shouldn't we be friends with Russia?' and 'Maybe dictatorship isn't so bad,'" said Jennifer. "He was never a racist kid. And he was a science buff."
She said she didn't complain to the school out of fear of retribution, and didn't see the reading list until it was posted online on Wednesday.
"Now he's really argumentative, so we can't have good talks," said Jennifer. "I'm never right, he's never wrong."
"I don't necessarily mind that he has his own mind, but this was implanted," she said. "This was purposeful by the teacher. It completely changed his ability to think about things on his own."
Jack Morgan, an 18-year-old libertarian who recently graduated from the school, has fervently defended the teacher.
Julia Coccaro, a 17-year-old senior in the class and the founder of the Spanish Fort High School Democrats, told BuzzFeed News she was "appalled" when she saw the assigned reading.