Earlier this month, parents of five Jim and Karisa Clemens were killed in a car crash, along with their 2-month-old baby, Juliana.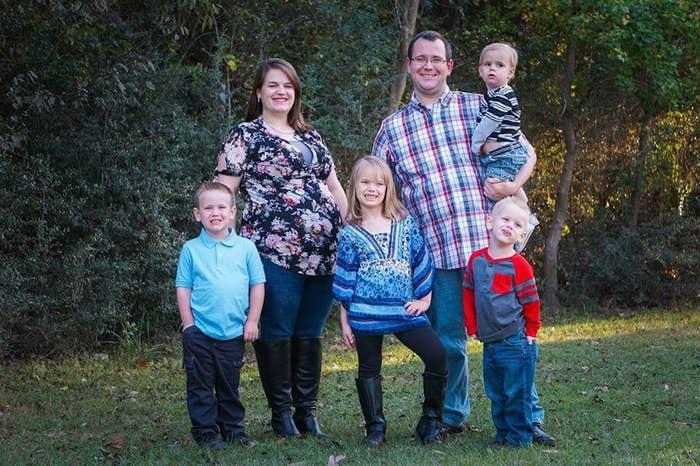 According to the Texas Department of Public Safety, Jim, 31, Karisa, 28, and their newborn died on impact after the driver of another car lost control, crossed a median, and struck the San Angelo, Texas family's car on April 7.
The four other children were left with injuries, some of which were severe, their great-aunt, Teresa Burrell, told BuzzFeed News.
Angela, 8, sustained major head injuries and was unconscious for a long time. She wasn't able to speak until about a week ago, and still has memory and brain function issues. She also broke both femurs and has casts covering both her legs.
Zachary, 6, suffered a broken back and a ripped colon.
Wyatt, 4, had multiple strokes after the accident, had brain injuries, and was paralyzed on his left side. He is now the most mobile of the three, recently starting to be able to walk again.
All three had severe concussions.
The fourth surviving sibling, 2-year-old Nicholas, was released after just a few days, and is now staying with an aunt who lives near the hospital.
On Tuesday, Angela and Zachary saw each other for the first time since the accident, and this photo was snapped of the powerful moment.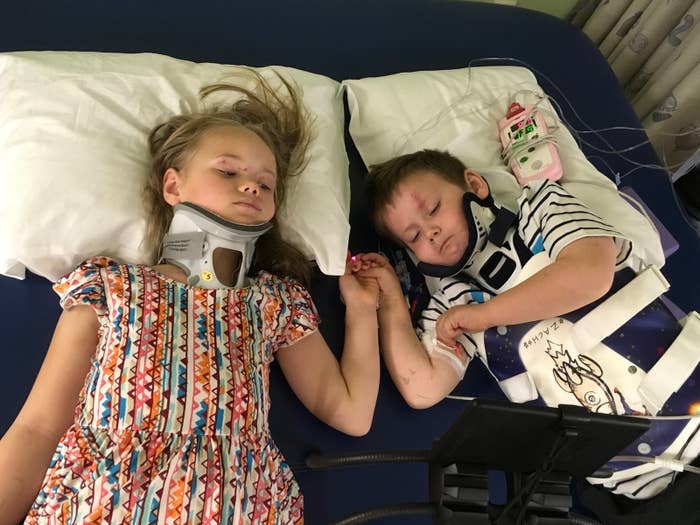 The two were reunited at physical therapy, and one of the therapists took the picture.
"I think that's what you're seeing in the picture it's the grieving that Zachary and Angela are going through," said Burrell.
Burrell said the children have been "amazing" and "very resilient," even in the face of the loss of their parents and baby sister and months of recovery in the hospital.
Wyatt has been a particular comfort to his siblings, Burrell said.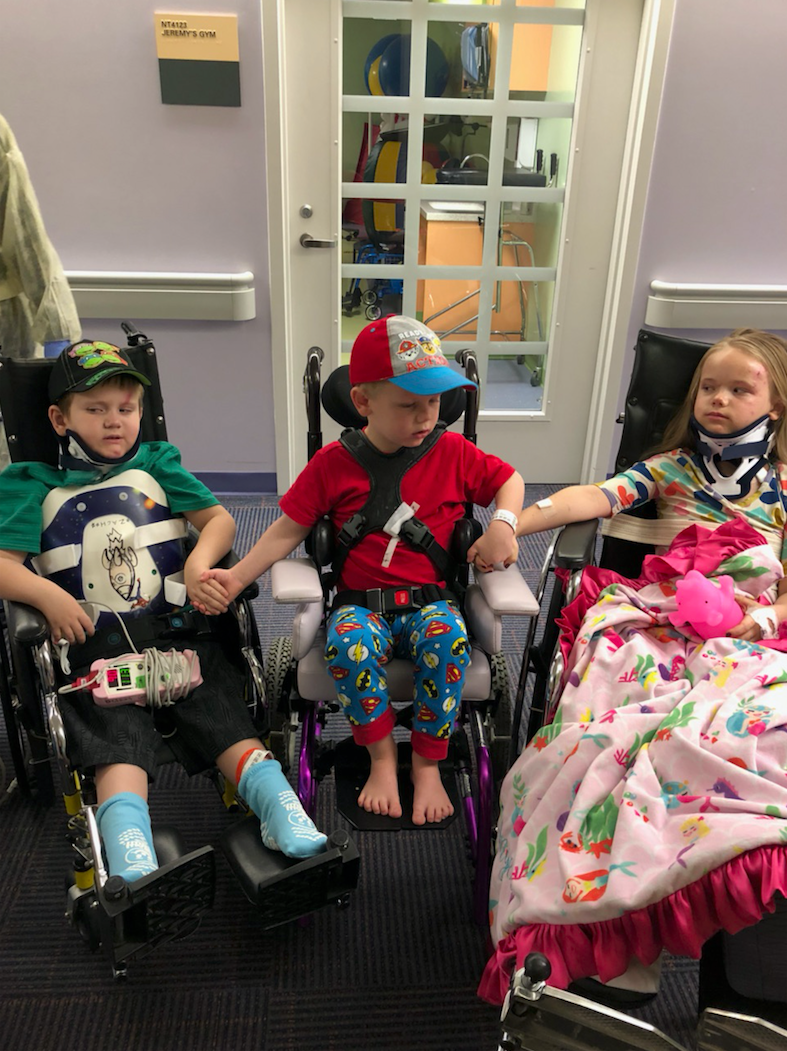 Earlier this week, Wyatt went to visit Angela in her hospital bed. After a few minutes, he told her he was going to go back to his room.
"Angie still doesn't say a lot of words," said Burrell. "But she leaned over the bed and looked in his eyes and said, 'Wyatt, I need you.' And he stayed there with her and held her hand for 25 minutes."
The children have been told that their parents died, but coming to terms with that will be a lengthy process, said Burrell. Due to memory problems, Angela had to be reminded of it at one point.
Being together again has been helpful to their healing process, said Burrell.
"I think it gives them power," she said. "They grieve together, but they also find happiness together."
Even though they have a long road ahead, the children have "astounded" the doctors with their recovery, Burrell said.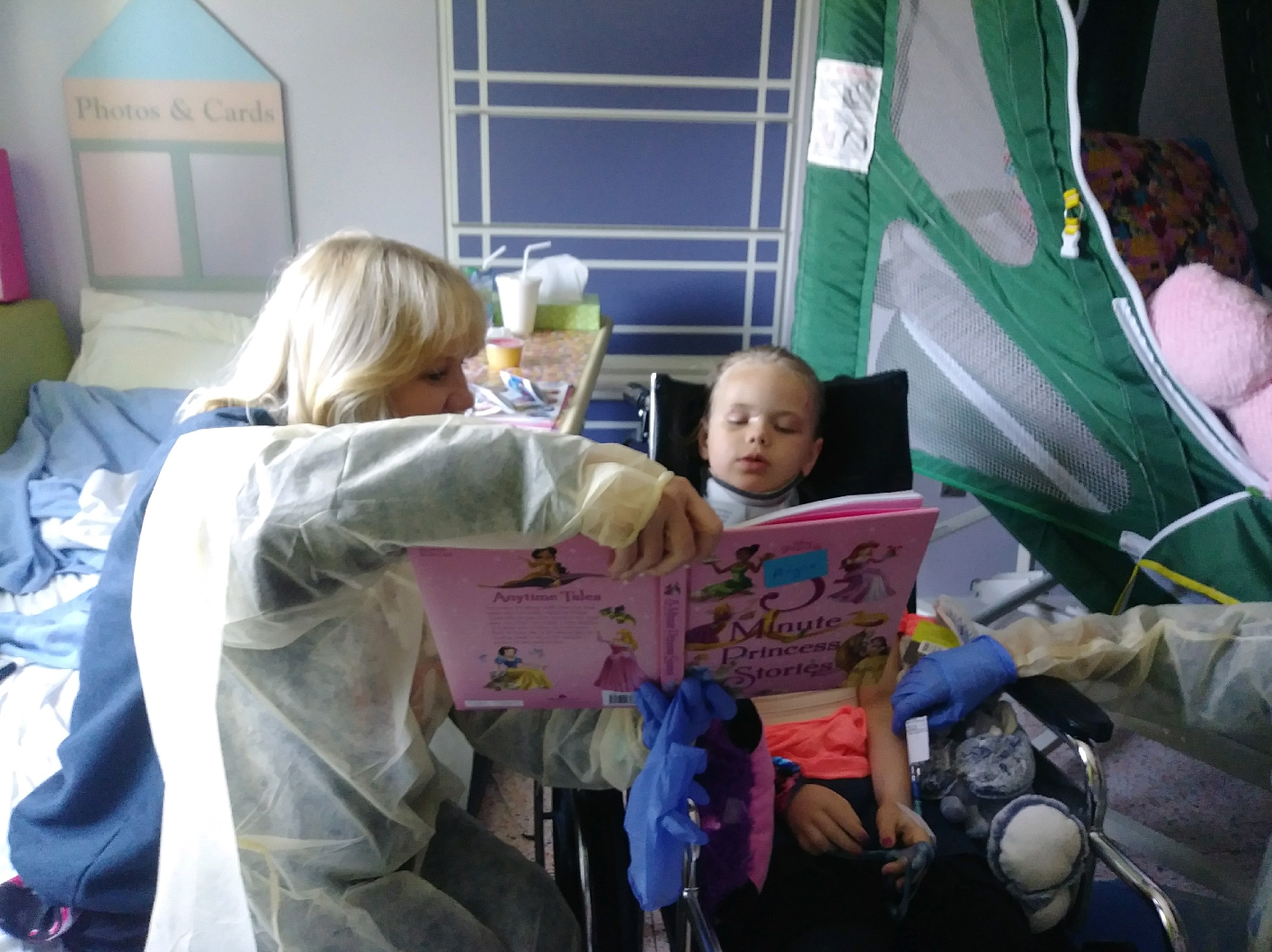 "Angela was the scariest at first because we just didn't know what her brain function would be because she was unconscious so long and she sustained a lot of head injury," said Burrell.
But just this week, she's started speaking again. Now she's even reading and singing.
"She loves to have stories read to her, and she was able to read a paragraph," said Burrell. "There have just been so many miracles. A week ago, she hadn't even said a word, and now she's able to read with us and sing."
And Zachary and Angela may be able to learn to walk again, just like Wyatt has started to, she said.
"We didn't think any of them were going to be able to walk, and now we're thinking they all might hopefully walk again," said Burrell.
"There's not enough words to express our gratitude," said Burrell. "This has been a very hard thing, but there comes a lot of peace with the kind of love and support we felt, and I think the kids feel it too."
The children will likely spend a few more months in the hospital. When they're all released, they will be raised by their grandma.
"We're hopeful for a bright future, but it's going to be a long journey," she said.