Seth Meyers and his wife, Alexi Ashe, welcomed their second son Sunday. First of all, congratulations! But also, OH MY GOD THEIR DELIVERY STORY IS ABSOLUTELY WILD.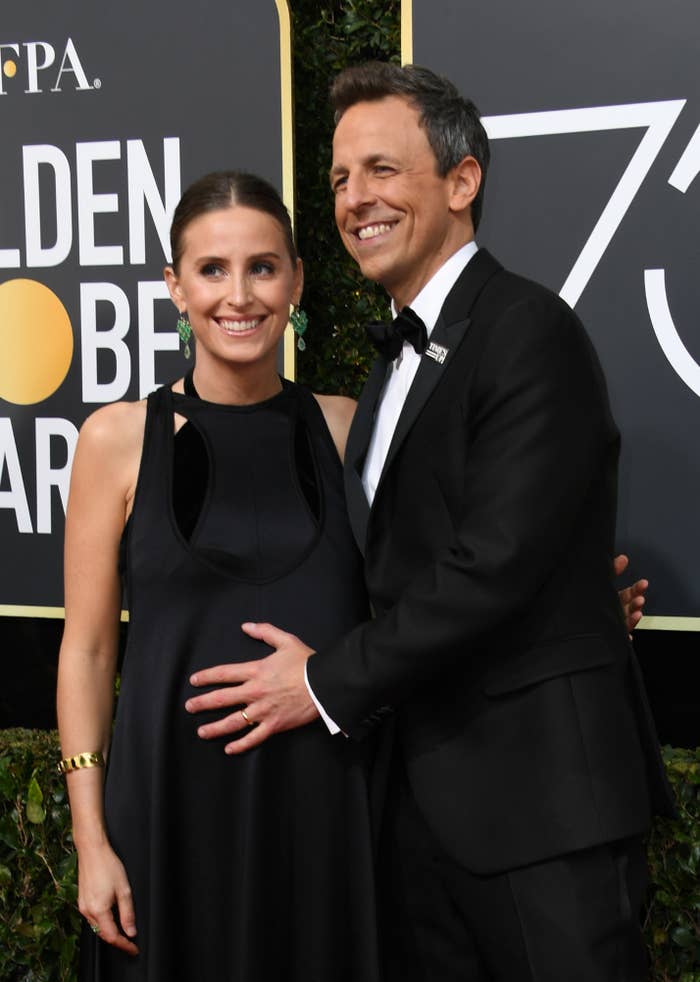 On Late Night on Sunday, Meyers shared the ridiculously dramatic story about how Ashe, unable to make it to the hospital, wound up giving birth in the lobby of their apartment building.
While Meyers was feeding his toddler son lunch on that "totally normal Sunday," his mother-in-law ran down the stairs and announced Ashe had gone into labor.
"We have to go to the hospital now!" Meyers said she shouted.
The birth of their first son had been incredibly quick, Meyers said. When Ashe had gone into labor that time, they had been "worried they were going to give birth in the Uber" and "just made it to the hospital with 20 minutes to spare."
"I kind of knew how dramatic it was last time, but I figured we had plenty of time to get to the hospital," he said.
By the time the couple and their doula got to the elevator, Ashe was in an "intense amount of pain," like she was having "one long contraction."
With an Uber waiting outside, they made it to the steps leading up to their building. That's when Ashe announced she could not get in the Uber.
"My wife just says, 'I can't get in the car. I'm gonna have the baby right now. The baby is coming,'" said Meyers.
Meyers and the doula tried to reassure her that she could make it to the hospital and she'd be fine, but then...well, you can probably guess.
She started to give birth, right there in the lobby.
"The only way I can describe how my wife looked was she looked like someone who was hiding a baby in a pair of sweatpants," said Meyers. "It was like someone who was trying to sneak a baby on a plane."
Obviously, they bailed on the Uber, and Ashe went and laid down on the lobby floor. At this point, "the head of the baby is out," said Meyers.
"Over the course of a minute," while Meyers was calling 911, Ashe fully gave birth, he said.
"I went from someone calling in about an emergency to just sharing good news with a stranger," said Meyers.
Ashe was "incredibly calm for what she just went through," said Meyers.
Soon after, the fire department showed up. They gave Ashe oxygen and cut the umbilical cord (and an unnamed person snapped this amazing photo).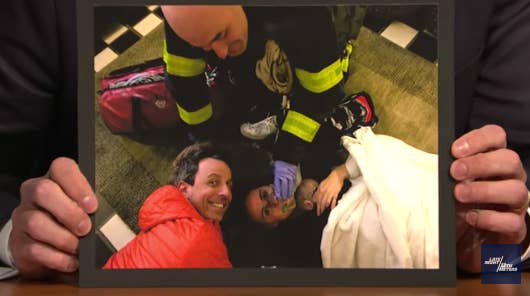 There was an "outpouring of kindness" from people in their building, with the lobby attendants helping to keep the lobby clear and neighbors offering blankets, said Meyers.
From there, EMTs arrived to take Ashe to the hospital, and "everything was fine."
They've named their new son Axel, Meyers said.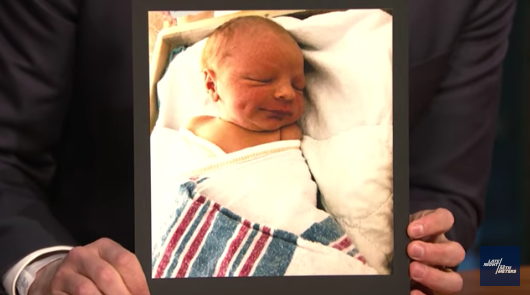 Meyers offered thanks to everyone who played a role in the big day — the lobby attendant, the NYPD, the firefighters, the EMTs, their doctor, the staff of the hospital, his sister-in-law and mother-in-law, their doula — and of course, Ashe herself.
"But fuck the Uber driver who charged me," said Meyers. "I mean, for real. Because we did you a huge favor."