White House press secretary Sarah Huckabee Sanders was kicked out of a restaurant on Friday night "because I work for [President Donald Trump]," she said on Twitter.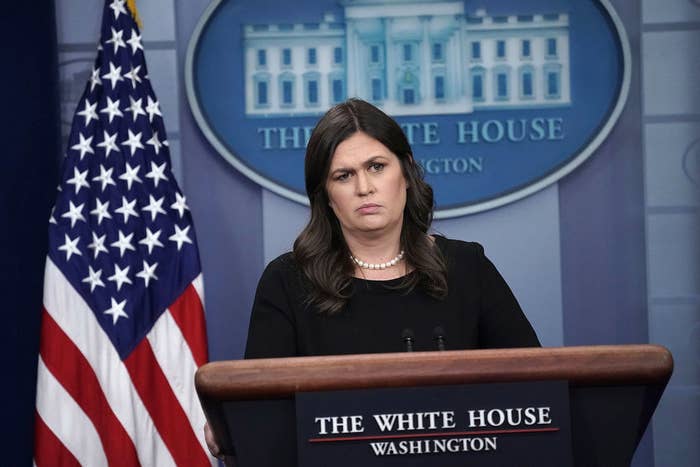 Sanders said she "politely left" the Red Hen in Lexington, Virginia, after the owner told her to leave.
"Her actions say far more about her than about me," said Sanders. "I always do my best to treat people, including those I disagree with, respectfully and will continue to do so."
Stephanie Wilkinson, co-owner of the restaurant, told the Washington Post that she asked Sanders to leave due to her role in an "inhumane and unethical" administration.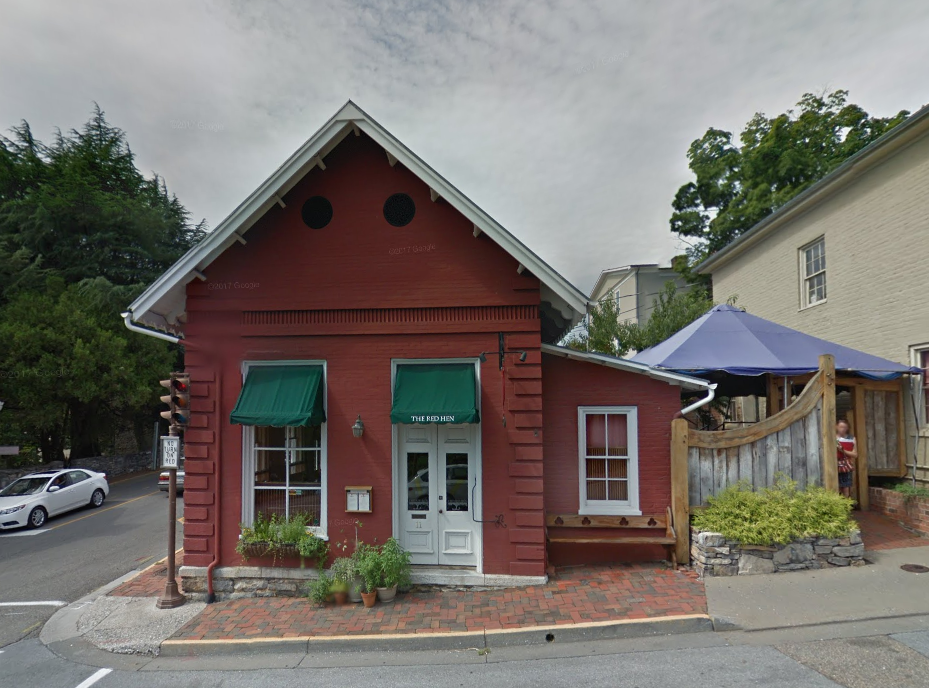 "I'm not a huge fan of confrontation," Wilkinson said. "I have a business, and I want the business to thrive. This feels like the moment in our democracy when people have to make uncomfortable actions and decisions to uphold their morals."
Wilkinson said that she'd been at home when the chef called to say that Sanders was there. Wilkinson then drove to the restaurant and assembled her staff to get their input about what to do.
Many of the restaurant's staffers are gay, Wilkinson said, and recalled how Sanders supported Trump's proposed ban on transgender people in the military. The staff was also angered by the administration's "zero tolerance" immigration policy, which has led to more than 2,300 children being separated from their parents.
The fact that Sanders is a public figure — and not just any customer with whom she has opposing views — was an important factor in deciding to kick her out, Wilkinson said.
The staff had not refused to serve Sanders and had in fact already served her. Still, Wilkinson said she asked Sanders to speak with her on the patio, where she then asked her to leave.
"I explained that the restaurant has certain standards that I feel it has to uphold, such as honesty, and compassion, and cooperation," she said.
Sanders agreed to leave, and the others at her table went with her, Wilkinson said. Sanders' party offered to pay for the meal, but Wilkinson said it was on the house.
Wilkinson said she would "have done the same thing again" if she had to.
"We just felt there are moments in time when people need to live their convictions," she said. "This appeared to be one."
A photo of a note from the restaurant, which said Sanders had been "86ed" — restaurant slang for refusing service to someone — went viral after a server shared it on Facebook.
"I just served Sarah Huckabee Sanders for a total of 2 minutes before my owner kicked her out along with 7 of her other family members," the server wrote in a Facebook post that's no longer public.
After the post went viral — and drew a ton of pro-Trump comments — the server edited the post to explain that the owner had "asked her to leave and she complied," according to New York magazine.
"Her family left on their own accord, we didn't actually refuse service or 'kick her out,'" he reportedly wrote.
People had a whole lot of "womp womp" for Sanders' tweet, especially given the spate of headlines this week about children being separated from their parents at the US–Mexico border as a result of Trump's zero tolerance policy.
Though some, of course, sided with Sanders. Right-wing pundit Emily Miller called the Red Hen "shameful and unAmerican and illegal," and directed her followers to the restaurant's Yelp page.
"Bigotry," Sanders' father, former Arkansas Gov. Mike Huckabee, called it.
Two hours earlier, Mike Huckabee had tweeted a photo of five tattooed Latino men, which is often used in racist memes, and joked that they were Nancy Pelosi's "campaign committee."
Many people denounced Sanders for using her platform — an official government Twitter account with 3 million followers — to put a private business on blast.
And a lot of people compared the incident to the case of the Christian baker in Colorado who refused to make a cake for a gay wedding.
Right-wing trolls have flooded restaurant's Yelp page with dozens of one-star reviews.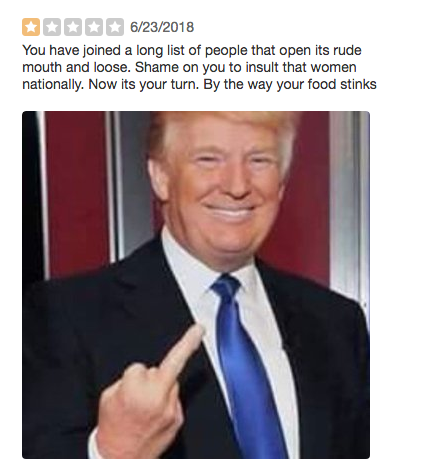 "This bigoted restaurant kicks out people if they don't like your politics. Freedom loving people should think twice before supporting this kind of bigotry and hate," one person wrote.
"Terrible management!!!! Bias against President Trump & will not serve patriots!" another wrote.
Many of the reviewers who posted on June 23 did not mention Sanders at all, and instead claimed that the restaurant's food was "disgusting" and that they "got food poisoning."
The photos section of the Yelp page has been overtaken by pro-Trump memes and photos of dead rats.
Some who supported the restaurant's decision to kick out Sanders have posted five-star reviews in response.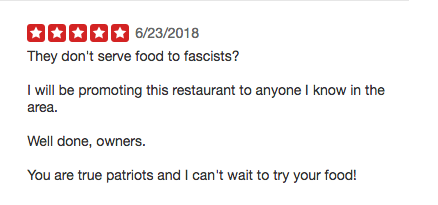 "They don't serve food to fascists? I will be promoting this restaurant to anyone I know in the area," one person wrote.
"Glad you stood up for your moral convictions," another wrote.
According to the New York Post, someone called Stephen Miller a "fascist" on Sunday...while he, too, was eating at a Mexican restaurant.