In an op-ed published in the Houston Chronicle on Wednesday, Energy Secretary Rick Perry challenged the legitimacy of Texas A&M University's recent student government election, in which an openly gay student was elected president for the first time.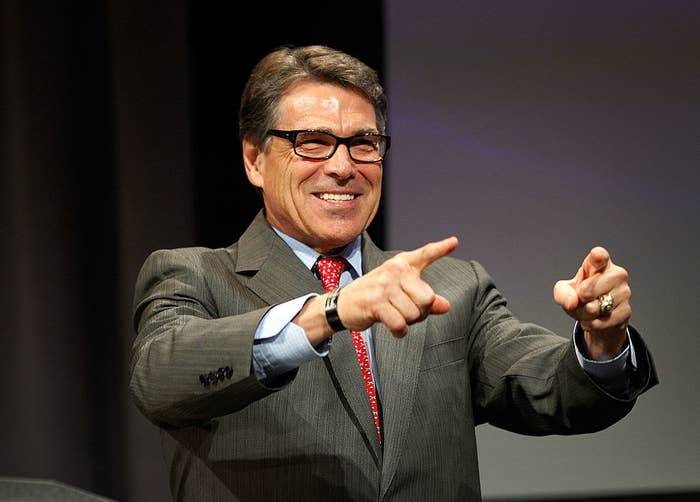 The issue, Perry wrote, is what he perceived as the employment of shady election tactics in a "quest for 'diversity'":
It is difficult to escape the perception that this quest for "diversity" is the real reason the election outcome was overturned. Does the principle of "diversity" override and supersede all other values of our Aggie Honor Code?

Every Aggie ought to ask themselves: How would they act and feel if the victim was different? What if McIntosh had been a minority student instead of a white male? What if Brooks had been the candidate disqualified? Would the administration and the student body have allowed the first gay student body president to be voided for using charity glow sticks? Would the student body have allowed a black student body president to be disqualified on anonymous charges of voter intimidation?

We all know that the administration, the SGA and student body would not have permitted such a thing to happen. The outcome would have been different if the victim was different.
Amy Smith, Texas A&M's senior vice president of marketing and communications, told the Texas Tribune the allegations of election tampering are untrue.
"I would say that we respectfully disagree with his assessment," Smith said. "And his understanding of the election rules of student body president elections doesn't reflect the facts."
The student court's decision to disqualify McIntosh was unanimous, and the administration did not see any need to get involved, she said.
Texas A&M did not expect that a member of President Trump's cabinet would have such interest in a student government election, Smith said, and they only heard of his dissent when contacted by the Houston Chronicle about the op-ed.
"Honestly, we were just surprised to see that the secretary of energy would take the time to weigh in in detail and we respectfully disagree with his assessment of what happened," she said.
"I have always had a lot of respect for Rick Perry and his commitment to A&M," Smith added.
BuzzFeed News has reached out to Perry, McIntosh, Brooks, Texas A&M, and the SGA Judicial Court for comment.