A sea of students protesting Richard Spencer's speech at Auburn University swelled Tuesday night as the white nationalist leader wrapped up his speech inside.
Swarming the barricades outside the event, crowds bellowed Auburn spirit songs, as well as protest chants like, "Fuck Nazi scum."
At least two fights occurred, leaving one man with a bloodied face, as protesters chased Spencer's supporters off campus and hounded what they thought was the alt-right leader's car as he left the area.
Auburn police arrested three people before the event kicked off, Captain Lorenza Dorsey told BuzzFeed News, non of whom were students or even from the Auburn area.
The crowd inside Foy Hall was mixed with Spencer supporters and protesters, as well as curious students looking to experience the controversial event.
Overturning the university's earlier decision to cancel Spencer's speech, a federal judge in Alabama on Tuesday ordered Auburn to allow Spencer to speak. The decision came after a young man named Cameron Padgett sued the school, claiming it had violated free speech rights by canceling the event.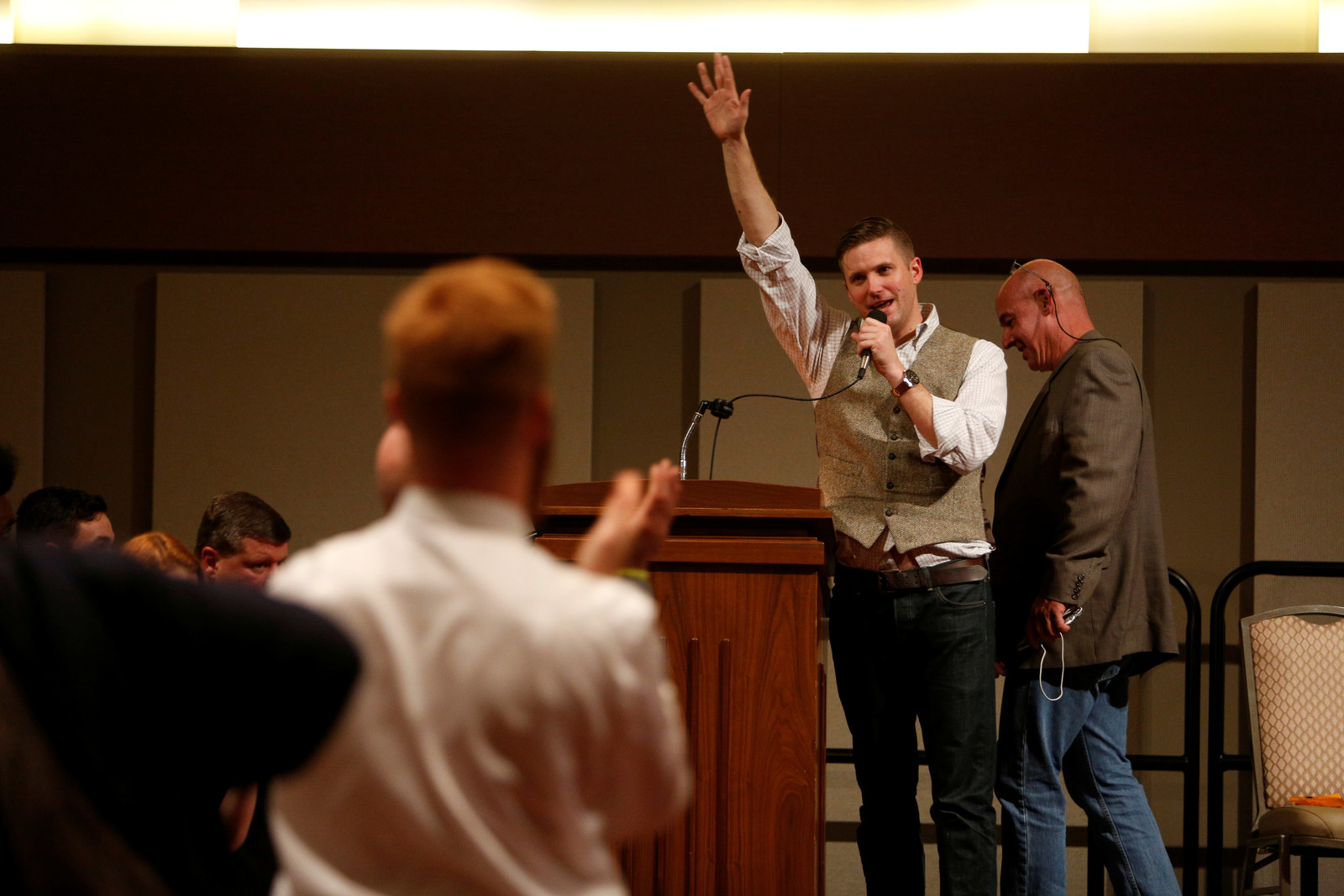 Padgett filed the complaint Tuesday morning, claiming Auburn University violated the First and Fourteenth amendments by canceling Spencer's appearance at the student union, according to the complaint.
"This was about our right to free speech," Padgett said before Spencer took the floor Tuesday night.
Padgett, who says he is from Georgia and identifies as a libertarian, rented the auditorium for the event and, said that since the school is a public institution — and because he had complied with all the university's conditions — Spencer's speech should have never been canceled.
"Auburn is not allowed to pick and choose what views are to be represented in a facility open to the general public for holding meetings and giving and hearing speeches," Padgett stated in the complaint.
The university had initially canceled Spencer's event over safety concerns.
Judge W. Keith Watkins agreed with Padgett's argument, noting that the right to freedom of speech means "nothing if it is restricted to popular or conventional speech."
Since Auburn is a public university, Watkins explained, it is not allowed to cancel the white nationalist's event just because it disagreed with his views. To get around that, Auburn would have had to prove that Spencer's speech would incite immediate violence or unrest, which Watkins said it did not.
After the judge's ruling, university officials issued a letter to students, explaining that while it supports the First Amendment, they have a responsibility to "protect our campus" when safety is jeopardized.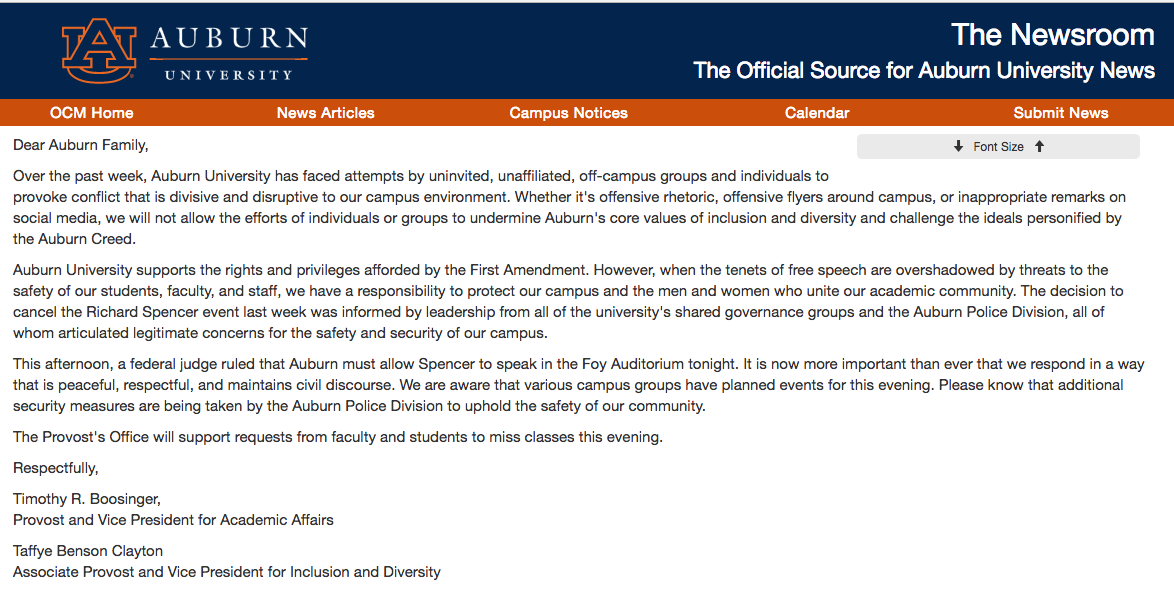 Spencer, who is president of the National Policy Institute, a white supremacist think tank, focused his speech on white identity, and was heckled and booed throughout.
Especially when he repeatedly dissed college football — a huge obsession in Alabama — telling a riled-up crowd that he wanted to ban the "sick and disgusting" sport.
One man shouted "you're not my white" as he exited the hall, sparking cheers and boos from attendees.
Spencer spoke for about two hours, declaring that "white people are going through a civil war" and espousing other white supremacist themes, like "the alt right is about being a white person, being a European in the 21st century."
The self-proclaimed alt-right leader became a viral sensation after getting punched on Donald Trump's inauguration day. He rose to prominence last November when he gave a speech full of Nazi-inspired language, greeting people with a salute of "Hail Trump! Hail our people! Hail victory!" and called the media "lügenpresse," which is essentially the Nazi term for "fake news."
He has also called for "peaceful ethnic cleansing" of non-white Americans.
Spencer wrapped up his speech by touting white superiority, saying that he desires to create a new world that doesn't have a cloud of "pain, sin and weakness...weighing us down."
After he concluded, Spencer stayed for a Q+A. A black student, chastising those who interrupted her, then asked Spencer how it felt to get punched in the face at inauguration. Spencer chuckled.