RateMyProfessors.com dropped its "hotness" rating on Thursday after professors complained that it was sexist, a spokesperson confirmed to BuzzFeed News.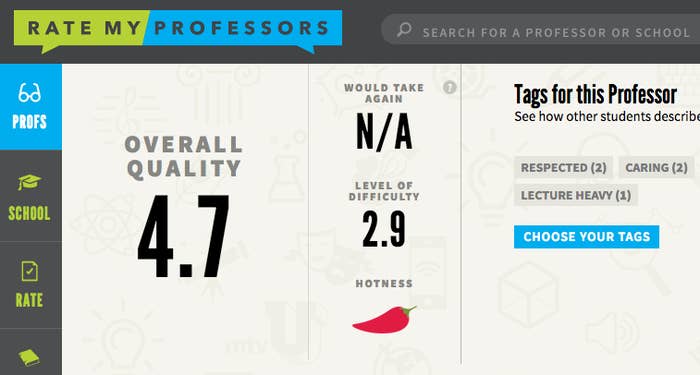 The MTV-owned website, which has been around since 1999, allows college students to publicly rate their professors on a number of traits, including quality and difficulty, as well as a number of descriptors such as "amazing lectures" and "beware of pop quizzes."
Additionally, students can rate the professor on their "hotness," as indicated by a red chili pepper icon.
The pepper has been a long-standing feature of the site, and Rate My Professors even published lists of the "hottest professors" across the country every academic year between 2009 and 2017.
On Tuesday, BethAnn McLaughlin, a neurology professor at Vanderbilt University, tweeted a complaint about the long-standing feature.
"Dear @ratemyprofessor," McLaughlin wrote. "Life is hard enough for female professors. Your 'chili pepper' rating of our 'hotness' is obnoxious and utterly irrelevant to our teaching. Please remove it because #TimesUP and you need to do better."
After McLaughlin's tweet went viral, many other professors chimed in and called for Rate My Professors to remove the chili pepper.
"I would prefer my student respect my brain than my hotness," one professor tweeted.
"It's annoying as a Male prof," another tweeted. "Can't imagine how unsettling it would be as a female prof."
Many professors called for a boycott of the website until it removed the feature.
In an interview with BuzzFeed News on Wednesday, McLaughlin called the rating system "blatantly sexist."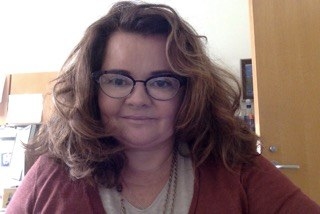 McLaughlin is not listed on the website because her teaching consists of smaller group mentorship rather than large classroom settings, she said.
Still, she's seen the "hotness" rating affect many of her female colleagues negatively, she said.
"Some of my friends who had taught previously and meet the criteria for quote-unquote hotness ... that's not always a badge of honor," she said. "They're often targets of comments about how they look and how they dress, and it undermines their credibility."
"They come in with outstanding teaching capability and are really feeling like they're making these earnest connections with our students," she said. "And then to be sort of denigrated and pushed aside that you were sexy. … That's not a context you want to be sexy in, that's not a compliment."
McLaughlin said that she's now hearing from male professors who've had uncomfortable experiences due to the chili pepper.
"What I'm hearing now through Twitter, which I wasn't aware of before, are male colleagues saying, 'I don't want my students to even consider how sexually attracted they are to me,'" she said. "It makes for horrible dynamics, for power differentials, and feeling awkward."
The "hotness" rating is "not aging well," particularly as science and academia go through their own #MeToo reckoning.
In May, McLaughlin circulated a petition calling for the removal of sexual harassers from the National Academy of Sciences, which got nearly 4,000 signatures.
"Time's up," said McLaughlin. "There's nothing we can do to Rate My Professors other than ask them to take a real inventory of the times that we live in."
Following McLaughlin's tweet, and after BuzzFeed News reached out to MTV, Rate My Professors confirmed that it had "removed all chili pepper references" from the site.
In the tweet, the company claimed that the pepper is "meant to reflect a dynamic/exciting teaching style." However, many of the company's tweets indicate that it was explicitly based on appearances.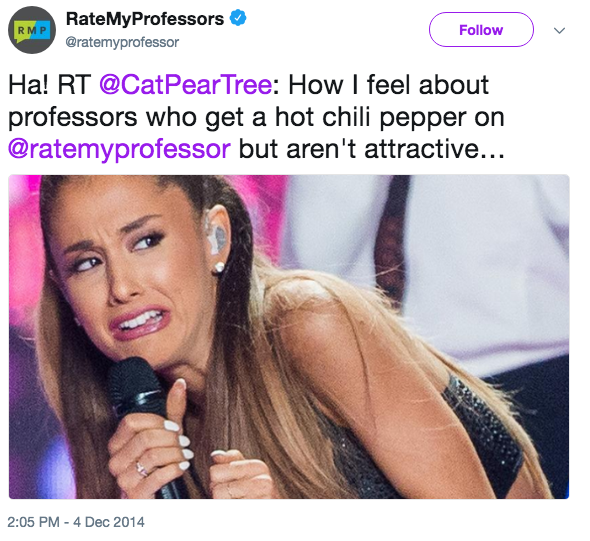 For a 2014 April Fools' Day prank, the company said that it was launching "Date My Professors." The announcement prominently featured the site's signature chili peppers.