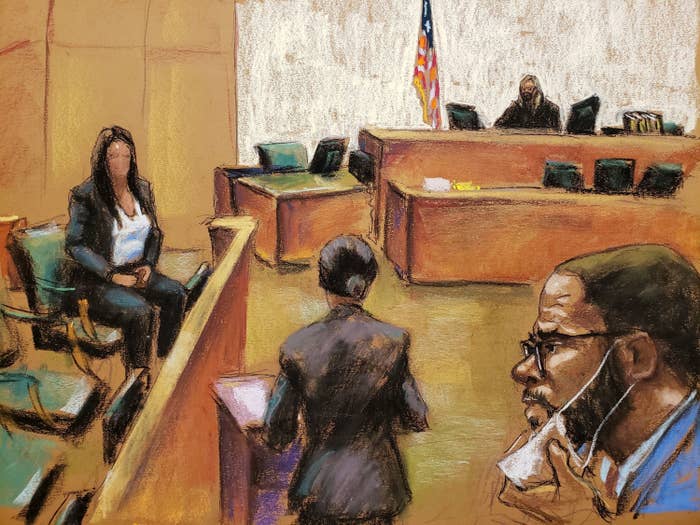 BROOKLYN — When the 21-year-old radio station intern flew from Salt Lake City to Chicago in 2003, she thought she was on her way to an interview that would jump-start her broadcasting career.

Instead, she said, she was locked in a room for days, deprived of food and water, and raped while unconscious by the very man she thought she'd be interviewing: R. Kelly.
"I was scared," said the woman, Sonja, now 39. "I was ashamed. I was embarrassed."
Sonja, one of several women Kelly is accused of sexually assaulting, testified Thursday in the Brooklyn federal court where the singer is facing charges of sex trafficking and racketeering. He has pleaded not guilty.
Sonja, who was identified in court only by her first name, told the jury she first met the R&B singer outside a Utah mall; the young radio intern had heard he was doing an appearance and approached him for an interview. "It would've been my first big celebrity interview," she said. "I thought it would really just kick-start my career."
Arrangements were eventually made for her to fly to his Chicago studio, but as soon as she arrived, Sonja began feeling uncomfortable. She said an employee of Kelly's had greeted her and asked her some "crazy questions," including whether she needed "protection" — a question she did not initially understand.
"[Then] he just came out and said, 'Do you need a condom?'" Sonja testified. "[I said,] 'No, I'm not here for that.'"
Sonja said she was then asked for her ID and cellphone, from which the employee wrote down several phone numbers of her family members and friends from her recent calls list. She was then made to sign a nondisclosure agreement, which she said she did not read in full because the room was too dark.
As another employee went through her luggage, she was informed of several "rules" she had to follow while there, including that she "wasn't allowed to look up" or "talk to anybody." During Kelly's trial, several women have testified that they were subjected to extremely controlling, oppressive, and violent behavior while in the singer's company.
Sonja said she was then left alone in a room inside the studio. A few minutes later, when she realized she could not open the door, she became frightened. "It was locked from the outside," she said.
Sonja spent the next three or four days locked in that room, she said, banging on the door and repeatedly calling the studio's reception to be let out. There were no windows and no bathroom; whenever she had to use the toilet, she would have to call reception and be escorted there. Sometimes an employee would make her leave the bathroom door open while she was in there, she said.
She said she wasn't given anything to eat or drink for at least two days, and then she was offered Chinese food and a cup of Sprite. Despite being very hungry, she said, she became "extremely full and tired" after consuming very little.
The next thing she remembered was waking up on the couch. Her underwear was hanging on the couch arm, and there was a wet, white fluid on her thighs and vaginal area. It felt like something had been "inside" her, she said.
Kelly was in the corner, Sonja said, "doing up his pants."
Despite having been unconscious, Sonja said, she quickly came to believe she had been sexually assaulted. "It just made me feel like something happened to me," she said. "I know my body. I know when something's not right."

Disoriented, she approached Kelly, she said. "He grabbed my butt with both hands and pulled me closer."
Kelly then told her he'd be back, she said, but he never returned. A few minutes later, one of his employees entered the room, apologized, and said Kelly wouldn't be returning "because some things came up." He told her she could go home.
But first, she testified, she was made to sign a second nondisclosure agreement, which the employee punctuated with a threat: "He said, 'Don't fuck with Mr. Kelly.'"
The employee allegedly told Sonja not to tell anyone about what had happened, saying they had her address and phone number, as well as those of several of her family members and friends — and the name of her infant child, who was back at home with her family.
Kelly's defense team quizzed Sonja on why she did not use her cellphone to call the police while she was being held in the room, to which she said she didn't think they would believe her, and she was worried about the singer's team having her loved ones' information — a fear, she said, that became more explicit following the threat from the employee.
"I didn't think anyone would believe me," she said.
Sixteen years later, when the docuseries Surviving R. Kelly aired, Sonja retained an attorney and told her story to federal prosecutors.
Sonja's testimony is the first time during this trial Kelly has been accused of what was implied to be drugging and raping a victim — although prosecutors never explicitly use the word "drugged."
Kelly's defense attorney Deveraux Cannick attempted to cast doubt on Sonja's testimony due to her lack of memory from being unconscious during the alleged rape.
At one point, Cannick also questioned whether it was "the food that made [Sonja] drowsy."
"Was it MSG?" he asked. (There is no scientific evidence that monosodium glutamate, an ingredient often used in Chinese food, has any negative health effects or causes fatigue, and such claims are largely rooted in racism.)
"How do you know it was the food that made you drowsy?" Cannick asked Sonja.
"What else could it have been?" she responded.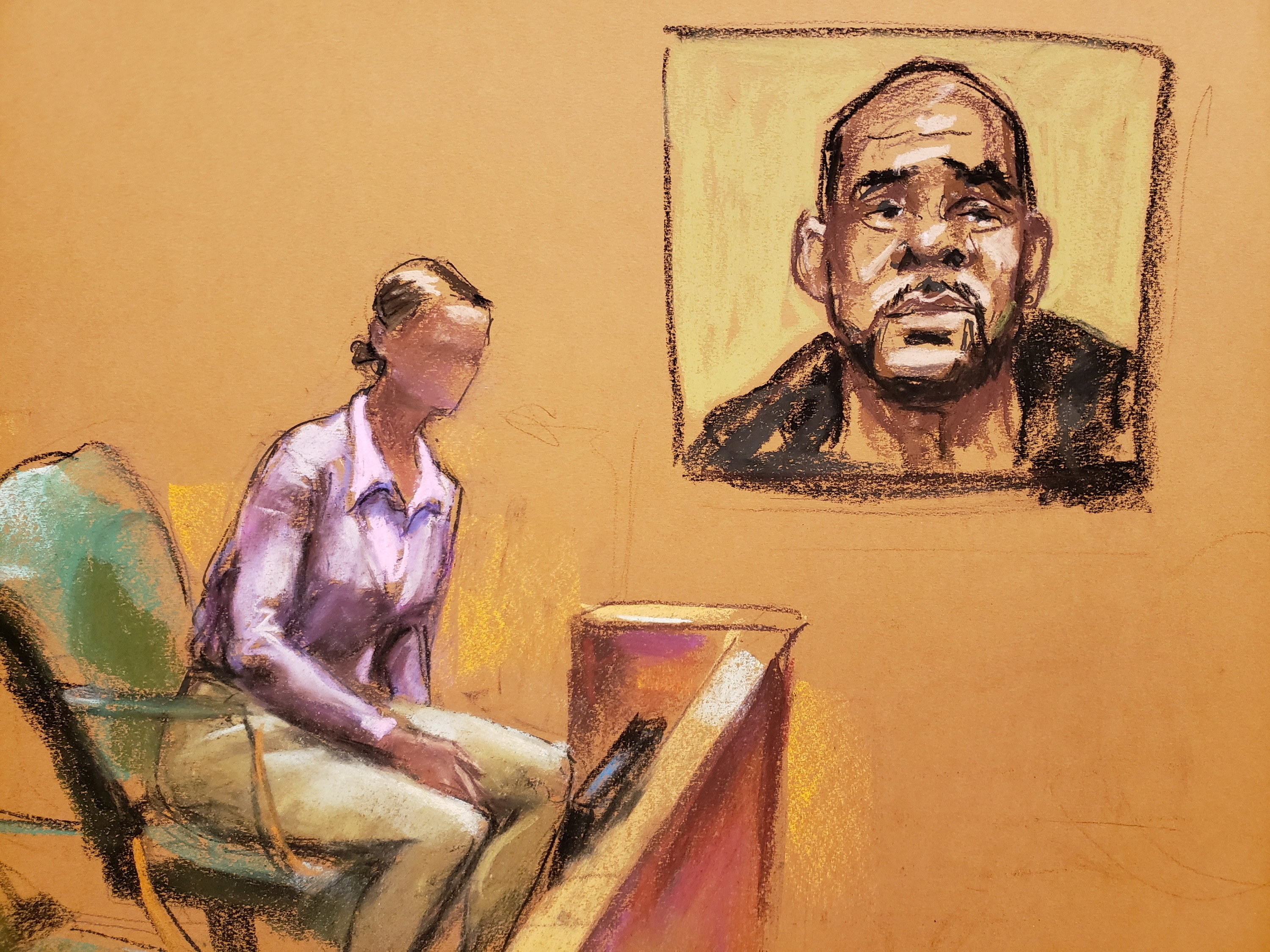 Also on Thursday, another alleged victim, Anna, testified about her abusive relationship with Kelly, which went on from around late 2016 to late 2018, starting when she was 19 or 20.
Like many of his other accusers, Anna said Kelly forced her to follow strict rules, spanked her when she broke them, and made her have unwanted sexual encounters with himself, as well as other alleged victims.
Like other women, he allegedly also forced her to write letters that contained damaging untruths as a form of "collateral," including one that falsely stated her father had molested her and another that claimed her mother was blackmailing Kelly.

Kelly would occasionally make Anna record videos of herself as punishments, she testified, including one where she was made to walk back and forth while naked and calling herself "stupid" and a "slut."
In another video, Anna said Kelly made her be "sexual and seductive with bodily fluids." She did not further specify what she was made to do in the video, but another alleged victim previously testified Kelly made her make a video as punishment in which she smeared her face with feces.