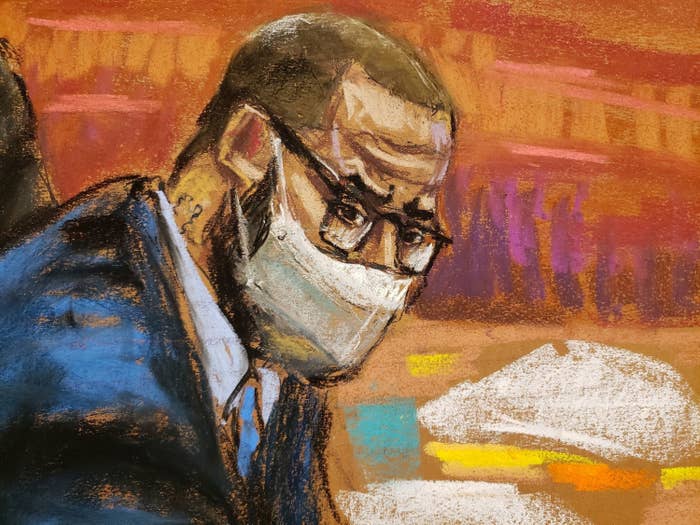 R. Kelly was sentenced to 30 years in prison on Wednesday, marking the first time the R&B singer has officially faced consequences for sexually abusing dozens of young people over the course of decades.
Kelly was found guilty in Brooklyn federal court in September on one count of racketeering and eight counts of violating the Mann Act, a federal law addressing sex trafficking. Eleven of the many survivors of Kelly's abuse testified during the trial, often through tears, about the sexual, emotional, physical, and verbal abuse he inflicted upon them. Many were teenagers when the abuse began, and for some, it went on for years.
In a sentencing memorandum released earlier this month, federal prosecutors recommended that Kelly be sentenced to more than 25 years in prison, saying he has "shown no remorse or respect for the law" and "poses a serious danger to the public."
"Given the breadth of the defendant's conduct and its continuity over a period of decades, the government has little doubt that if afforded an opportunity to offend again, the defendant would do so," the memorandum states.
Judge Ann M. Donnelly said the sentence would act as a "deterrent" to Kelly and others. She said that Kelly took advantage of the "hopes and dreams" of young women, many of whom looked to him as their musical mentor.
"You had a system in place that lured young people into your orbit, and then you took over their lives," the judge said before delivering the sentence. "You taught them that love is enslavement and violence."
Kelly has an extensive history of abuse dating back to at least the early 1990s. In 1994, the 27-year-old Kelly married the R&B singer Aaliyah, who was just 15 at the time. He was indicted on child pornography charges in 2008 over a video that allegedly showed him having sex with and urinating on a 14-year-old girl, but he was found not guilty after the girl and her family did not testify.

Kelly did not appear to react at any point as several women read out powerful victim impact statements in court prior to his sentencing, recounting, through tears, how his horrific sexual abuse forever impacted their lives.
A woman identified as Addie, who testified during the trial that Kelly raped her after his show when she was 17 — days after he married Aaliyah — told the court on Tuesday that she wanted him to get a life sentence "so he cannot cause any more pain or suffering to others."
"I hope Robert Kelly cannot sleep at night, knowing this is what he's done," Addie said.
Another woman identified as Stephanie, who was 17 when Kelly began abusing her, said, "What you did has left a permanent stain on my life I'll never be able to wash away. Now it's your turn to have your freedom taken from you."

After the sentence, US Attorney Breon Peace said in a press conference that Kelly had continued committing crimes for nearly 30 years and had "avoided punishment until today."
"Today, the sentence shows that the witnesses reclaimed control over their lives and over their futures," Peace said. "These are voices of mostly Black and brown women and children that were heard and believed and for whom justice was finally achieved."
His conviction in 2021 was the first time Kelly had been found guilty of sex crimes in spite of the public nature of his marriage to Aaliyah, multiple encounters with police, and the elevation of the urination video into a pop culture punchline. The federal charges came after BuzzFeed News published an investigation by Chicago journalist Jim DeRogatis in 2017, which revealed that parents had told police Kelly was allegedly holding their daughters against their will in a "sex cult." The January 2019 documentary Surviving R. Kelly further detailed their allegations, as well as those of multiple other women.

The charges against Kelly were related to just six women, but prosecutors laid out a wide-ranging, meticulously detailed case to prove Kelly's guilt. They called on 45 witnesses and brought hundreds of pieces of evidence — some of which involved additional allegations against Kelly — to contend that the scope of his actions amounted to racketeering. Kelly ran an "enterprise," prosecutors argued, systematically exploiting his fame, wealth, and power to prey on victims without repercussions. Jurors reached their verdict after just nine hours of deliberation, finding him guilty on all counts.
In a letter to the judge prior to his sentencing, Kelly's defense attorney had asked for him to be sentenced to less than 10 years, arguing that he is "not an evil monster but a complex (unquestionably flawed) human-being who faced overwhelming challenges in childhood that shaped his adult life," particularly severe childhood sexual abuse and illiteracy.

During Tuesday's sentencing, Kelly's lawyer Jennifer Bonjean told the judge that he "rejects that he is a monster," adding that Kelly is "a multidimensional person."
Throughout the trial, witnesses — including victims, as well as employees, associates, and many others — detailed the extreme control the singer maintained over nearly every aspect of his victims' lives and bodies. Many of the victims said that Kelly made them have sex with him and his other "girlfriends" whenever and however he wanted and that he would often film the encounters. Condoms were almost never used, and Kelly — who has had genital herpes for over 20 years, his longtime doctor testified — knowingly infected several without informing them of his condition, victims testified.
Many recalled the strict "rules" his victims were made to follow: They couldn't leave a room without Kelly allowing it, even to go to the bathroom. Communications were tightly controlled, isolating them from their loved ones. They were required to wear baggy clothes, concealing their bodies from all but Kelly, whom they were made to call "Daddy." They were forbidden from interacting with or even making eye contact with other men, even if that meant looking at the floor or a wall instead. Breaking a "rule" meant being punished, often being spanked or forced to stay in a room for days on end.
Threats were one of R. Kelly's main tools in keeping those around him from speaking out. Both victims and employees of Kelly's were made to write "collateral" letters containing embarrassing falsehoods, such as claiming they'd stolen money from Kelly or been molested by family members, that could be used to blackmail them in case he was ever arrested. One woman, identified in court as Sonja — who testified that she was drugged and sexually assaulted by Kelly after spending days locked in a recording studio room without food or water — said employees made her sign two NDAs, copied down information about her family and friends from her phone, and told her "don't fuck with Mr. Kelly" before letting her go. Another woman, identified as Faith, said one of Kelly's employees threatened to leak nude photos of her if she told her story publicly for Surviving R. Kelly. Shortly after the docuseries premiered, the photos were posted on a Facebook page called "Surviving Lies."
Many previously unknown details about Kelly's relationship with Aaliyah, who died in a plane crash in 2001, emerged for the first time during the trial. A witness identified as Angela — who testified that Kelly began sexually abusing her when she was 14 or 15 — worked as a backup singer for Aaliyah and toured with her and Kelly. One time during the tour, Angela said, she walked in on Kelly performing oral sex on Aaliyah, who would have been just 13 or 14 at the time.
In her victim impact statement on Tuesday, Angela addressed Kelly in court, saying, "I am Javonte. I am Tiffany. I am Aaliyah Dana Haughton. I am a representation of every woman, boy, child, man you have ever afflicted with your deplorable, inexplicable acts."
Today, she said, "we reclaim our names."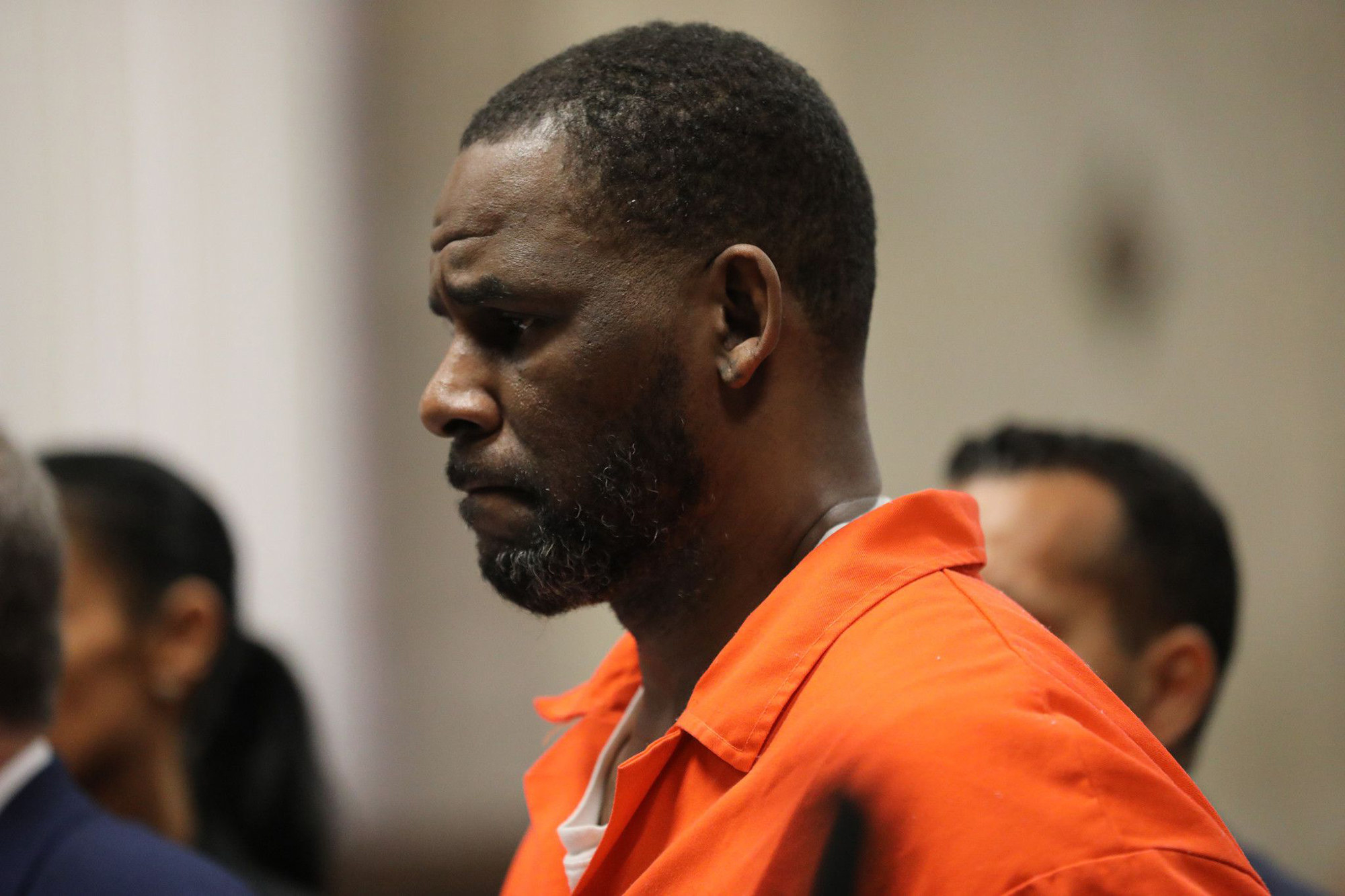 Demetrius Smith, Kelly's former manager, testified under subpoena about Kelly's illegal marriage to the 15-year-old Aaliyah, revealing that she had had a pregnancy scare and Kelly had believed marrying her would protect him from legal action. Smith admitted to bribing a welfare office employee to obtain a fake ID saying Aaliyah was 18 so that the marriage could proceed. The minister who officiated also testified under subpoena, saying he was asked to give his word that he would never speak about it after refusing to sign an NDA. Kelly left to go back on tour right after the 10-minute ceremony, and according to Addie's testimony, he raped her in his dressing room mere days later when she was 17.
In their testimony, Kelly's victims described being subjected to brutal abuse by Kelly, often when they were just teenagers. Jerhonda — who first met Kelly at 14, when she showed up to support him as a fan at his 2008 child pornography trial — said they first had sexual contact when she was 16. At one point during their six-month relationship, Jerhonda didn't acknowledge Kelly quickly enough when he entered a room, and he became infuriated. He slapped her, choked her until she fainted, then spit on her and forced her to give him oral sex. Semen found on a T-shirt she wiped her face with after he ejaculated on her was a match for Kelly's DNA.
Another woman, Jane, said her five-year relationship with Kelly began when she was just 17. She testified that Kelly once got her pregnant and made her get an abortion against her will because he "still wanted [her] to keep [her] body tight." He would often beat her, she said, and once punished her by forcing her to film herself smearing her body and mouth with feces.
Stephanie, whom Kelly also began sexually abusing when she was 17, testified that he once seemingly offered a justification for his crimes in conversation at a dinner she attended.
"He mentioned that he likes very young girls and that people make such a big deal of it. 'Even look at Jerry Lee Lewis,'" she recalled him saying, referring to the singer who married his 13-year-old cousin in 1958. "'He's a genius, and I'm a genius. We should be allowed to do whatever we want. Look at what we give the world.'"
After Tuesday's sentencing, one of Kelly's victims, Lizzette Martinez, told reporters, "This happened to me a long time ago. I was 17. I'm 45 today. I never thought I would be here to see him be held accountable for the atrocious things that he did to children."