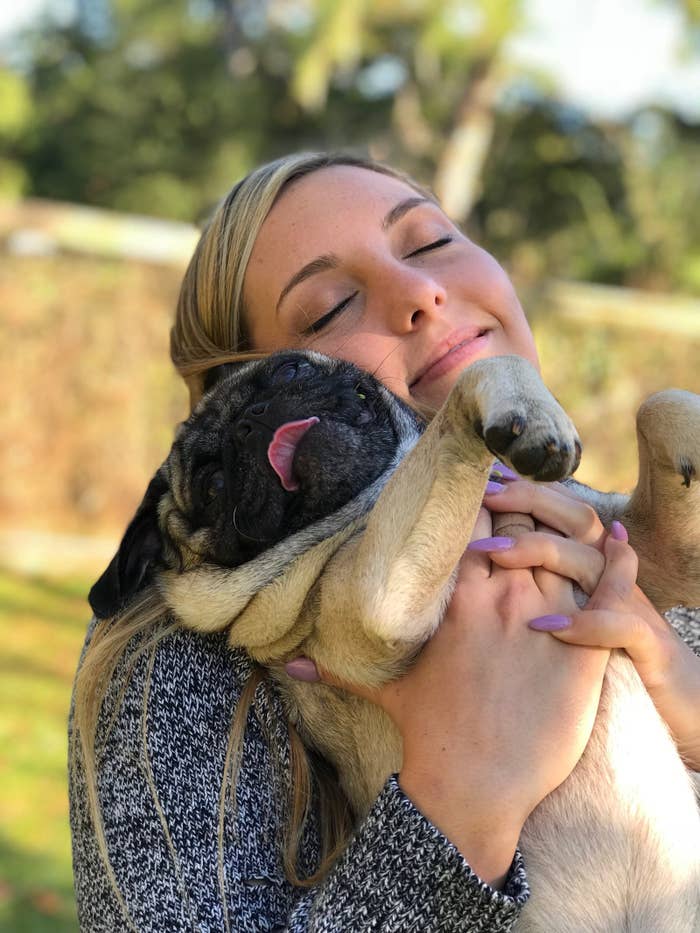 A college student in Gainesville, Florida, wants answers after a utility worker killed her pug with a pry bar, in what the worker claims was self-defense.
On Valentine's Day, 20-year-old Kiley Walker realized her pug, Bentley, as well as her roommate's dog, a pitbull mix named Luna, had slipped out of an open gate and were missing.
She and her roommate went searching for the two dogs. She said they quickly found Luna, but not Bentley.
They spotted a Gainesville Regional Utilities truck and some workers a few blocks down, and decided to ask them if they'd seen the pug. They seemed "flustered," Walker said.
"They're looking at us, and they see us searching and calling his name," she told BuzzFeed News. "So, my roommate walks over to them and is like, 'Have you guys seen a pug?' And they were like, 'Yeah, he's laying in the grass over there, he's not okay.'"
That's when she saw Bentley lying in the grass, dead.
"I go over and I shake him, and I'm like, 'Bentley! Bentley!'" said Walker. "And then I realize that he's dead, and I can't do anything. I'm on the floor bawling my eyes out."
Walker said her "heart is broken" over the loss of her dog.
"He was my best friend," she said. "He was just something else — I've never had a dog as special as him, as good as him."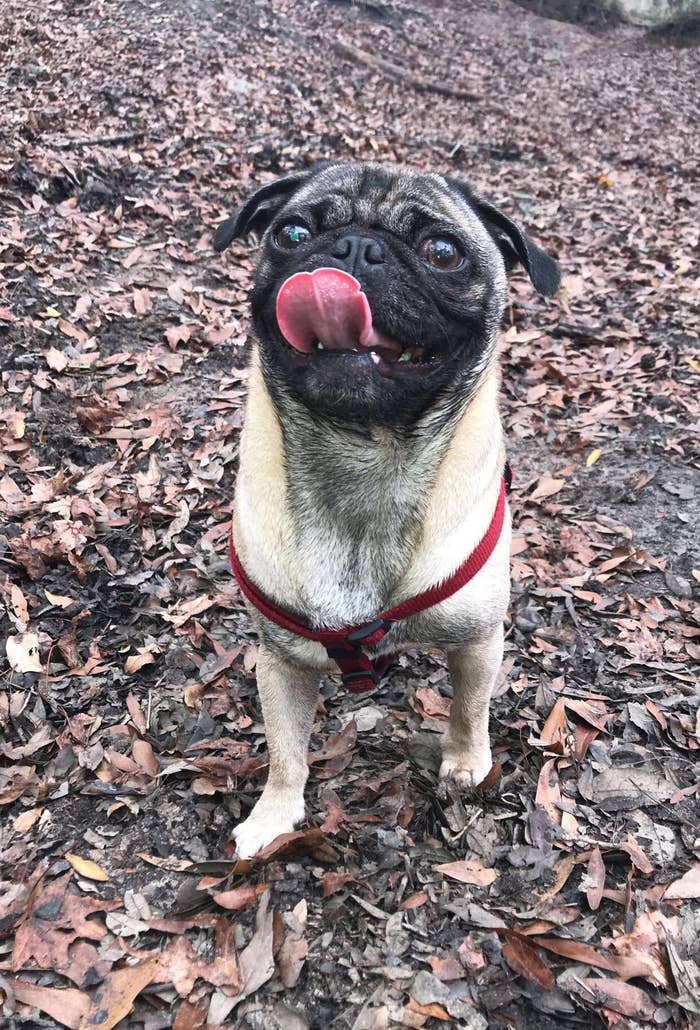 Walker said there were no signs of injury on the dog's body. Still, she assumed he had been hit by a car — a misconception she said the utility workers did not immediately rectify.
"When I asked them what happened, they said that they didn't know," said Walker. "They let me sit there and think he got hit by a car. They told me they did not know what happened. They lied."
In actuality, one of the workers had killed Bentley by hitting him once with the plastic end of a metal pry bar, David Warm, a spokesperson for Gainesville Regional Utilities, confirmed to BuzzFeed News.
Warm said it had been done "in self-defense" when both Bentley and Luna had approached the worker in an "aggressive manner."
Walker didn't find out what had actually happened for two more days, when the workers' supervisor knocked on her door and told her the truth.
"When they came to my house to tell me what happened, they said they were obligated to tell me what happened," said Walker. "They did not say sorry. They did not tell me why they lied to me at the scene."
When the dogs approached the worker, Luna was "growling" and Bentley was "trying to bite" the worker's leg, according to Warm.
Warm said the action the worker took was done "according to their training," and that the worker will not face disciplinary action.
Thirty of the company's workers have been bitten by dogs while on the job in the past 10 years, Warm added.
"Based on protocol, he did everything he was supposed to," said Warm. "He defended himself from two aggressive dogs that approached him loose on the street."
Walker does not know the name of the worker who killed her dog. She has been asking Gainesville Regional Utilities to tell her so she can file a police report against him.
Warm said the company will not be releasing the worker's name because he has received multiple death threats due to publicity of the story.
"It's a really terrible situation," said Warm, of Bentley being killed. "What the worker is being put through is also terrible."
Walker said she does not believe Bentley actually meant to do any harm to the worker.
"He said the pug was charging at his ankles, but really he probably just wanted them to pet him," said Walker. "He loved everybody."
And, even if the worker was feeling threatened by the dog, Walker doesn't understand why they couldn't just "use mace, or get into their truck."
"Even if a pug is aggressive, how much harm can a pug do?" Walker said. "Why do you have to club a little pug so hard that he dies?"